A teenage boy's seemingly ordinary life erupts with the sudden arrival of a beautiful girl who says she will marry him – much to the annoyance of the girlfriend he already has. This is the inciting incident to Urusei Yatsura, the intergalactic romcom manga that ran for 34 volumes and rocketed artist Rumiko Takahashi to stratospheric popularity in Japan with its publication in 1978.
It's an irresistible premise, judging by Urusei Yatsura's unmitigated success (which includes a shiny new 2022 anime adaptation). So irresistible, in fact, that Takahashi returned to the idea behind her then-most famous work in 1983 for an original one-shot story called The Laughing Target. There, Takahashi held up a mirror to the tropes and archetypes that were already being shaped in Urusei Yatsura and would be fully formed and lifelike in her later works like Ranma ½ and Inuyasha. But the reflection we see in this overlooked gem is dark and distorted. Despite its jovial title, The Laughing Target is a horror story.
There is something alien about this mysterious new girl, something dangerous, and not just in the way her eyes glow and the air around her electrifies when she's mad. In Urusei Yatsura, she's bikini-clad space princess Lum, shocking her oafish lover Ataru with her electric powers. In The Laughing Target, however, she's Azusa –a ghostly pale girl who can be only described as haunted – haunted by a painful past, yes, but also haunted the way houses are haunted. She's inhabited. Possessed.
The Laughing Target has stuck with me for twenty years, Azusa's maniacal cry still echoes in my head when other voices – other comics, other manga – have retreated into silence. How can I describe its power over me, this minor, early work by a generation-defining creator who has published over 200 volumes of original work that have sold over 200 million copies worldwide?
With a career spanning over forty years, – a pen in every genre from boarding house melodrama (Maison Ikkoku) to martial arts slapstick (Ranma ½) – Rumiko Takahashi is an artist of rare vitality and stamina (her most recent series, Mao, began serialization in 2019). As sprawling as her work is — Inuyasha, her longest series, ran 40 volumes – I find myself drawn to her shorter titles, like the macabre Mermaid Saga or the one-shot (ha) The Laughing Target. Their sheer brevity gives them extra power, a sunburst of raw creativity that never overstays its welcome or crumples under oversized expectations.
Or: The Laughing Target is just a really good scary story, and some of the best scary stories are the ones that feel like secrets, a pocket-size shocker only you know about. Among American readers, at least, The Laughing Target has languished in obscurity in the years since it was translated by Viz. First published as a 56-page single comic issue under the "Rumic World" banner, the art "flipped" to read left to right in the tradition of American comics, it was then collected in the Rumic World trilogy of graphic novels that rounded up her early work. Long out of print, my copy of Rumic World Vol. 1 dates from 1996, with a broken spine and Azusa's spectral face gazing somberly at me on the cover.
In 1987, director Motosuke Takahashi adapted The Laughing Target into a 50-minute anime OVA (original video animation). An engaging adaptation with only minimal changes – like the obligatory shower scene and shock stinger ending for the horror video crowd – it never made it to the DVD era in the U.S. The shaky VHS-ripped clips on YouTube look like a transmission from another dimension, a half-remembered nightmare from the days when sneaky 11-year-olds (i.e., me) checked out anime tapes that were way too old for her at Video Den.
The Laughing Target also boasts a connection to American horror comics: it was adapted into English by Swamp Thing co-creator Len Wein. In the 90s and early 2000s, it was not uncommon for manga companies to enlist western comic book writers to "adapt" a manga script to attract Western eyes (or make the book seem less "foreign") with vacillating levels of accuracy. (Flip through some dog-eared copies of old Viz or Tokyopop books at a used bookstore and marvel if you see Marv Wolfman or Keith Giffen's names in the credits.)
Fleshing out the bones left by an uncredited translator, Wein gives The Laughing Target a script that is occasionally stiff ("You can be the most irritating woman sometimes!" Yuzuru, a high school boy, unconvincingly says to his girlfriend) but still toe-curlingly quotable ("Kill her, my pets! Kill her now!!" shrieks Azusa in all her villainous glory). As a self-contained slice of 80s horror, The Laughing Target would shelve nicely alongside back issues of House of Secrets, The Witching Hour, or maybe more fittingly given the unrequited passion at its center, Sinister House of Secret Love.
The sinister secret housed in my love for The Laughing Target is that it cuts – skillfully, brutally, fatally – at the melancholy heart of all of Takahashi's manga. Even in her broadest, most anarchic comedies, it lingers like a hungry ghost between the panels. In Urusei Yatsura, Ataru pants wolfishly after every girl he sees, except for the alien princess who really loves him. In Maison Ikkoku, the sitcom-like hijinks are anchored by the very real grief of the widowed Kyoko, who fears that falling in love with her boarder Godai will mean forgetting her late husband.
In Ranma ½, the blows exchanged by shape-shifting martial artists are merely a deflection by two stubborn teenagers who refuse to admit their true feelings for each other. And in Inuyasha, the star-crossed puppy love between dog demon Inuyasha and the time-traveling schoolgirl Kagome is dampened by the fact that she's the reincarnation of his first love, Kikyo – who is also, by way of evil magic, walking around again as one of the vengeful undead. Love and longing are essential to Rumiko Takahashi's work – and no character probably needs it as much as Azusa, who is denied it by forces beyond even her demonic control.
The Laughing Target begins with a promise between children. Azusa's mother, the unnamed, faceless matriarch of the Shiga family, arranges the future marriage of Azusa with her first cousin, Yuzuru. Time and geography soon separate them; Yuzuru grows up in Tokyo, becoming the popular captain of his high school archery team, while Azusa is raised in the Shiga family's secluded mansion in the mountains. Azusa – now a preternaturally pretty, but painfully shy young woman — comes to live with Yuzuru's family after her mother dies under mysterious circumstances.
Azusa's arrival is a shock – if not to Yuzuru, who has barely thought about her in a decade, then to his spirited girlfriend, Satomi. (The most sensible character in the story, Satomi reacts to her boyfriend's arranged marriage to his cousin bluntly: "Boy, talk about weird relationships!!") Azusa's childhood affection for her cousin has calcified into something hard, unyielding, and inexplicable; she bursts into tears at the first sight of him in ten years, swearing that she's never even spoken to another boy. Shocked by the intensity of Azusa's love, Yuzuru is loyal to Satomi and has no intention of fulfilling a vow he made when he was too young to understand what it meant. And Azusa's innocent mask cracks.
Azusa loves Yuzuru, and nothing will come between them. Not her mother, not any other wicked boy, and certainly not Satomi. Because Azusa is not alone. She's in the thrall of the hungry ghosts — strange, supernatural creatures with a taste for dead flesh – and Azusa intends to serve them a feast.
It's a testament to Takahashi's craft that a simple synopsis can't compare with actually sitting down to read the manga – seeing her inimitable character designs, those plucky, button-nosed heroines and appealing, boyishly handsome heroes, and being carried away by the brisk pacing that could only be forged in iron by the relentless Shonen Sunday weekly schedule. The relentless force of dread that rises with Azusa carrying her mother's ashes in the snow, impervious to the gossiping mourners (What a strange way for her mother to die!"), and crashes when she first challenges a vulnerable, half-naked Satomi in the girls' locker room, the dark, empty space suddenly blazing with Azusa's demonic energy. Then there are the little details that linger in my subconsciousness – Satomi's scarf falling from her neck as she runs in terror, Azusa tossing her hair over her shoulder with an amused "Heh" after she kills some would-be muggers.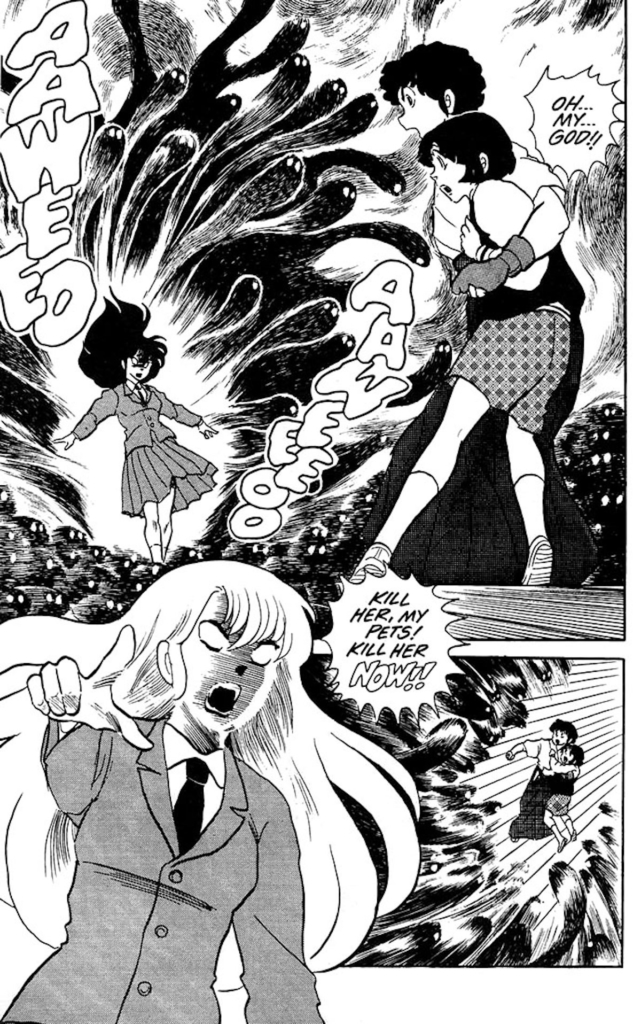 Like the best devils, Azusa inspires horror as well as sympathy. Within the span of 56 pages, she becomes a remarkably complex character even as she is overwhelmed by her single-minded desire to make Yuzuru hers at all costs. The Laughing Target is more than a story about a jealous girl gone mad; flashbacks reveal that the simple affection Azusa and Yuzuru shared in their youth was the only positive connection she ever had. Raised by her stern, controlling mother, her childhood was shaped by loneliness and violence. As a little girl, Azusa was chased into the woods and sexually assaulted by a group of older boys, and in one of the most harrowing sequences Takahashi has ever drawn, the battered child bashes in her attacker's head with a rock, killing him.
The violence is shocking, but so is its disturbing aftermath: like creatures out of a fairytale, the hungry ghosts reveal themselves to Azusa for the first time and devour the boy's corpse, saving her from discovery. As drawn by Takahashi, the ghosts resemble nothing so much as featureless, writhing potatoes that emanate an eerie "chee chee" sound. It's not so surprising then that the lonely Azusa regards the ghosts as friendly pets; their seemingly mild appearance underscores the macabre scenes that follow, such as young Azusa poisoning a dog that bit her so that her "little ones" can have a meal. (The OVA includes an added prologue showing Azusa as a toddler playing with the ghosts, suggesting a family curse that doomed the girl from the very beginning.)
The ghosts imbue Azusa with some fraction of their power – she can lift a full-grown man over her head and snap his neck, or telekinetically shatter a window to frighten Satomi – but who is really in control? "Leave me alone!" she hisses, trying to hold herself back after her first show of power, but there's no hiding the cruel, cold smile on her lips after each kill. The truth is left intriguingly ambiguous. Promised to Yuzuru as a child and raised under her traditional mother's shadow, Azusa's supernatural powers give her the first tastes of agency she's ever had – what a bitter fruit is left for her taste when she finally meets Yuzuru again and finds out that he's moved on without her.
The clash between Azusa and Satomi for Yuzuru's heart could be read as a commentary on shifting cultural expectations for young women in the 1980s. Formal, ladylike Azusa finds herself replaced by the sporty, outspoken Satomi, the engagement to Yuzuru considered a relic of the past. ("Is there something wrong with the promises made by children? Are they any less sacred?") Azusa's murderous rage toward the young couple is completely misdirected – Satomi has done nothing to her, and while Yuzuru may be oblivious to Azusa's anger, but he doesn't mean to hurt her, and he doesn't lead her on. He finally turns on his cousin after he suspects that she's killed Satomi, briefly attempting to strangle her on his bed – a moment that will soon be paralleled by a nightmare that reveals what really happened to Azusa's mother. And, of course, Yuzuru could never live up to Azusa's impossible, suffocating romantic ideal.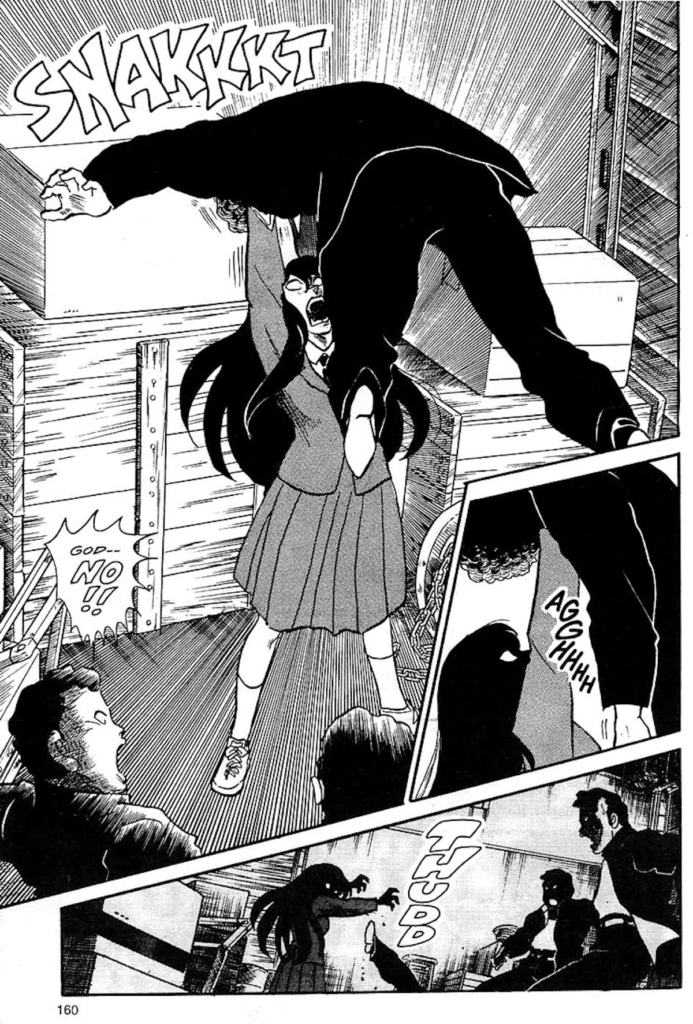 In the end, Azusa tracks the fearful couple to the archery club practice hall. Unable to understand why Yuzuru would risk his life defending Satomi from the hungry ghosts she's unleashed on them, she deflects with all the pent-up, petulant anger of a teenage girl. "Why, Yuzuru, why must you be so cruel??" she sobs, an arrow jutting out of her arm, mid-murder attempt. Aiming his bow at her, Yuzuru's last arrow hits the mark – an exquisite single-panel sequence shows the laughing target transforming back into Azusa as she falls. Dying, she beckons to Yuzuru.
"It was those little monsters, wasn't it?" Yuzuru murmurs, holding the body of the girl he once cared for. "They used you!"
"Y-yes…that's right…It was them…all their fault…" Azusa dies with a liar's smile on her lips, evading responsibility for her own murders so that she can remain the same innocent girl in her beloved's memory. Disintegrating in his arms (the OVA lets Satomi get in one finishing arrow to the head for good measure), Azusa slips back into the delusion of her love, which is the same as oblivion.
Looking at its place in Rumiko Takahashi's bibliography, The Laughing Target is a fascinating work that's simultaneously archetypal and prototypal. The high school setting, the love triangle, and the superpowered interloper are concepts Urusei Yatsura mutated through a distinct horror lens. The arranged marriage, and the feisty girlfriend with the short-bobbed hairstyle, foreshadow the heroine Akane Tendo in Ranma ½ — and then there is Kikyo, the vengeful first love who haunts the young leads in Inuyasha. (There is even an ill-fated dog who resembles Kyoko's fluffy pooch in Maison Ikkoku, for the added nightmare fuel.) The very title of The Laughing Target calls to mind the formulas of her comedic series, and we taste the familiar sweetness on our tongues before we realize she's slipped us poison.
Azusa's spirit, her lonely, aching heart, lingers in Takahashi's works and has even resurfaced once or twice. In a 1985 episode of the original Urusei Yatsura anime series, Azusa can be seen in Lum and Ataru's classroom, happily sitting at her desk with her hungry ghosts. In a 1983 episode, the year The Laughing Target was first published, Lum walks by an enormous poster for a fictional Laughing Target movie, Azusa's image looking down at her with a knowing, ghostly gaze.
They're sisters, under the ink.