Oliver Reed is hot in The Devils.

It's the charisma and power that he brings to his performance as Urbain Grandier, a man so capable of holding his independent, isolated province in the palm of his hand. And of course, there's the taboo of it all. One of the things that defines so much of The Devils – especially its relationship to desire – is the relationship the film itself has with the ideas of taboo and sin; with transgression seeming to act as an aphrodisiac for not only the obsessed Sister Jeanne Des Agnes (played by the unmatched Vanessa Redgrave), but the other people that Grandier seduces throughout the film. After all, this is a man who's supposed to be married to God, and what's fascinating is that all of this transgression and desire doesn't take away from this. Grandier has a complex, but deeply loving relationship with his conception of God, even as Loudun is torn down around him.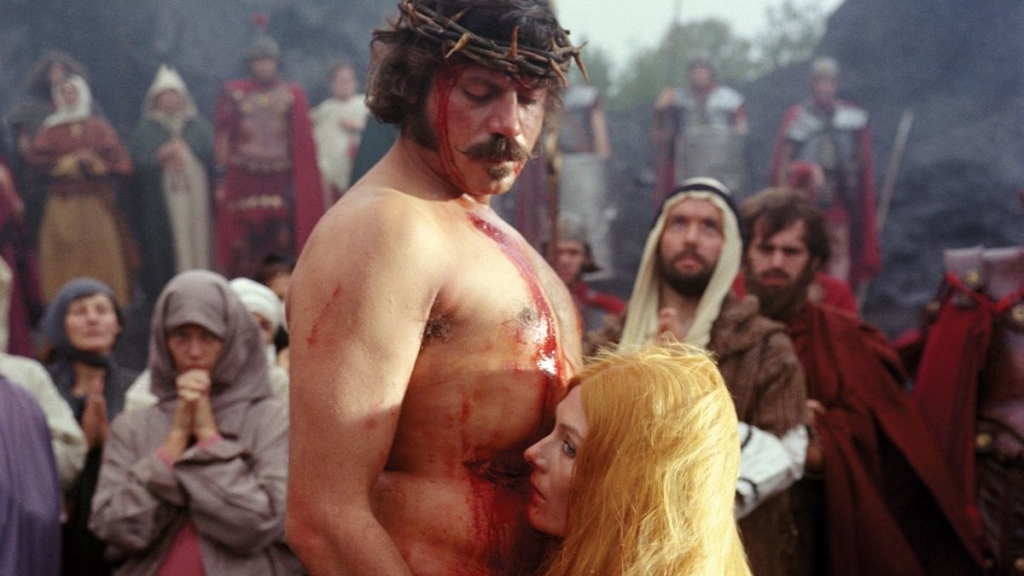 At the climax of the film, as Grandier is tortured and waits for his execution, his head is shaved and his robes are removed; he's dressed in rags instead. Seeing him in this new light takes away so much of his power and charisma, so much of the persona not only of Grandier, but of Reed himself as an actor. Reed's persona – charismatic, masculine, and very physically strong – is something that makes him sexy here, and throughout his filmography. With a persona so defined by masculinity, the relationship it has with different definitions of love is complicated; as if he's trying and failing to find the right words to describe his feelings. Even in his final moments in The Devils his last, desperate declaration to the people of Loudon is an apology for failing to defend the city.

Love manifests in strange ways in Ken Russel's The Devils –from the fleeting memories of it that come to Grandier during his show-trial, to those moments when he's tied to the stake and the legions of onlookers chant for the priest presiding over his final moments to kiss him, in a gesture of peace, of maybe even granting Grandier a fraction of God's love in the way that Russell does best: as something physical, erotically charged, a language that can replace the words his characters are unable to reach.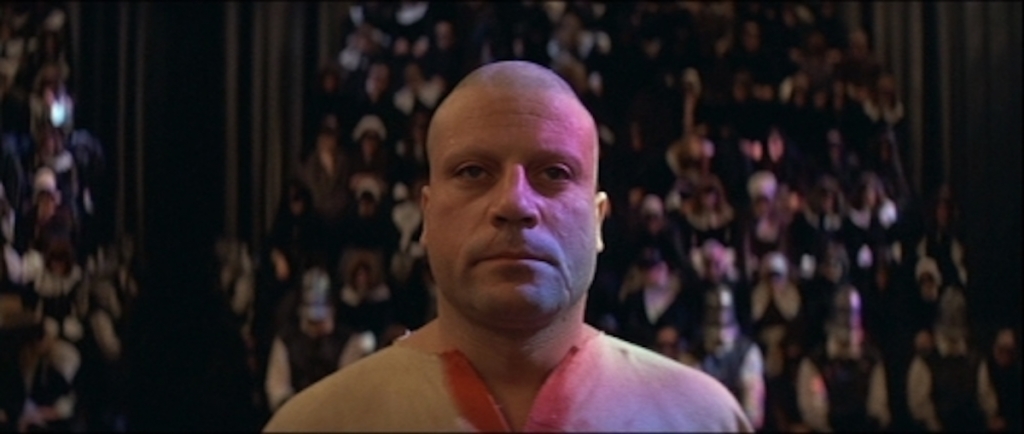 It's in Ken Russell's adaptation of Women in Love (1969), that this relationship between love and language is at its most complex –  and also at its most queer. Russell's extensive filmography is defined by a complex, boundary-breaking relationship to existing, canonical texts, taking the expectations of a literary adaptation, or a biopic, and turning into something dangerous, seductive, and transgressive –films that take what we might call "love," and redefine it. According to Women in Love's endlessly philosophising school inspector Rupert Birkin (Alan Bates), we've "vulgarised" love, and that it should be "a taboo word, not spoken for years." The question of how Birkin can articulate his feelings looms large over the film, as he develops a passionate relationship with Gerald Crich, played by Reed. 
At the heart of this relationship, and the abortive attempts of the two men to articulate it, is their famous nude fireside wrestling match. Lit by just the fire, there's an eroticism to their communication, and the way that Russell focuses on the hands and arms of these men; it's a display of power as they prowl around the fireside like predators in the animal kingdom. As they grapple, the two men are an inch away from a kiss. I found myself, like the rabid crowd at the end of The Devils, whispering kiss under my breath as I looked at the two men, wondering, hoping, if this kind of contact was the one way that they could cross the gulf that seemed to separate them, even as they lay down together by the fire, sweating, skin touching skin.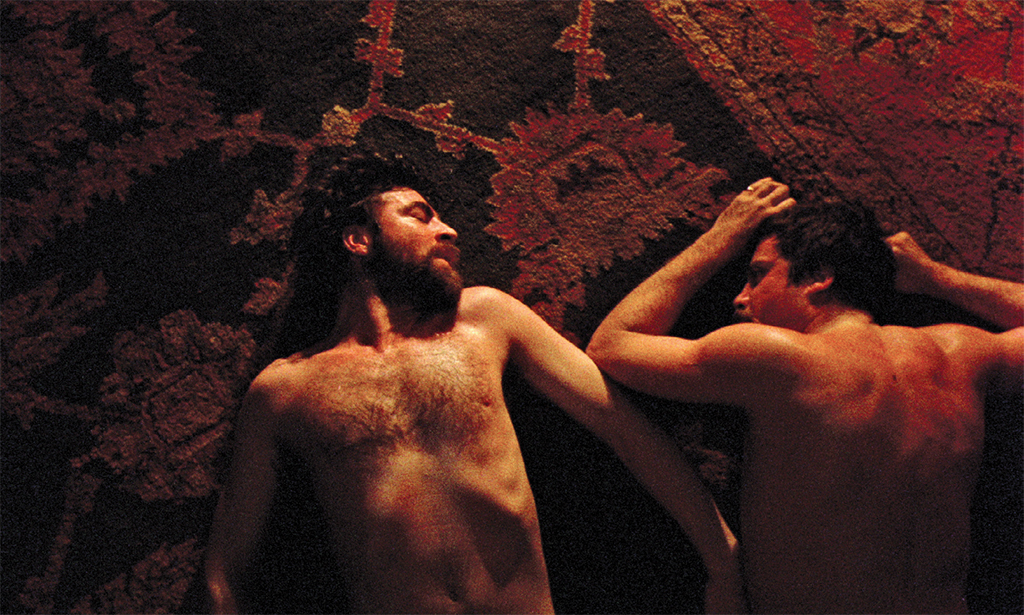 But this doesn't happen of course. There's no kiss, even though the tenderness between them after this contact is strikingly post-coital. The result is, instead, Rupert suggesting he and Gerald become blood brothers, giving the example of German soldiers who used to cut their hands and become bonded by blood with those that they were closest to. Rupert describes this as being "true to each other, of one blood all [their] lives."

It's only when his feelings are dressed up in the clothing of a classical, traditional masculinity – one befitting the personalities, personas, and even the bodies of the two men – that the taboo word is able to come tumbling out of Rupert's mouth: "We ought to swear to love each other, you and I. Implicitly. Perfectly. Finally, you and I." That taboo, perfect, final, and singular word is something that Gerald isn't able to grasp; his response to Rupert's confession is heartbreaking in its simplicity, in just how difficult it is for the two men to reach each other: "we'll wait 'till I understand it better."

Russell has the ability to cut through the performativity and posturing of all of his characters – something that Women in Love is full of. Whenever men and women are together, you can see the cogs turning and the masks come up as they engage in rituals of heterosexuality: dancing, weddings, honeymoons. Just as Grandier becomes something else when he's stripped of his persona, when the immovable object of Reed's masculinity is undercut in Women in Love – after he walks away in the snow to die alone – all posturing and performance fall away with it, as Rupert finally says "he should have loved me."
Love isn't the only word that these men struggle to reach for. There's also no real way to define their queerness; instead it exists as an opposition, worlds away from the rituals and seductions of heterosexuality. As much as nobody in Russell's films seems to want heterosexual love, they have no verbal way of articulating what they do want. This desire to find a way to articulate queer love – and an ultimate inability to do so – has a complicated relationship to how these films, and the personas of their actors, both portray and challenge the idea of masculinity.

In both The Devils and Women in Love, Reed's characters present a traditionally powerful, sexually charged form of masculinity. But as their narratives unfold, it's clear that these characters want more than just one form of masculinity can offer them; more than just this type of love. Grandier looks for it in the arms of women, but also in the embrace of God; Gerald hopes against hope that he'll be able to find this kind of love with Rupert, even as he doesn't seem able to find the words for it.
This relationship extends beyond just Reed's own brand of masculinity; the limits placed on masculinity, and the ways in which it's complicated by queerness, can be felt throughout the performances, and on-screen personas of his contemporaries.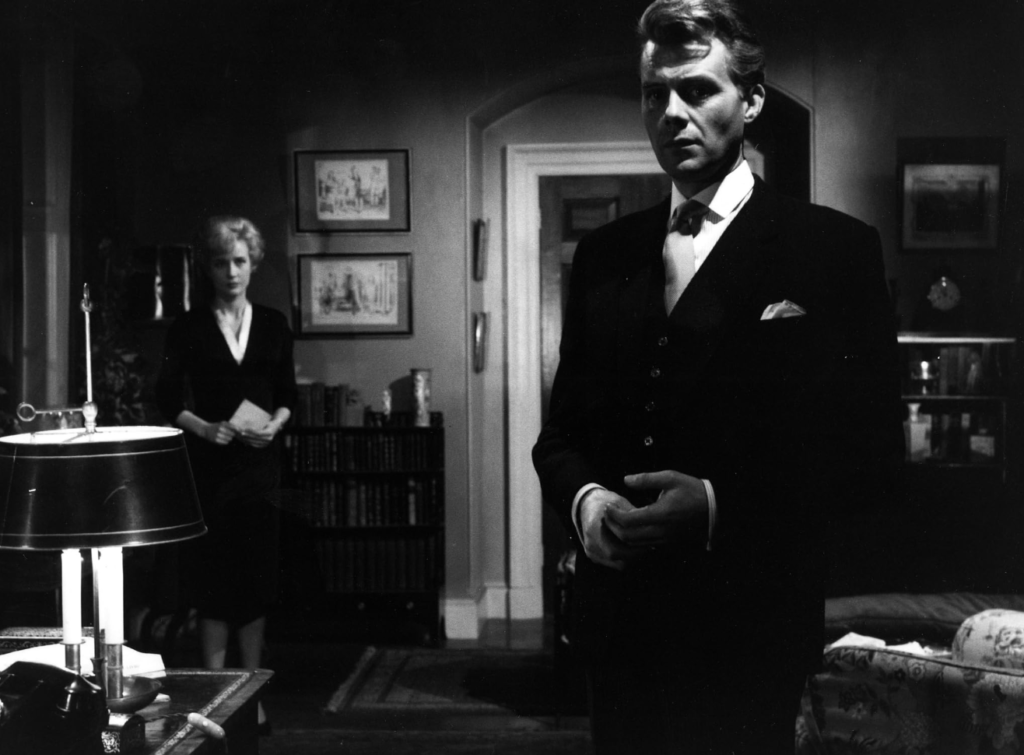 Dirk Bogarde, however, is…not hot in Death in Venice.

But there's a ghost of his attractiveness haunting the lecherous, heavy gaze of his Aschbenhach. It's as if there are two versions of Bogarde at war with one another: the charismatic, compelling matinee idol, and the brooding darkness of his later work (including multiple collaborations with Death in Venice director Luchino Visconti). In both Death in Venice, and the earlier Victim (1961), a different kind of masculinity emerges, and with it, a different complex, uncertain articulation of queerness. Released a decade apart from one another, the earlier Victim uses Bogarde's approachable-but-edgy persona as a vehicle to explore queerness with a kind of political urgency and nobility. In contrast, Death in Venice relishes in Bogarde's darker side. It's this relationship between versions of Bogarde that make the two performances, and their relationships to queerness, so compelling.
Victim is a film that's obsessed with finding the right way to present and articulate queerness; driven by a desire to take it out of the shadows of Otherness and Immorality. Ironically, in spite of the film's novel intentions, Victim still struggles to find the right language to describe its characters. A word as explicit as gay, queer, or homosexual seems like it could never be attached to a persona like Bogarde's, and with almost every character in the film living deeply in the closet, Victim is still unable to let these queer men define themselves. Instead, they make do with the fumbling euphemisms and awkward innuendos of a straight world that still doesn't understand them.

Even when gay men gather together in Victim, making their case for getting to live without fear, they still seem unable to define themselves directly. Calloway, a friend of Bogarde's closeted barrister Melville Farr asks "why should I live outside the law just because I find love the only way I can?" Even between men who understand each other, queerness is still relegated to the love that dare not speak its name. No matter how good the film's intentions might be Victim doesn't free its characters of shame.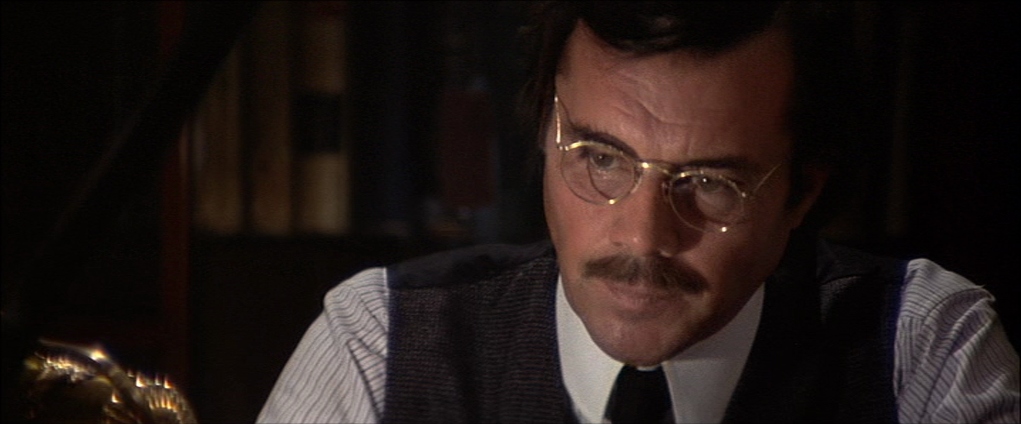 This inability to let queerness be named explicitly comes to a head when Bogarde's Melville is confronted by his wife about his true nature. She asks him if he would call the feelings he's had for other men "love" – there's that word again, as taboo and uncertain as it is for the men of Women in Love – he asks, defeated, "If it was love, why should I want to stamp it out?" Something like love, and all the transcendence it might offer – indeed, that it does seem to offer a character like Grandier in The Devils, defiant to the last as he waits for the embrace of his God – is something that the queers don't seem to get.
In Death in Venice, Aschenbach is constantly searching for an alternative way to articulate love. This desire seems to be the driving force of his work as a composer, and the heated debates that he gets into with a student about what meaning – if any – art can have. The relationship between Aschenbach's art and his own queer desires is further complicated by his obsession with the young Tadzio (Björn Andrésen). Like Victim before it, and even Women in Love, Death in Venice is a film that exists under the shadow of shame. In one of the debates Aschenbach has with a student – part of the film's messy, flashback-leaden structure – Aschenbach declares "I am sick." If composition is a way for Aschenbach to try and articulate his desires, then the city of Venice itself – and the sickness that spreads through it – becomes the language of his queerness. Like The Devils, this is a film that sees its once stunning locales fall into ruin, fire, and decay, a mirror image of the fall of its protagonist.
Aschenbach and Tadzio never directly interact, as much as the former fantasizes about it. In his wandering of the city, and stalking the young boy, they almost cross paths after Tadzio and his family have been praying. Sitting on a bench, watching them walk away, he manages to utter that taboo word, saying "I love you" to Tadzio, to no-one. He imagines what he might say next: "You must never smile like that. You must never smile like that at anyone." The power of Tadzio's smile is enigmatic, the beauty that Aschenbach sees in it seems to shatter his worldview – on the power and purpose of art – rendering worthless the language with which he was once so eloquent.

Seeing Bogarde inhabit a pitiable figure like this is fascinating, worlds away from the charisma and charm that could make Victim work so well. The charisma, the approachable edginess of Bogarde's persona in a film like Victim seems to be what draws Aschenbach to Tadzio, as if Death in Venice is in conversation with past and present images of Bogarde, trying to capture the queerness of his persona as the masculinity that he projects on screen changes.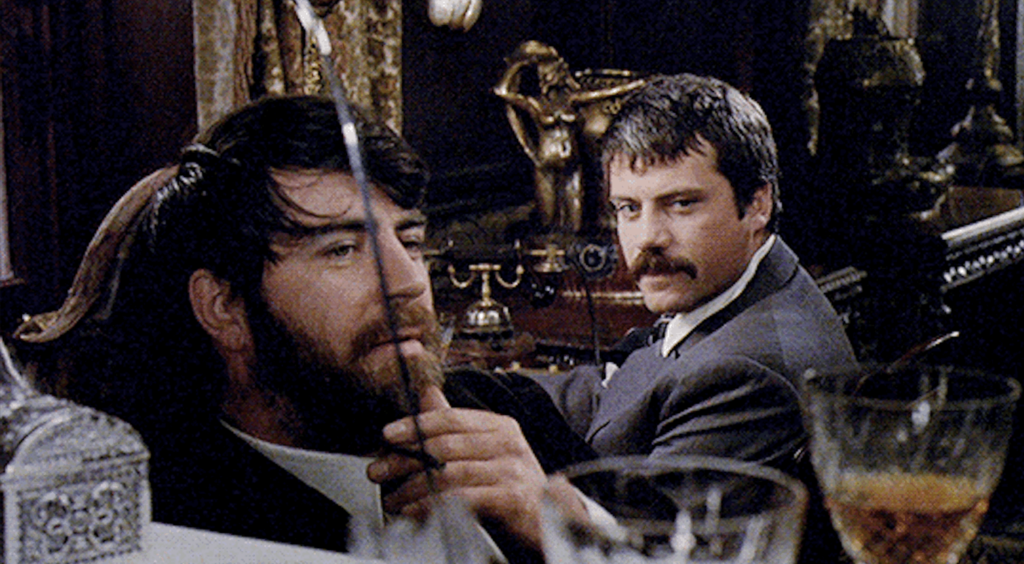 Together, this quartet presents messy, uncertain relationships between masculinity and intimacy; between language and love. At their core is the idea that the word love, rather than the feeling itself, has been made into something vulgar – that maybe Rupert was right after all. These are tales of men for whom the word either doesn't fit, or who don't have a language for it, and so they keep trying – often in vain – to find the right way to express their feelings. It would be so easy to think of this as being a case of unfeeling masculinity – especially when considering how large the personas of Reed and Bogarde loom over this quartet – but if anything, it's the opposite. These are men who feel so much, so deeply, and are unable to contain it within themselves. There's a darkness to it, of course but these films all show feelings that need a way out, that presents mirrors, however broken or distorted, of these men.