There was a summer when I was 17 when I couldn't pay my light bill.

I had a job that I did well enough to be paid minimally for, but I also had two dogs, a dying partner, and a shitty apartment — all of which amounted to an accrued amount of unpaid light bills and the power company knocking on my door to let me know that things would be shut off the next day. All sane solutions exhausted, I called my best friend, who responded simply "that sucks dude" before listening to me cry — both of us knowing full well that they didn't have money either and that's certainly not what the call was far. And still, they showed up an hour later with two cases of cheap beer and some candles. "Just in case they flip the switch early," I remember them grinning. "We'll be able to see well enough to know when we're pissed."

It wasn't a perfect solution by any means because still neither of us had any money and my power still got cut off in the middle of a Virginia summer — but what it was, in hindsight, was an exercise in admiring the ways in which caring sometimes means "good enough" for the people we love; a type of caring that somehow knows the reckless love of having a beer and laugh in the candlelight; and the empathy for the inevitability of preparing to have to sit the dark together.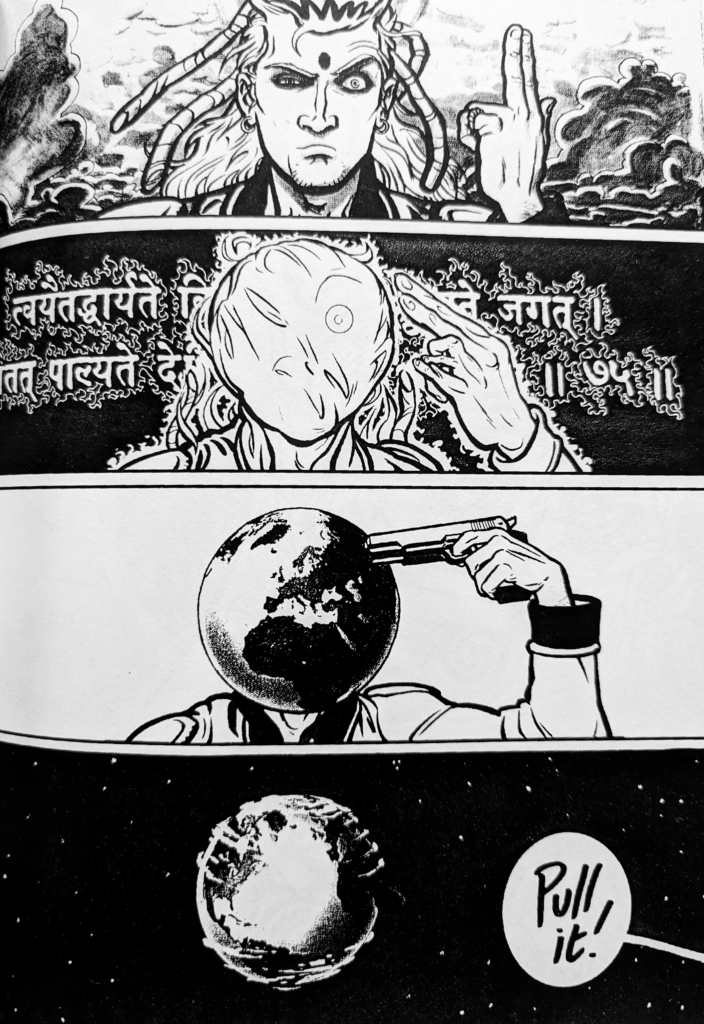 It's a silly story and one that I'd packed away in the back of my head ages ago, but one that feels natural to remember when revisiting comics by ILYA, whose stories are the perfect example of how not being able to fix things but still showing up at all is not only good enough, but is absolutely everything.
Tracking ILYA's career is far from easy; after breaking in via the same 1980s small press explosion in the UK that introduced the world to Eddie Campbell – the two would collaborate on a series of Eyeball Kid stories that are a central part of Campbell's beloved Bacchus cycle – Ed Hillyer (his pseudonym basically being an alternate version of his last name) would appear across the comics landscape of the next few decades seemingly randomly, working for publishers as disparate as The Guardian newspaper, Tundra Publishing, and DC's Vertigo imprint and on projects including Fleetway's underrated Revolver, STI guides for family planning associations, and a three-volume manga anthology series titled The Mammoth Book of Best New Manga.
Throughout it all, as varied as his publishers and subject matter would be, the one constant in ILYA's work was a confidence and skill that was present in even his earliest work and won him praise from readers and fellow creators alike. Despite this, he's somehow remained one of comics' best-kept secrets even after being in comics for four decades by this point.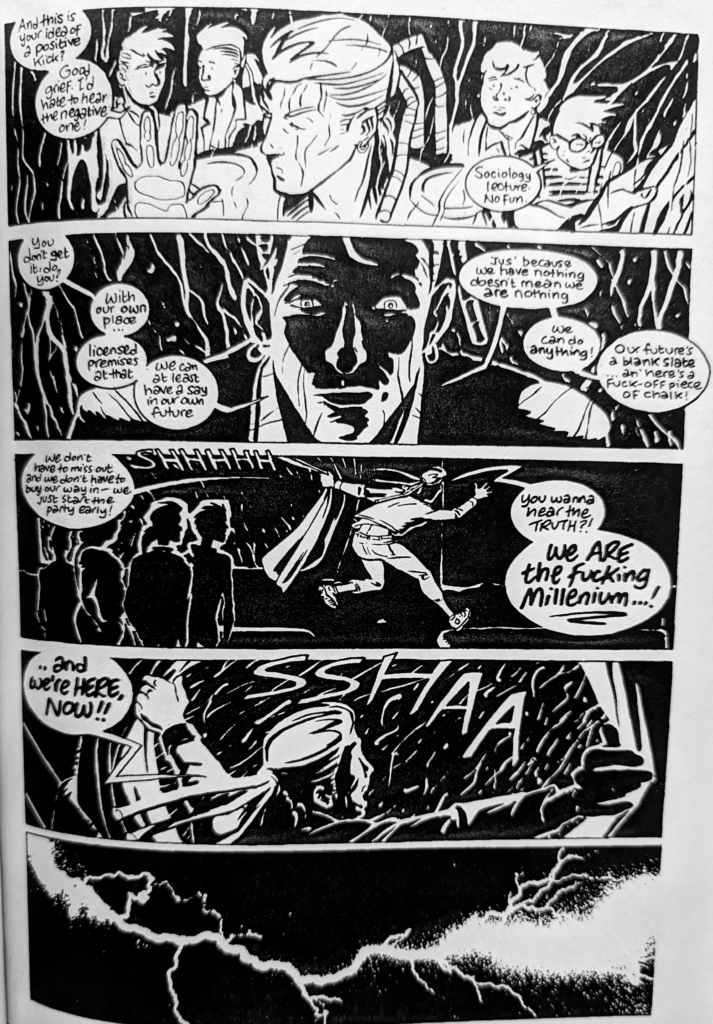 And then of course, there is The End of the Century Club — a little saga first serialized in the pages of Deadline magazine in the mid-'90s before making its way into a 1997 collected edition that was later followed with both The End of the Century Club: Time Warp and, years later, the quasi-prequel Room for Love. The story, such as it is, revolves around a found family living in delightful squalor in London just before the turn of the millennium, who decide that in order to finally make space for themselves in the world, they'll start a club. (By which I mean, a drop-in center that doubles as a night club if they're lucky, not just "a gang.") Of course, not everything goes to plan, but that's not the important part; the important part is that, amid the overarching story of a group of friends trying to find their purpose in a changing landscape and culture, we get to see the individuals who make it up and the ways in which they take care of one another.

It's actually really hard to summarize The End of the Century Club in terms of narrative. That's not because of any over-complicated plots or convoluted problems with storytelling; ILYA's comics chops are particularly strong throughout his entire career, and his stories are always easy to follow. Instead, it's because much of the saga, which has its roots in the 1980s Bic small press series and its Deadline precursor strip Slack, focuses on its cast and their messy, honest relationships and lives far more than any through line of a plot, often bypassing any kind of finality or recognizable character arc altogether. (After all, how many of us can look at ourselves or our friends fit into the kinds of easily-packaged stories that appear in countless TV shows or movies?)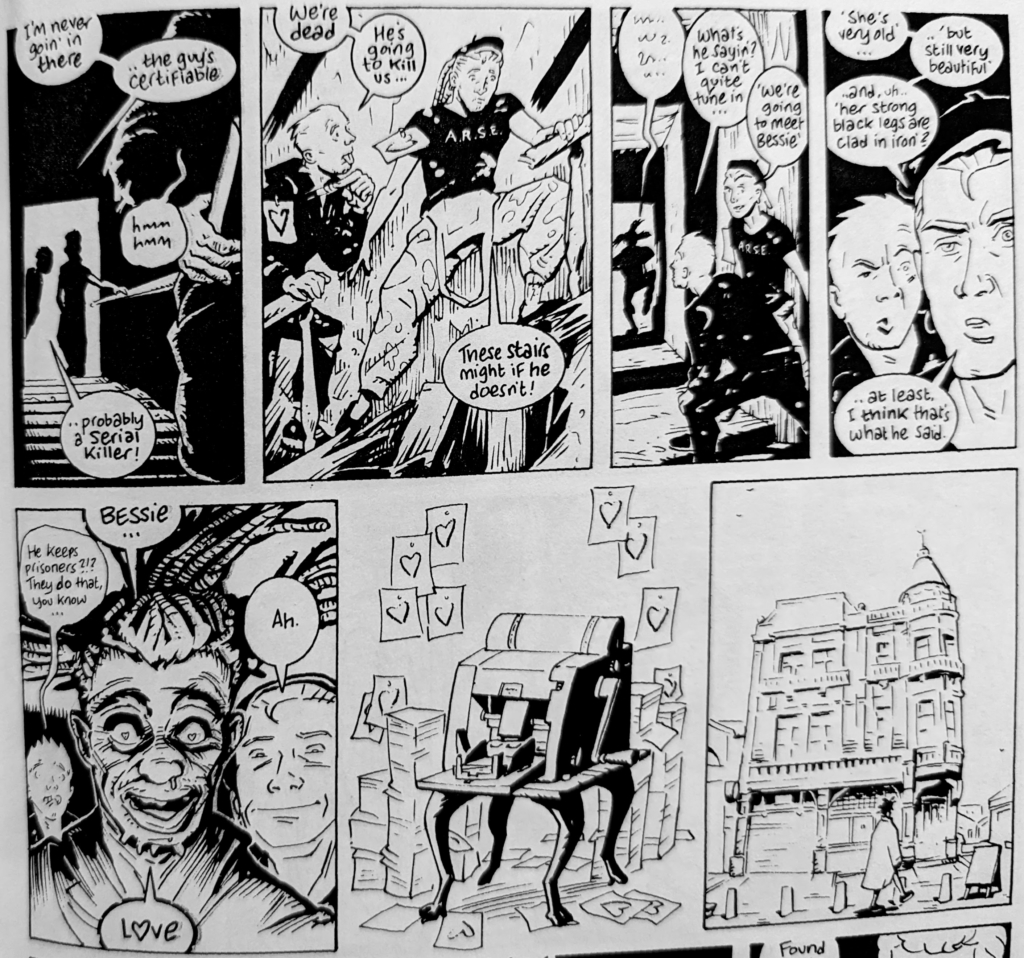 Juggling five core characters — crusty schemer Willie and his heart-of-gold-to-a-fault sister Deanne, the beautiful and volatile Tip, hot-headed miscreant Barney, and the perennially romantic, perpetually complaining Bic — would be no easy feat for most creators, but ILYA manages to forego that problem by making the entire series about them and their personal journeys, instead using the plot about the eponymous end of the century (and much-anticipated start of the new millennium), or using the opening of the club as a catalyst for their individual growth across the books. This isn't a traditional comic as most readers would recognize it, it's a character study, and one that even then reads more like a collective tone poem than an examination; it's a British Love & Rockets that is more political, and more personal, than what many people would expect.

When I think of sitting in the dark, drinking beer with my friend — and subsequently, when I think of the End of the Century Club series — I think of the recognition of other humans; the simplicity in knowing just how fucked everything is and finding reason to make connections and nurture them in their own ways despite it. This can be seen throughout ILYA's stories in small ways: Characters repeatedly become part of the story circle without being brought into the gang, because they recognize that others are in the same situation that they are navigating a world that is both changing and hostile (or just downright indifferent) towards them. That doesn't mean that they necessarily become part of the gang; in the case of Daddy Freddy, the local end-is-nigh-preaching homeless Rasta on the street corner whose presence appears like something of a quirky one-man Greek chorus, even when he is avoided — Willie, in particular, can't handle the vibes all the time — it's never done with malice, but with a recognition of who is he and how he interacts with the world against how others can handle that in their own moments.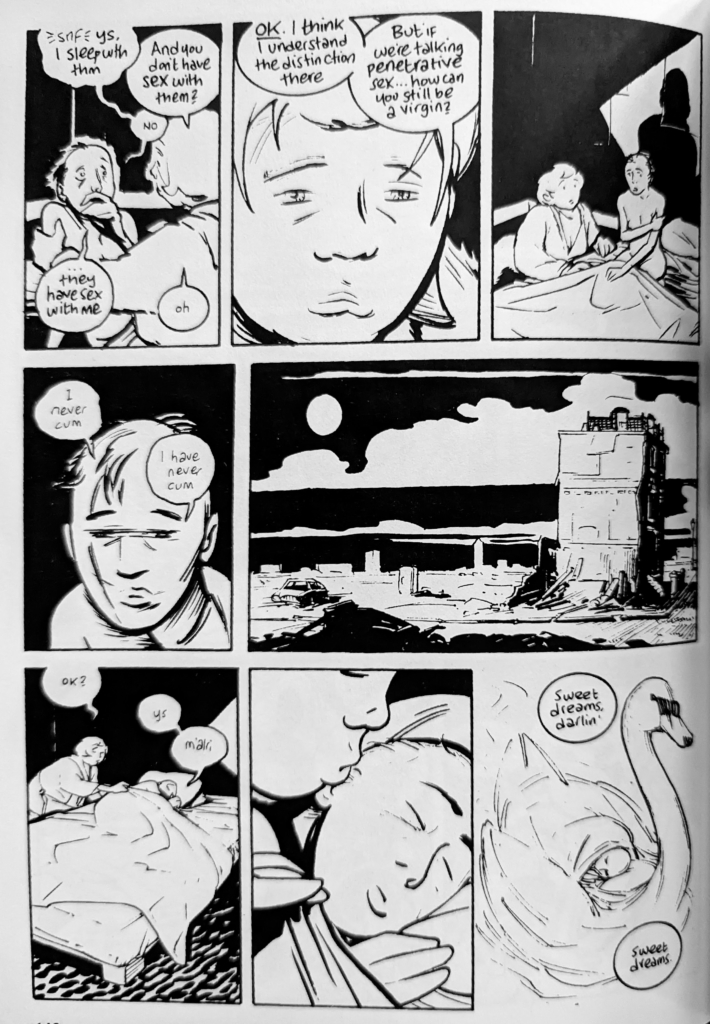 Small examples like that are a'plenty, but there's no denying larger examples as well, and in a much broader sense between the primary character's actions towards their friends and their immediate social circle, particularly when kindness and connections are not always necessarily hand in hand. Deanne – the eldest of the group, and arguably the most responsible – is a master at this, in fact, often delivering the hard truths to various members of the group in ways that on the surface seem overly-brash. This blunt honesty is the same reason why Deanne's love is felt to the core, though; it's with characters like her that ILYA shows off one of his best skills as a writer, which is recognizing that situations between people — let alone between friends who care about one another — are complex, and are never as simple as most pieces of fiction would make it seem.

There's no easy fix to a friend like Tip, who is a little too promiscuous and reckless for comfort, and there's no easy way to deal with a brother who's as thick as he is clever. And sometimes — in the case of Bic to Willie — it's having a bagel with a friend only to be asked for some food by a homeless man; when Willie lashes out, Bic is quick to snap to reminder that Willie himself had been in that position not long ago. It's a shaming and judgment that is a slap to the face, but one that only a friend could do to another (and is one that works, considering Willie is later seen buying a whole mess of food with his own money for a group of homeless folks.)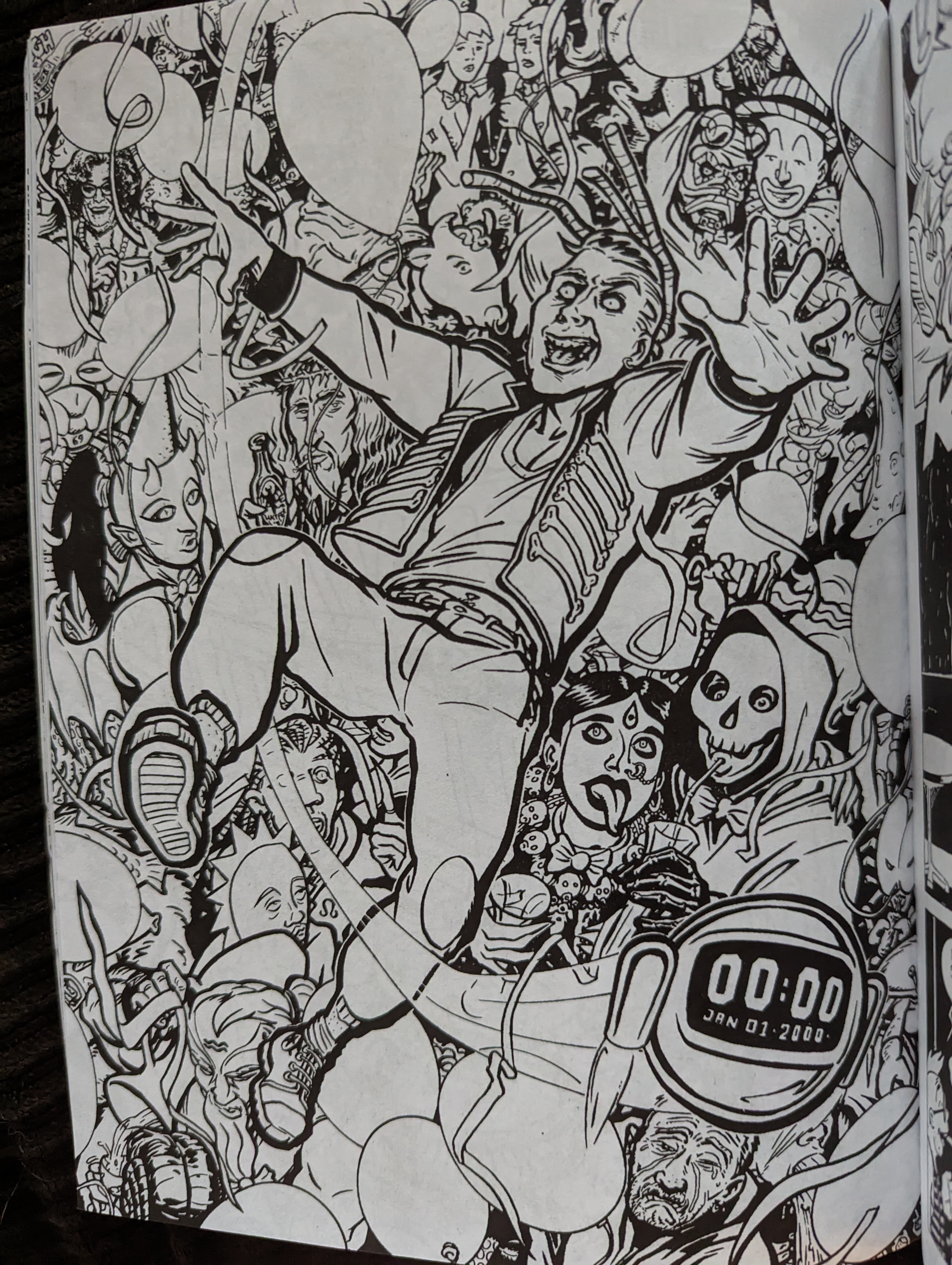 Even if there was a fix, the point that ILYA's work largely presents is that maybe it's best that we can't fix everything for everyone all of time; that maybe just connecting and finding ways to stake a claim in the world together is enough. When my friend showed up at my apartment, they sure as shit didn't bring beer and candles to bribe the power guy. They showed up to make sure I didn't feel so alone, and maybe have a laugh in the process. End of the Century Club and, in fact, most of ILYA's work functions in the same way, and in the way that many found family stories work when we're young, by demonstrating that the traditional narrative of kindness or being present that we've largely been fed is not the end-all-be-all of showing love, but that sometimes just showing up, in any way at all, is enough. What End of the Century Club does so well is show that no one is alone, no matter how much of an outsider they might be, no matter how down on their luck they might be, or how many changes they might go through in their life.

The Tip character arc throughout the Time Warp era of the series puts this idea on display pretty note-perfectly, as Tip – already one of the more volatile and shifting characters in the series – rejects everything about herself and, in the process, rejects much of her life and notably the people in it. Yet even during her break, her gang of friends – particularly Deanne and brother Willie, who represent different attitudes towards displaying and sharing love, selflessly and selfishly respectively – continue to reach out to try and help in the ways they know how: by just standing by ready in case she falls.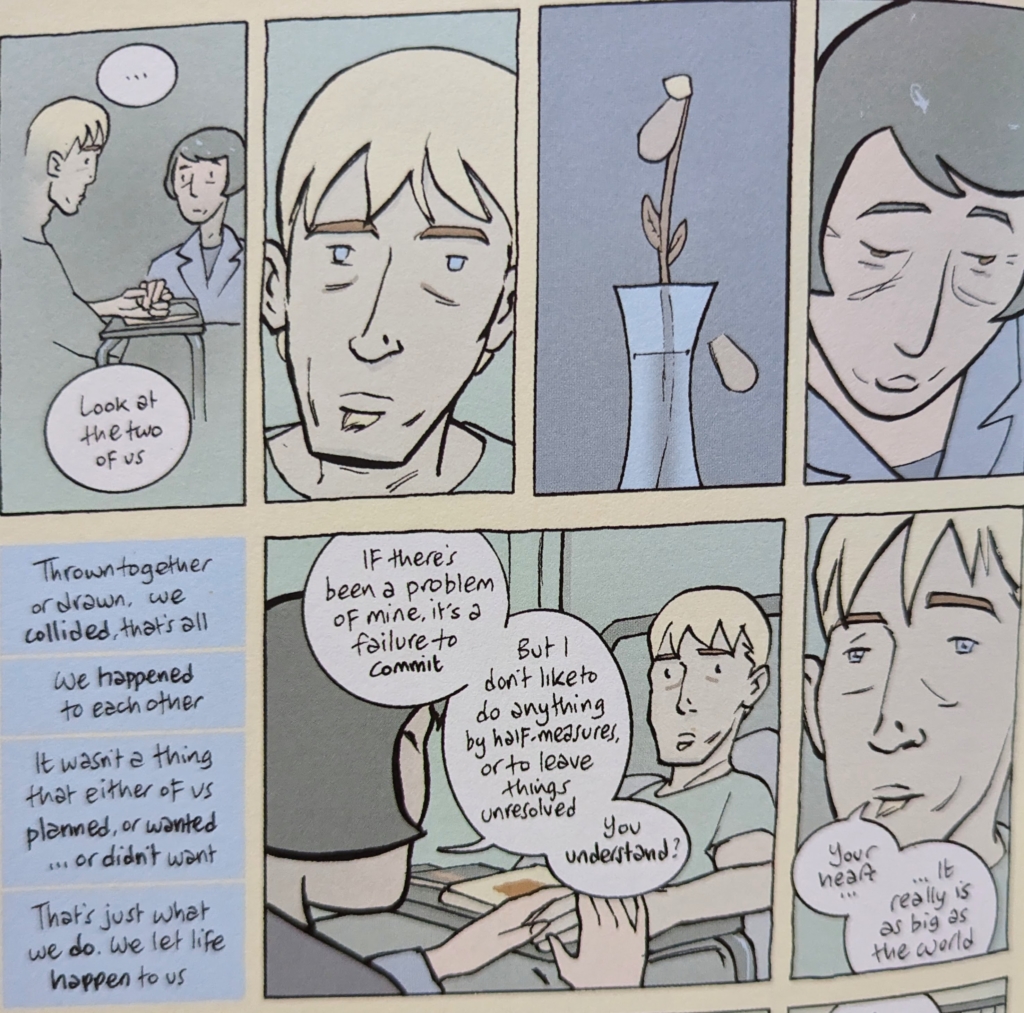 This may be the ideal place to talk, then, about Room for Love, ILYA's 2013 graphic novel from Self Made Hero that functions as an unofficial prequel to The End of the Century Club. A much younger and homeless man who may or may not grow up to become Willie – he calls himself Cougar in this book, but is purposefully shown to be an unreliable, even contrary narrator – is taken in by a lonely, middle-aged, and faultlessly well-meaning romance novelist, whose projection of her own loneliness and need for human connection results in the opposite of connection. Instead, she ends up smothering Cougar, causing him to push away and act out before eventually leaving entirely. This feels like another way of presenting that connection that so much of ILYA's work focuses on, by once again opposing the tropes that we're so often fed through fiction. It does so not out of a need for opposition or in some petulant outcry, but by arguing the idea that accepting boundaries and limitations are also a way of loving someone and helping them grow.

If there's one thing that we as humans desperately crave at the end of the day, it's the need to be seen, and ILYA's characters are a reflection of that in a way that is seldom seen in comic book fiction; acting as something of a long-running manifesto of how caring is not one-size fits all, and how giving each other the world matters less than giving whatever we can while we carve out that space to exist in the world. Sometimes it's about that space somewhere in between the tears, beers, and the candlelight.