1963 by Alan Moore
Alan Moore's 1963 blew my ten year old mind.
At that age, there was no place more magical than the local comic book store. There, rows of back issues seemed to stretch out forever — holding countless potential stories to be read, each one waiting to be discovered. In particular, I had become a master of the quarter bins, spending hours poring through rows upon rows of longboxes to squeeze as much reading value as I could out of every dollar. That stray bill I found on the street or beg from my parents would never go to waste — it would buy four comics that I might never sample otherwise. I learned how to pass by still-polybagged variant covers and find the issues and stories that carried real value — created not for speculators but for readers.
I'd scour through every single back issue in the quarter bins, which were organized in no discernible order, to find the gems. One one such visit I came across 1963 #1, starring Mystery Incorporated, a new superhero team. The cover proclaimed the series, which I had never heard of, "America's most exciting comic book!" The cover price — $1.95 — and the logo — Image Comics — made it clear the book hailed from the early 90s, but the dynamic artwork, bold inking, and bright colors made it seem like a lost relic of the past.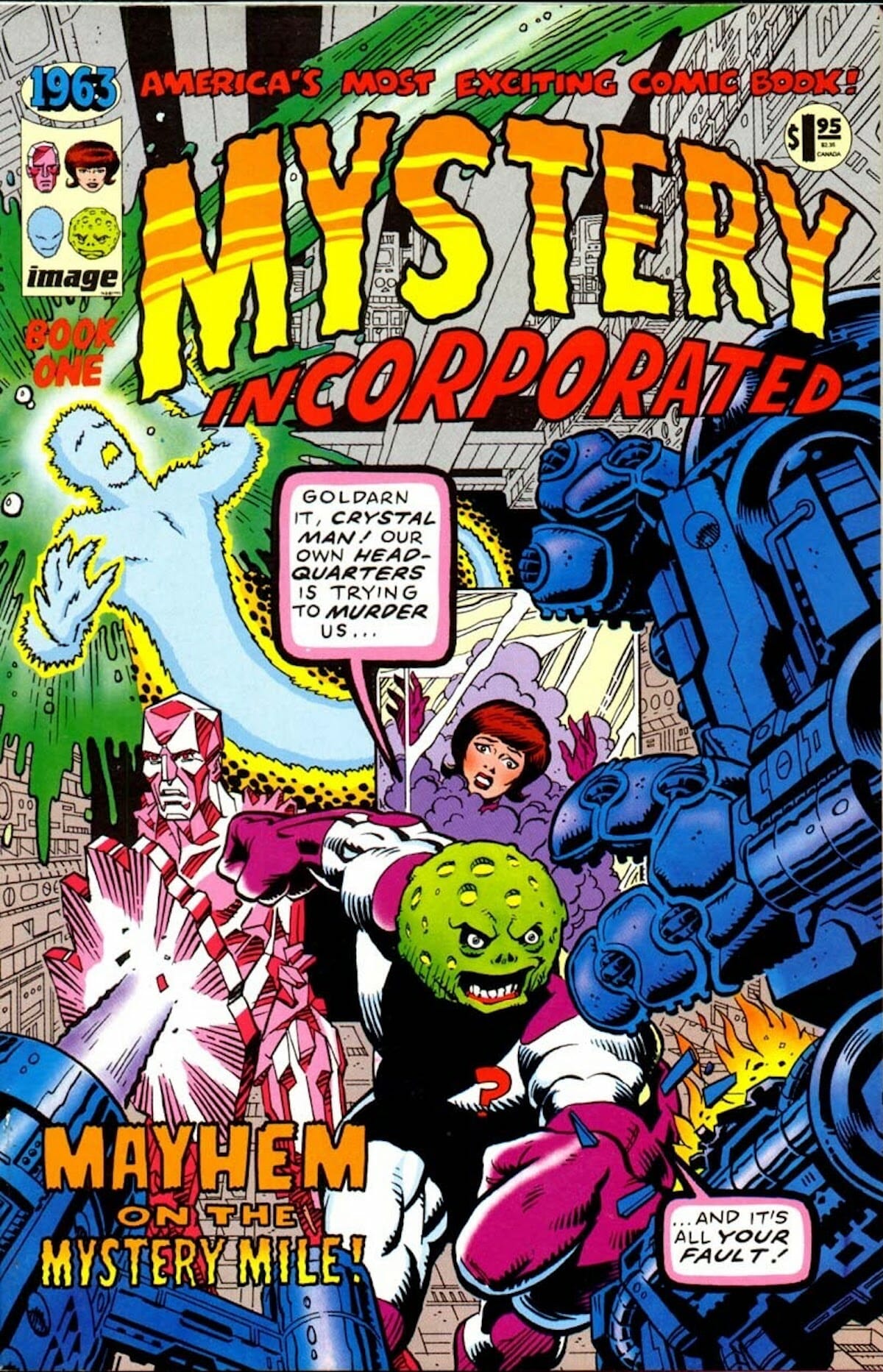 1963 by Alan Moore
The interior pages revealed the brilliant and fevered mind of Alan Moore, or "Affable Al," as he'd restyled himself, to be behind the project. I'd already read, at much too young an age, V for Vendetta, From Hell, Watchmen, and others, so I knew who Moore was and his importance to expanding the range of what a comic book could say — yet this new series was more shocking to me than any other I'd read.
Rick Veitch was penciller, while Dave Gibbons of Watchmen fame provided the inks, and Don Simpson, whose Megaton Man I had read, hand-lettered the series. (Coloring was credited to a "Marvin Kilroy," but, with no other credits to his name, this had to be a pseudonym — perhaps a veiled reference to Stan Lee's second-in-command at Marvel during the Silver Age, Roy Thomas. "Meticulous Murphy Anderson," who'd penned numerous classic DC comics covers and interiors, apparently did "color production" for the series, no doubt part of Moore's obsessive attention to detail.)
A blurb from "Affable Al Moore" in a later issue in the mini-series bombastically detailed the care that had gone into completing the illusion that this was a comic book that could have fallen off a grocery store spinner rack in 1963 and lay buried beneath dust and cobwebs for thirty years:
"[W]e, the Sweatshop Shakers, have spared NO EXPENSE in tracking down the MOST AUTHENTIC cheap, shoddy and absorbent paper on which to print our pulse-pounding productions!! Furthermore, thanks to recent TECHNOLOGICAL BREAKTHROUGHS IN PRINTING, we can now bring you color reproduction where you can ACTUALLY SEE all the little dots, a definite delight denied to you by the majority of modern magazines! And that's not ALL, travellers! If you hold the comic book you are reading up to your nose and inhale slowly, you will discern the most distinctive difference of all between RETRO and ANY OTHER FORMAT!! That's RIGHT, revellers! With the miracle of our professionally patented AROMARAMA process, contemporary comic collectors can at last enjoy the laser-accurate HOLOGRAPHICALLY REPRODUCED odor of yesteryear!!"
I was hooked.

Radioactive Man #1 cover
"MY BODY — COURSING WITH STRANGE POWER! IT FEELS LIKE PURE, CLEAN ENERGY! YIKES! HAVE I BECOME A … A … RADIOACTIVE MAN?! … POP'S MEGA-BOMB! SOMEHOW IT'S GIVEN ME POWERS AND ABILITIES FAR BEYOND THOSE OF MORTAL MEN AND WOMEN! WHEEE! THIS IS FUN!" — Radioactive Man #1, Steve Vance
The idea that you could put on a mask and become someone else — reinvent yourself into someone better — was both alluring and intuitively familiar. All immigrants, after all, are familiar with the process; it was a choice my parents made when they crossed a continent to come to America, and it was a legacy I inherited when I was born.
Comic books shaped me, and there was no medium I loved more. It was, I came to understand, an all-American art form. Though you could trace the lineage of comic books, like that other American creation, jazz music, to art forms and styles from around the globe, it truly came of age in America. And, as the African diaspora shaped jazz, so too did immigrants create comic books, together with their most popular subject — the superhero.
The first-generation immigrants (all of them Jewish as well) who created comic books and helped popularize superheroes included Will Eisner, Bob Kane, Bill Finger, Jerry Siegel, Joe Shuster, Martin Goodman, Jack Kirby, Joe Simon — and Stan Lee. They were indisputably hard-working and inevitably poorly-paid; those who worked closer to the publishing side were invariably hustlers and hucksters. In other words, the story of comics was as thoroughly American as you could get.

Radioactive Man #1 by Matt Groening
Since my family was working class and I was a couple of decades out from affording my own collection of graphic novels, I learned these names by devouring stacks of omnibus hardcover reprints at the local library — the bigger the better, each volume bulging with dozens of high-quality reprints of larger-than-life tales which extolled the virtues and pitfalls of responsibility, community, and in some cases, good old-fashioned guilt. In my eyes, these superheroes were a moral north star for a kid trying to make his way in a world that seemed to be cast in someone else's mold. Each issue seemed to me to be one more tiny piece in an infinite puzzle — helping me to understand and navigate a world that was not built for me.
Reading these collected editions, I loved facsimile reprints most of all, which recreated not just the stories but the ads for sea monkeys and drawing lessons, X-ray glasses and Charles Atlas workout routines. I even begged, borrowed, and saved up to occasionally buy my own back issues from the 1960s and 70s, coming to savor the unmistakable smell of old newsprint.
I read these comics and learned the story of how, as the Depression and post-war years gave way to the Atomic Age and the 60s, the popularity of these creations continued to rise, with the major publishing companies churning through reams of cheap newsprint and gallons of four-color ink as artists and writers brought their stories to life. As I learned the history of the industry, I learned to love the country that had made their efforts possible as much as I loved the artists whose stories and contributions added a splash of Ben-Day color to the story of that nation. I learned, at the same time, how it was precisely their status as outsiders of the status quo that allowed them to write and share these stories.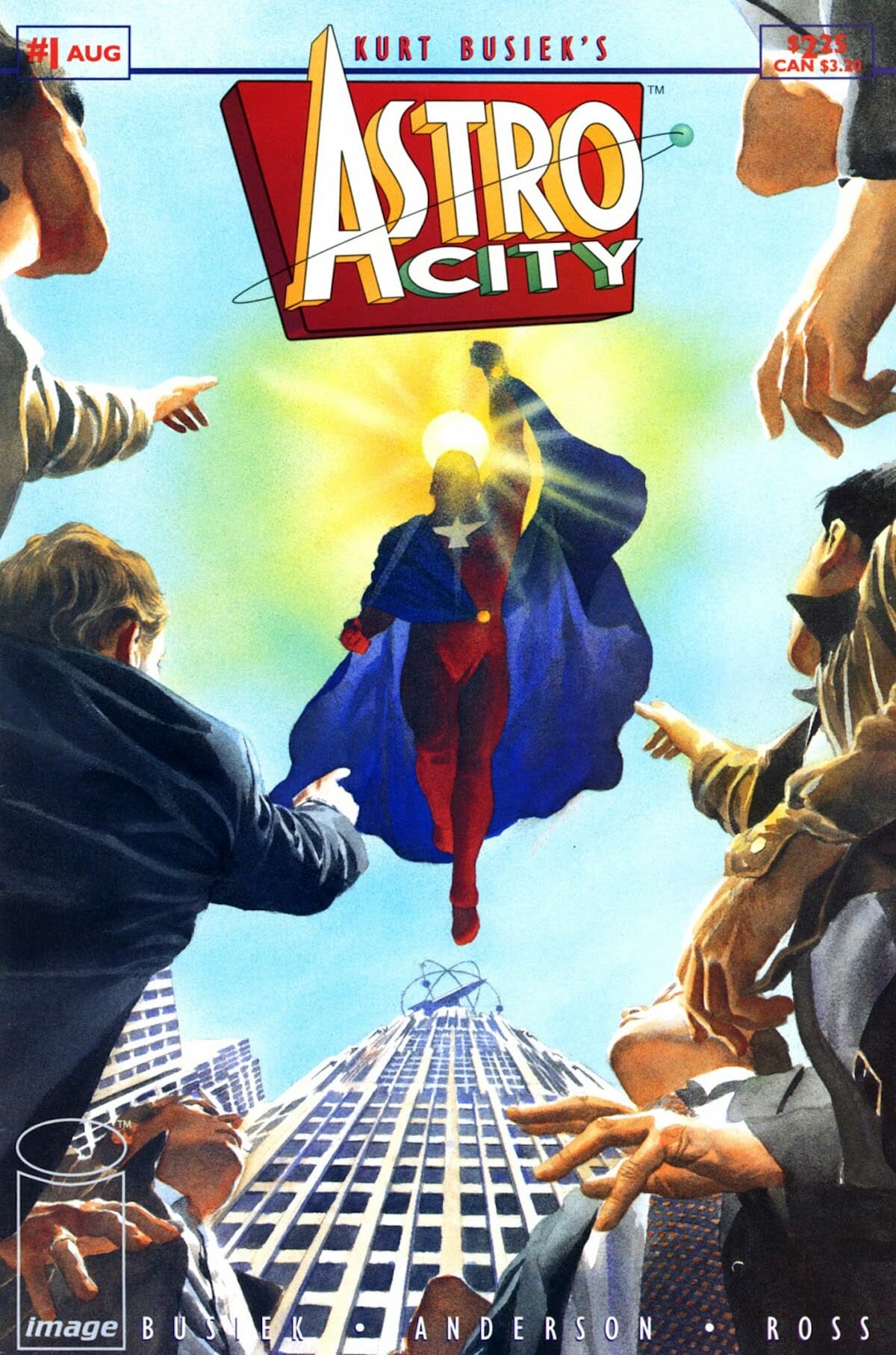 Astro City #1, cover by Alex Ross
"IT FELT LIKE SOMETHING WAS BEGINNING — AND THERE WAS NOWHERE IN THE WORLD I'D RATHER HAVE BEEN THAN IN ASTRO CITY … THE WORLD AROUND ME WAS FRESH AND VITAL. THERE WAS SPIRIT, AND COMMUNITY — A SENSE THAT WE WERE ALL PULLING TOGETHER. FOR THE SPACE RACE — FOR DEMOCRACY — WHATEVER WAS GOING ON IN THE WORLD — WE WERE A PART OF IT."— Astro City #2, Kurt Busiek
1963, released in 1993 and written by Alan Moore, signaled the rise of the pastiche comic book. No medium of art or commerce can exist for too long before its gaze turns inward, and in an industry in which technologies like time travel were a thing of the past, the format offered a new way of looking at the future. In the pastiche comic, creators painstakingly mimicked the form of classic comic books from the Golden and Silver Age of comics, imitating both the dynamic art styles as well as the bombastic writing.
Moore's 1963 took aim at the Marvel Comics of the Silver Age, though occasionally drawing in other influences. A couple years later, Alan Moore revisited the 50s and 60s era of Superman comic books in Supreme, and later used the technique in 1999's League of Extraordinary Gentlemen.
Other series' got in on the act: as Matt Groening, a lifelong comic book fan, experienced the massive success of The Simpsons, he launched his own comic book company, Bongo. In 1993, Groening released Radioactive Man, a mini-series detailing Bart Simpsons' favorite character which, with a dedicated level of detail, parodied Superman, while commenting on trends in both the comic book industry and American society writ large.
Kurt Busiek, while not strictly creating pastiche comics, meanwhile established a cottage industry of earnest yet brilliantly written comics set in the past, from Untold Tales of Spider-Man and Marvels, to his creator-owned magnum opus, Astro City, which drew upon the major comic book companies for its own mythology, though with beautifully-crafted stories of the individuals at the heart of those stories.

1963 by Alan Moore
"AMNESIA, HUH? WELL, THOSE WERE FORGETTABLE DECADES! EVERYTHING IN THE SEVENTIES HAD TO BE RELEVANT, AND THE EIGHTIES WERE JUST PLAIN DEPRESSING!"— Supreme #49, Alan Moore
The trend didn't happen in isolation. Comic books had always reflected the anxieties and undercurrents of American culture, from early superheroes fighting Nazis even before the U.S. entered World War II, to a desire for post-war normalcy which masked unresolved social tensions during the 1950s.
Beginning in the 1960s, Marvel Comics, largely driven by Smilin' Stan Lee's singularly bombastic personality, began to depict some of the social forces which were beginning to roil to the surface; Lee's heroes were famous for their unresolved neuroticism or what some termed realism, as the broader culture itself took an inward turn. As the decade wore on, Marvel Comics often glanced at issues like campus protests, but more often than not, the mastermind would turn out to be the villain of the week — always stopping short of speaking to the structural and systemic changes that real-life protests attempted to address.
Beginning in the 1970s, superheroes from both of the major publishing companies began depicting darker social trends, however imperfectly — Green Lantern finding his sidekick addicted to smack, Peter Parker coming across his best friend in the midst of a drug trip, or Iron Man struggling with alcoholism. These storylines rarely dealt with these issues in a wholly satisfactory way, with the issue usually resolved by the end of the issue or arc, but showed how comics continued to engage with the culture.

1963 by Alan Moore
In the 1980s, creators like Alan Moore, Frank Miller, and others were responsible for taking superheroes in a darker direction with projects like Watchmen and Dark Knight Returns. The 1990s saw artists picking up the superficial elements of those projects, leading to the rise of the "grim and gritty" era in comic books.
As the fans who were reading comics during the Silver Age grew up (yet continued to read their favorite series), the "direct market" came of age — comics which were no longer just sold on grocery store spinner racks and aimed at kids, but instead sold directly in specialty comic book stores. In an echo of the "Greed is good" ethos of the 80s summed up by Wall Street's Gordon Gekko, with the direct market — and the realization that many of the Golden and Silver Age comics had appreciated exponentially in value — comic books became an investment vehicle for collectors, fueling the launch of countless variant and specialty releases and de-emphasizing aspects like plot, dialogue, and story-telling. For the first time, comic book artists could become multi-millionaires, and the most successful ones, responding to what they saw as abusive work-for-hire practices, branched off from the big publishing companies to form their own creator-owned ventures.
At the same time, it was difficult to escape the sinking feeling that the fun had simply gone out of comic books. Even as the industry received more attention and investment than ever, there was a vibrancy and dynamism in the stories of the Golden and Silver Age which the 1990s lacked, at least in most mainstream releases. It became easier than ever to romanticize the stories of a bygone age. This was the context in which the pastiche comics trend took off.

1963 by Alan Moore, Rick Veitch, and Dave Gibbons
"HUH! I OFFER THE GUY A LITTLE FRIENDLY CRITICISM AND JUST GOES TO PIECES! LET'S HOPE THEY'VE GOT SOMETHING MORE DEMANDING UP AHEAD! A GUY COULD DIE OF BOREDOM AROUND THIS PLACE!!!"
— 1963 #1, Alan Moore
History is never as simple as the narratives which are sanitized and packaged for public consumption, and the comic book industry was no different. Beneath the veneer of affability at Marvel Comics, to use one example, lay the stark reality of work-for-hire, which left many creators feeling exploited by management — and Stan Lee in particular. Moore addressed this in 1963 in a "letters column" in which he wrote both questions and answers, leading up to the punchline:
As for the magnificently mysterious motto "Work for Hire", let the serried ranks of Sixty Three-dom hereby receive notice that "hire" is the nickname of Handsome HIRAM GLICK, our swingin' septuagenarian Voucher Clerk! Y'see, whenever one of our prodigious pencillers or inimitable winkers finishes a job, he has to fill out a voucher for Hiram to process, which is, of course, making additional "Work for Hire", even though the cheery old codger never utters a word of complaint.
By the 1990s, rumblings of the reality behind the camaraderie of the "Marvel Bullpen" were well-known to dedicated comic book readers. Many of the most well-known artists struggled to find work and financially sustain themselves even as the creations they had birthed formed multi-million dollar properties in not just comic books but, increasingly, television and film. Jack Kirby was suing Marvel and Steve Ditko had sworn off ever so much as speaking with Stan. Moore's critiques stung because they were true.

1963 by Alan Moore
In other letters and in his "Al's Amphitheatre" column (after "Stan's Soapbox"), Moore took on other issues at Marvel, with vicious barbs aimed at the lack of racial representation among characters, to Stan Lee's penchant for bragging about the college readers who read the magazines and the campuses he visited, to his infatuation with the celebrities from the world of fine art and high culture who stopped by the Marvel bullpen.
Throughout the series, Alan Moore, who himself had long chafed under the major comic book companies, relentlessly highlighted the ways in which the comic book industry had a long history of failing the largely immigrant, working class creators who had built it up — and by extension, the ways in which those structures continued to fail creators in the present day.

Astro City by Kurt Busiek
"IT WAS MY JOB TO TELL THE PEOPLE WHAT WAS HAPPENING AROUND THEM. AND LORD, HOW I WANTED TO TELL THEM THAT PARTICULAR STORY…"— Astro City #2, Kurt Busiek
Just as comic books have mirrored social trends, so too has the hidden history behind them mirrored the ways in which some stories in America are highlighted and others are left out. Underground comix had long used the basic format of the comic book for more subversive purposes, and though lacking the mainstream reach of DC and Marvel, in many cases sustained the creative careers of a vibrant class of creators. The independent comics movement in the 1990s, though too-often relying on the same combination of cheesecake and holographic variant covers that was hollowing out the properties of the Big Two companies, at its best drew upon these subversive elements and gave their creators a new platform.
But the trend toward not just critiquing but recreating the past through the pastiche comics trend, too, pointed to fertile ground for creators. Reading 1963 today is an uncomfortable experience for me. That's because pastiche can operate not solely in the realm of satire and parody, but also of the kind of imitation that can only come from observation born out of both love and unfulfilled need. Those whose love is withheld from us are often those we most closely imitate, and the pastiche technique operated as a tool to expose the contradictions at the heart of some of our most beloved characters and media.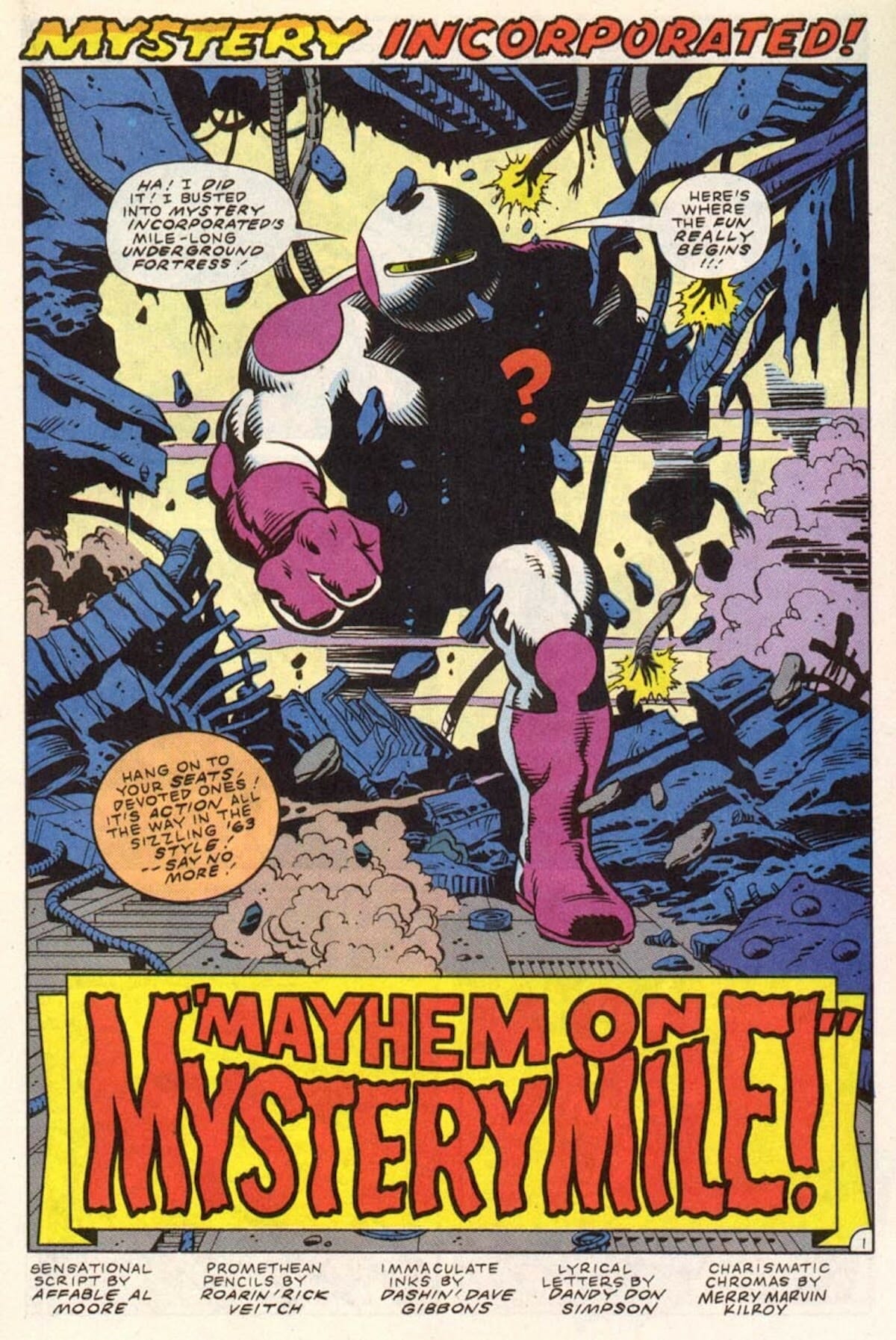 1963 by Alan Moore, Rick Veitch, and Dave Gibbons
It's true that the comic books of the Golden and Silver Age, for example, erased the experience of people of color even as it's true that their masked superheroes have brought inspiration to generations of children of all ages. It's true that the companies which published those comics failed to honor the labor of the immigrant creators who brought them to life even as the work of those companies became a lasting part of the American canon. The pastiche comic book ultimately taught me to engage more critically with the media creations I loved, helping train me to work as a historian and an author of my own story — to reimagine the narrative I could tell with my own words and to write a new one.
When I visit a comic book store today, I'm instantly transported back to an earlier time — when I was a child — but with the perspective of the present. I've never shed the feeling that each longbox contains infinite possibilities, each mylar bag holding a sliver of the past solidified into newsprint and ink. But 1963 and other pastiche comic books taught me that those thousands of stories contain not just the past but the present and future too — a future which is still being written, which we can shape and create anew with the tools of the past.