The movies of Jean Rollin embody a cinema of blood; the celebrated French directors' first four films all feature the world "Vampire" in the title, sometimes prefixed by a sexual association. (His feature debut, 1968's Rape of the Vampire may be the most explicit example of this.) Beyond that initial quartet, Rollin repeatedly uses blood as a way to bridge gaps between worlds, to offer a communion with the supernatural – this communion, explored both in and beyond his versions of the vampire myth, can be a double-edged sword. While the supernatural offers freedom, and specifically sexual liberation, it often comes with inevitable, tragic consequences.
The power and contradictions of blood in Rollin's film are explored most prominently in Fascination (1979), a film loaded with some of Rollin's moist iconic images; from Britgitte Lahaie wielding a scythe, to the waltz that bookends the film, Fascination takes Rollin's ideas of the vampiric and offers them in their most fully realized form.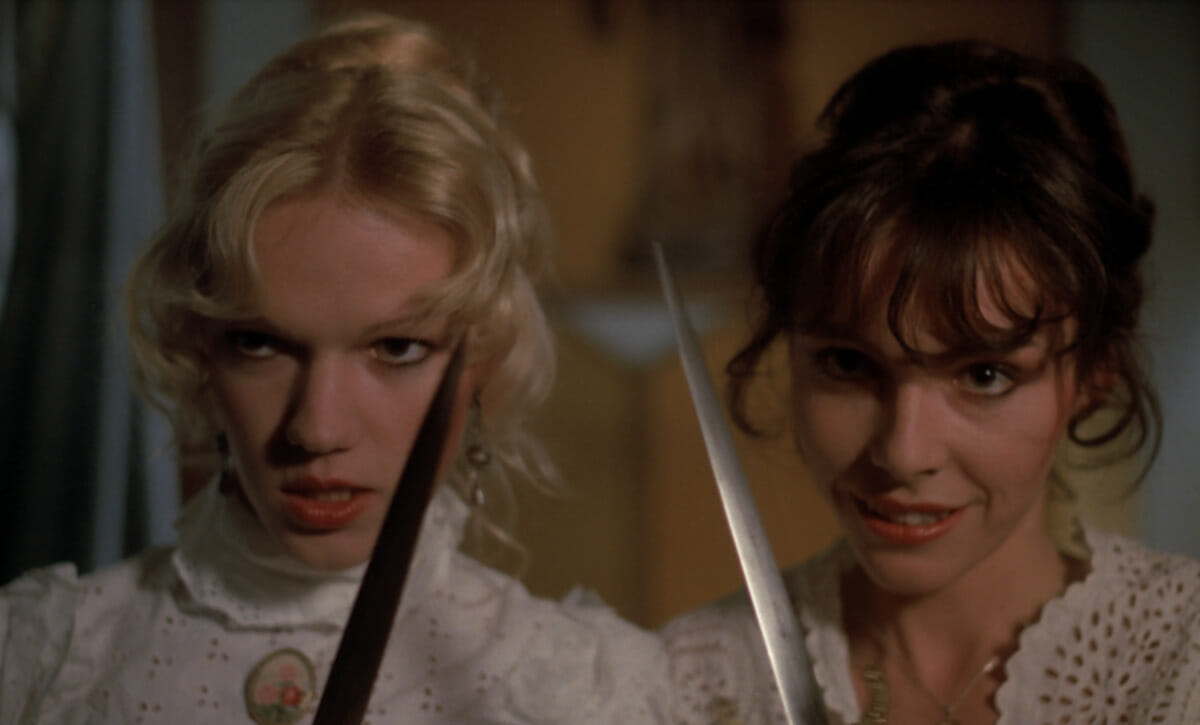 At the center of Fascination are Lahaie's Eva, and her lover Elisabeth (Franca Maï). The former a blonde, the latter brunette, there's something almost archetypal about the way that they look, and the initial role that they end up performing when runaway thief Marc (Jean-Marie Lemaire, looking like a French version of Alex in A Clockwork Orange) finds the estate. They act as victims, damsels in distress in their white, flowing, virginal robes. But as the film progresses, and the truth about the two women is revealed, the power dynamic shifts alongside it; the idea that the women are not afraid of Marc "in spite of your big gun."
Rollin's worlds are inherently sexual ones, and that's what makes his vampires, his obsession with blood, so compelling. Blood is called "the life that flows within you, but it's also death when it escapes." This multitude – that blood is both life and death – is wrapped up in how Rollin approaches the supernatural: at once a kind of erotic liberation, but also a tragic fate.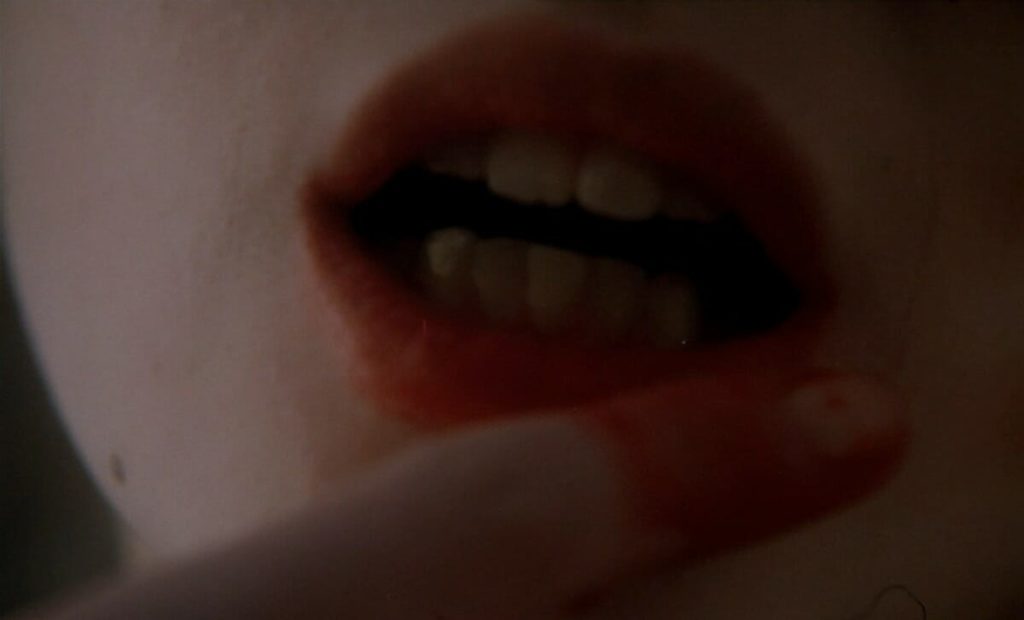 Blood appears in many guises in Fascination. Applied like lipstick; planted on fingers with a kiss, and then pressed onto the lips of another woman. The opening scene of Fascination takes place in a slaughterhouse – women drink ox blood as a way to cure anemia. Blood is made restorative immediately, a font of power. And this power takes on erotic forms as well. The supernatural power of the two women allows them to subvert the dynamic that Marc expects between the three of them. It's through the supernatural that the two women seem able to overpower and kill the men that try to take advantage of them; after all, as the film itself argues "death sometimes takes the form of seduction."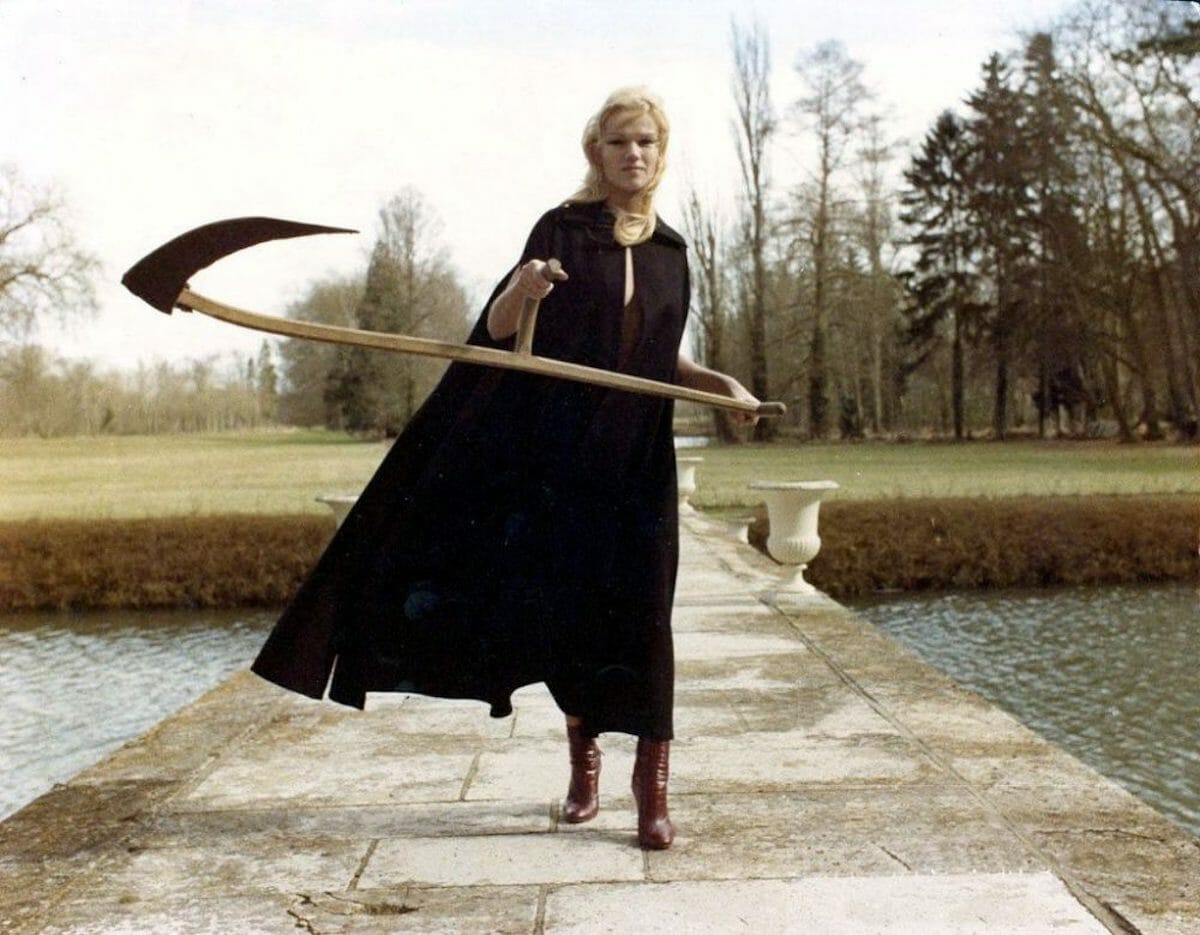 In Rollin's films, sex and death are often in bed together; one often begets the other. Eva seduces a thief and kills him while they have sex. This is a moment where the supernatural seems to be unleashed, although it comes at a price. Eva has power; is seemingly otherworldly in her seductions, and unflinching in her violence. But inevitably, someone comes to collect from Eva, as if the power of the blood were a debt waiting to be collected. While Marc might say "I don't belong to anyone," both Eva and Elizabeth belong to the supernatural. From Eva's final moments allowing the other members of her aristocratic vampire coven to drink her blood, to Elizabeth admitting that she never loved Marc, the two women show the costs of supernatural power in Rollin's films: you have to spurn those unlike you; and in the end, offer yourself up to others who will want the power of your blood.
It never feels puritanical, or like a judgment from Rollin – his women never feel punished for the agency given to them by vampirism. Instead, their fate is simply the cost of doing business – that for a time, you can have everything you desire but, in the end, it will fade away.
These ideas are echoed in Living Dead Girl (1982), which once again sees Rollin remixing vampires, and with it, his obsession with blood. Here, the supernatural genesis is a toxic spill reanimating the once-dead Catherine Valmont (Françoise Blanchard), who is later discovered by her former friend Hélène (Marina Pierro). Of course, after she returns to the land of the living – and always somewhere between life and death, drifting from one space to the other – Catherine needs blood in order to stay alive.
Catherine and Hélène's relationship is defined by blood even before otherworldly peers reunite the two women. They're blood-sisters; having made a vow during childhood. A vow to always love one another, and for one to follow the other to the grave. Even before reanimation and vampirism, it's clear for Rollin that love is something that matters: a shorthand for connection, intimacy, and the eternal.
While Living Dead Girl does use vampirism and blood to sustain its undead title character, what blood – and the supernatural world it unlocks – offers her, is different to the sexual agency and power given to the women of Fascination. Instead, the reanimation of Catherine gives her and Hélène another chance at love, or something like it. As Hélène herself says to Catherine "there must be something in your subconscious that recognizes me and loves me." It's only through giving Catherine blood that she's able to stay tethered, however fleetingly, to the land of the living and with it, her memories of Hélène.
But, like Fascination before it, Living Dead Girl has a tragic ending – one that comes about in a moment of lucidity from Catherine, as she stands over the corpse of a woman she's killed to feast on blood and sustain herself – in which she says "I belong to this crypt." Just like the women in Fascination belong to their coven and, decades earlier, the Monster and his Bride "belonged dead." The final kill in Living Dead Girl is, like the ending of Fascination, a sacrifice. And it's so much more brutal, violent, and real than those that have come before it. Eating fingers, weeping, it rips away the supernatural veil of Rollin's films and lays bare the poisoned chalice that his characters are offered. In their final moments, Catherine and Hélène are able to be together again, even though it comes at an unimaginable price.
The connection between love and death is at its most stark at the end of Living Dead Girl, and with it, the idea that both of those things are acts of consumption. These women have to consume blood – to kill – in order to sustain themselves and be with the person that they love.
For all of the agency and power that vampirism gives the women in Rollin's films – and he's explicit about them being in control, of deciding what happens and when; the women in Fascination talk often about deciding when and how sex happens in their lives – they need to constantly pay the price to maintain it. Living Dead Girl takes the vow made by these blood-sisters and brings it to life; one does follow the other to the grave, and it's all because of blood. That's what makes the endings feel so inevitable and tragic – that this need to be sustained is, in itself, unsustainable, or that in the end the person who keeps their love(r) alive is the one who will need to be sacrificed.