1984 was what you could call a big year for Judge Joe Dredd.
Between a seven year strong (and continually growing) fandom drawn in from the pages of 2000 AD, several successful European-style album reprints from Titan Books, the success of reprints for the American market from Eagle Comics, as well as t-shirts and a host of other Dredd-themed merchandise, it seemed that there was no stopping the growth of what had already become British comics' most recognizable cop. What, then, is a publisher to do when they've recognized the sales potential of their best-selling commodity? Well, launch a whole new Judge Dredd comic, of course.
And no, you're not reading that wrong. Nearly six years before the first issue of the evergreen and still-wildly-popular Judge Dredd Megazine — a series celebrating its 30th anniversary this month — Dredd's then-publisher IPC Magazines tried its hand at a Judge Dredd spin-off with the straight-forward name Judge Dredd Fortnightly.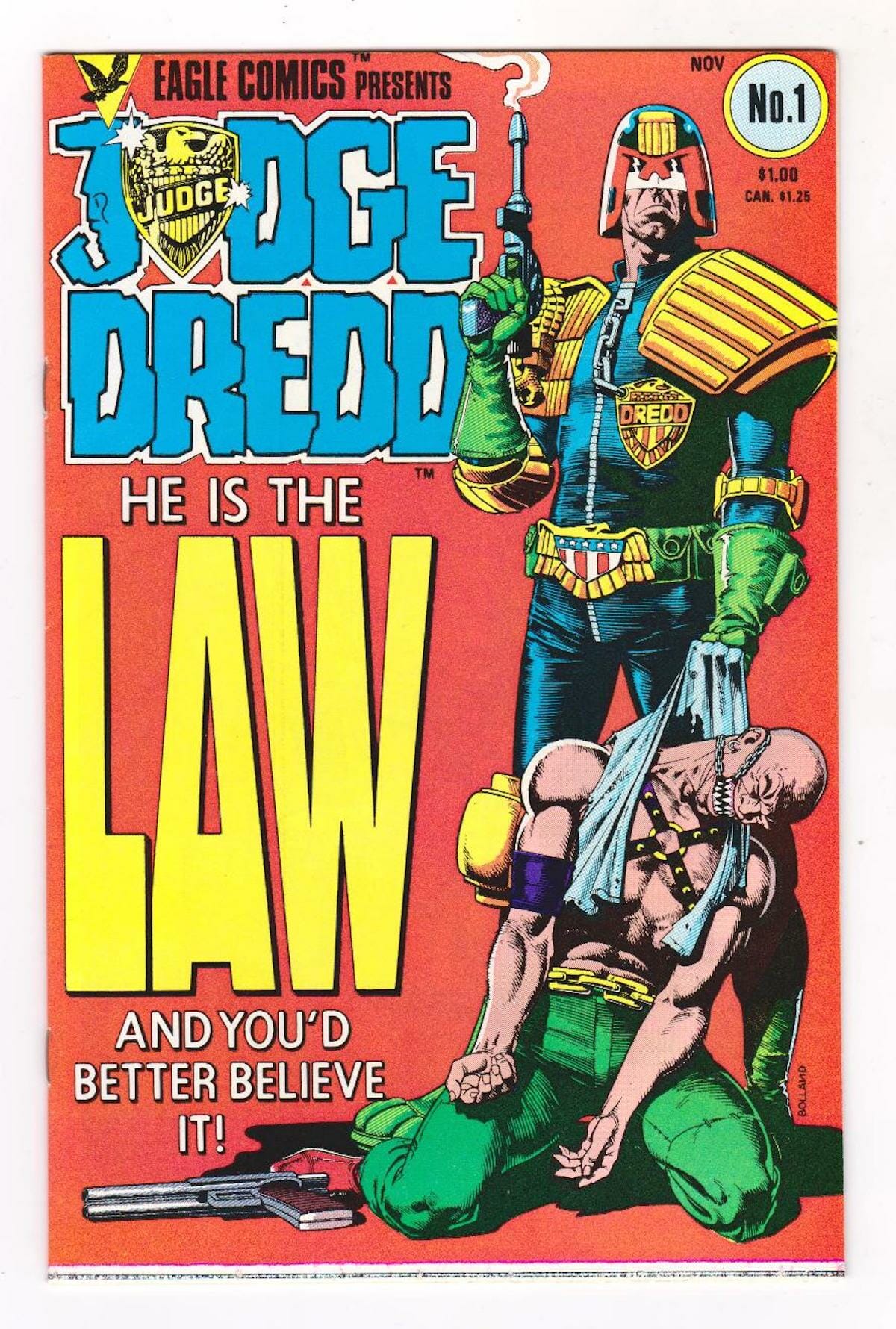 Pitched as a partially-colored, fortnightly comic by 2000 AD's then-editorial team of Simon Geller and Steve McManus, the series was set to host some of the best creators within the award-winning anthology's all-star line-up, including stories written by John Wagner, Alan Grant, and Alan Moore; with illustrations from Mike Collins, Ian Gibson, Dredd co-creator Carlos Ezquerra, Jose Ortiz, Jose Casanova Sr. and Brett Ewins. While the full fortnightly comic itself was rejected outright, over half of the stories created for the ill-fated dummy issue were happily recycled into material for the constantly-hungry 2000 AD over the next few years.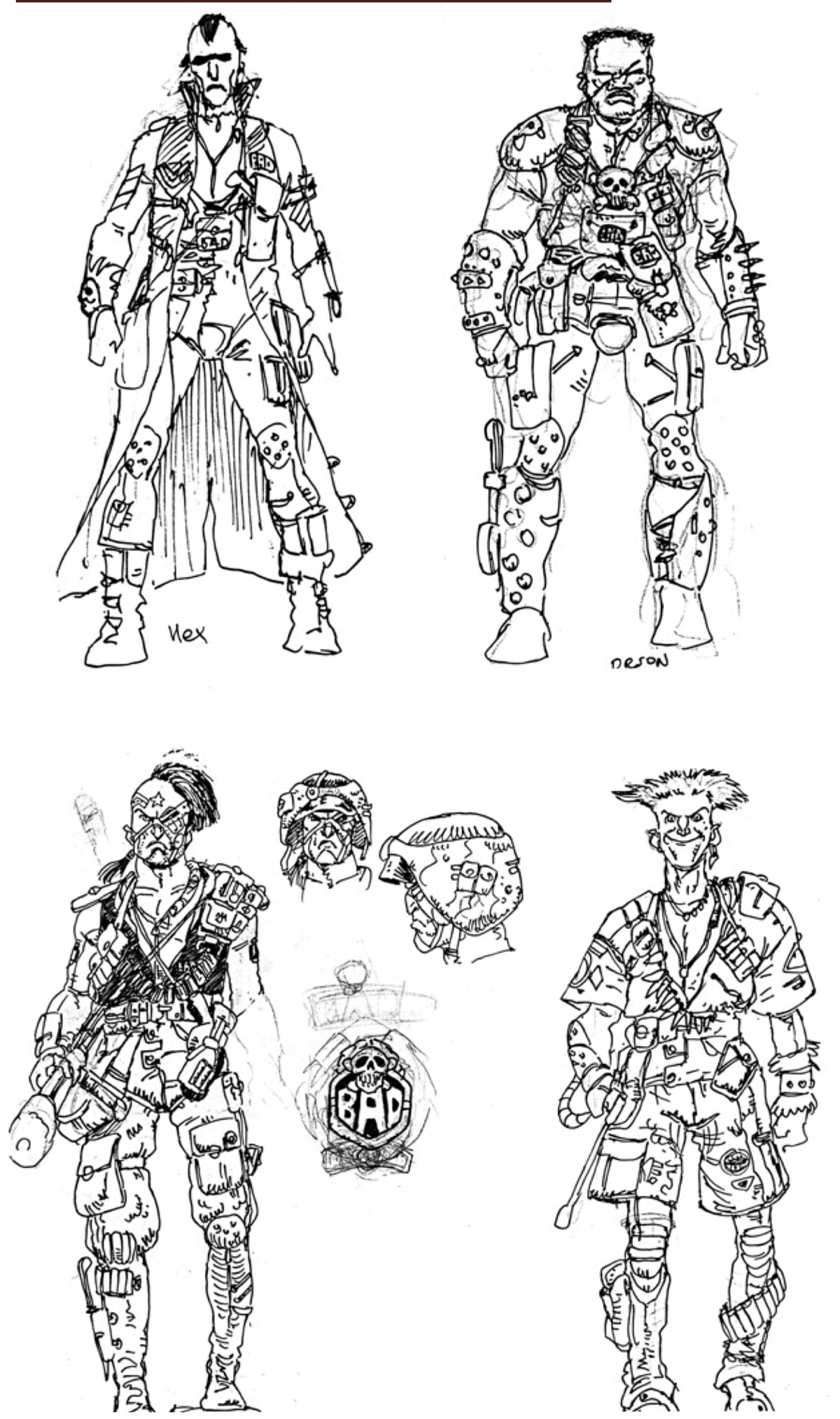 A sci-fi take on John Wagner's earlier Darkie's Mob strip, Wagner, Grant, and Ezquerra's B.A.D. Company saw the 1st Mega City Volunteers pinned down in a war against the Nurds before being rescued by the former Judge "Titan" Kano. The outfit adopted the name Battalion Assault Deployment Company — B.A.D., get it? — and became well known for being a military outfit of freaks, crazies, killers, and renegades. Later rebooted and substantially re-written by the creative team of Peter Milligan, Brett Ewins, and Jim McCarthy, B.A.D. Company eventually became the surreal sci-fi wartime horror of the Bad Company stories fans have loved for more than three decades at this point.
Judge Anderson was meant to get her original start as a solo character in the Fortnightly as well, following a number of successful appearances in 2000 AD's regular Dredd strip, with stories from Wagner, Grant and Ewins surrounding psychic Judge Cassandra Anderson with a resurrected threat from Judge Death, allowing a new take on the everyday crime of Mega City One from her more humane, empathetic perspective instead of from her surly cohort Dredd.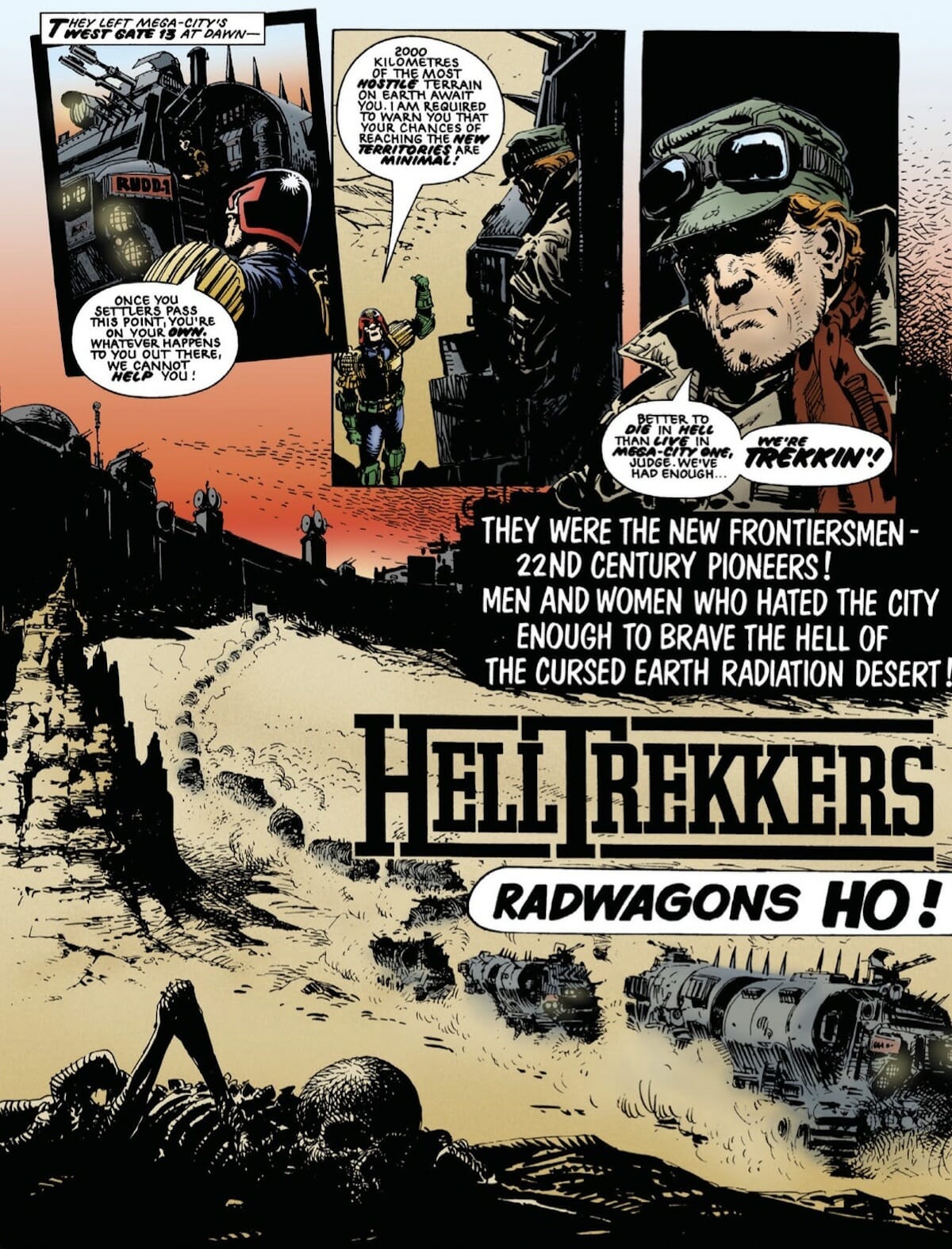 The third series to make the trip from Fortnightly to 2000 AD proper was sci-fi western saga Helltrekkers — another Wagner and Grant strip that eventually lasted a hardy run of 29 episodes in 2000 AD before almost its entire cast ended up dead through misadventure. During its surprisingly long-running slot in the magazine, Helltrekkers told the take of the 22nd century pioneers and the settlers foolish enough to brave their way through the radioactive Cursed Earth desert sitting between the east and west coasts of what used to be the United States, in search of a better life.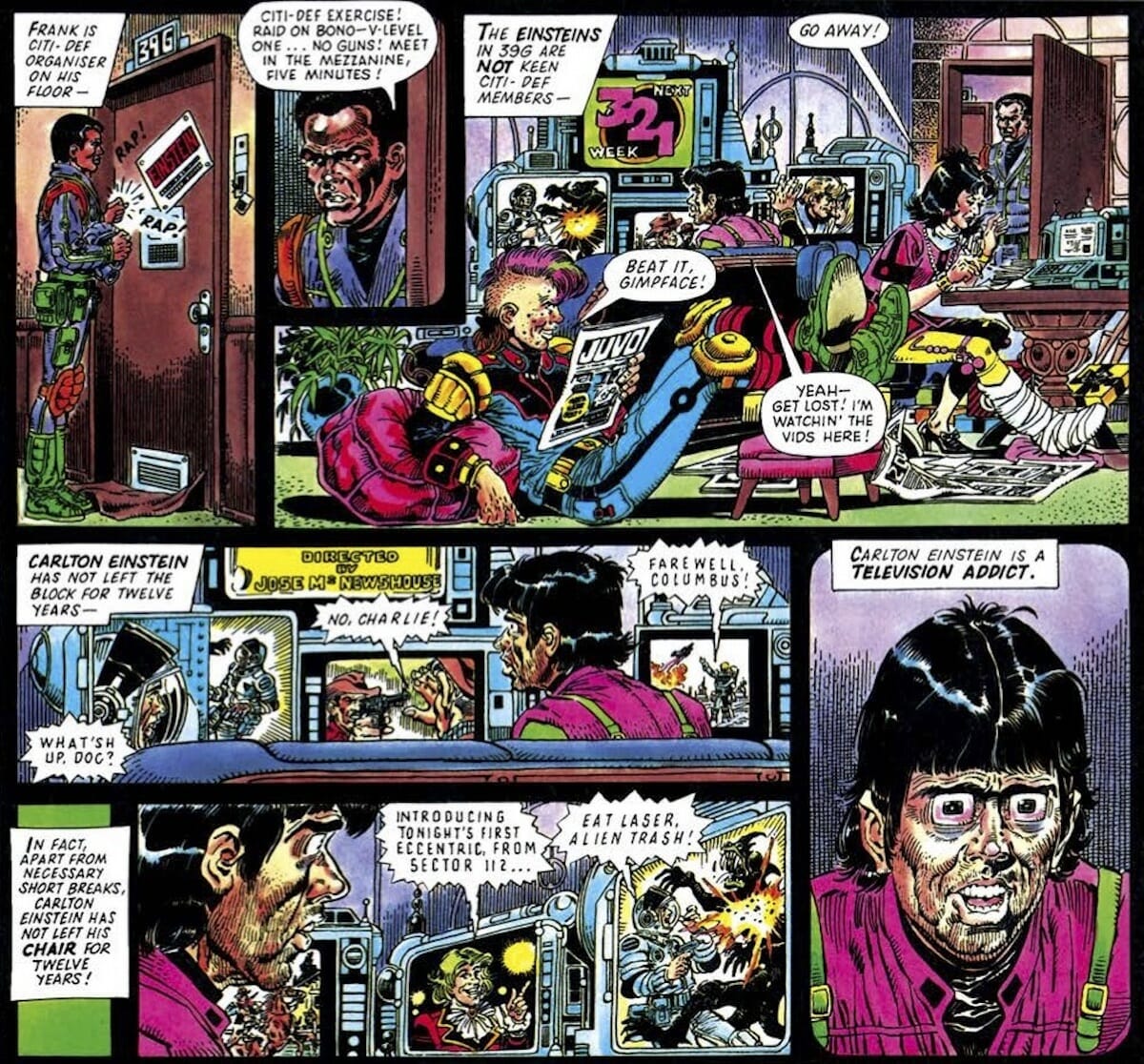 Additionally included in the cancelled lineup was Blockers, a soap opera comedy strip also created by Wagner and Grant (in case it's not obvious, most stories were at this point, frankly), which told the story of Mega-City One's famous tower blocks and the menagerie of bizarre lives living in them, including Frank Dolby, a member of the local civil defense corps. The pilot episode eventually saw print in a somewhat altered form as a one-off special in the 1988 2000 AD Sci-Fi Special, before being collected later in the Judge Dredd: The Restricted Case Files, Vol 2.
Another story that would see the light of day in a significantly altered form was the Fortnightly's solo Judge Dredd strip, "Blood Cadet." While the original Wagner/Ian Gibson story has been lost to the fates, the story did manage to find itself part of an unusual part of 2000 AD history by being reworked and appearing in Judge Dredd: Lawman of the Future, a short-lived young reader comic that spun out of the 1995 Sylvester Stallone Judge Dredd film.
Sadly, unlike the other stories from the Fortnightly dummy issue, Alan Moore and Mike Collins' Badlander is a title that never saw publication. Marking the iconic Moore's only work within the Judge Dredd universe, the strip was to tell the truth about what really happens to the Judges when they decide to go on "the Long Walk" — a piece of Dredd mythology where, instead of retiring, veteran Judges set off to provide justice and law in the radioactive wastelands of the Cursed Earth.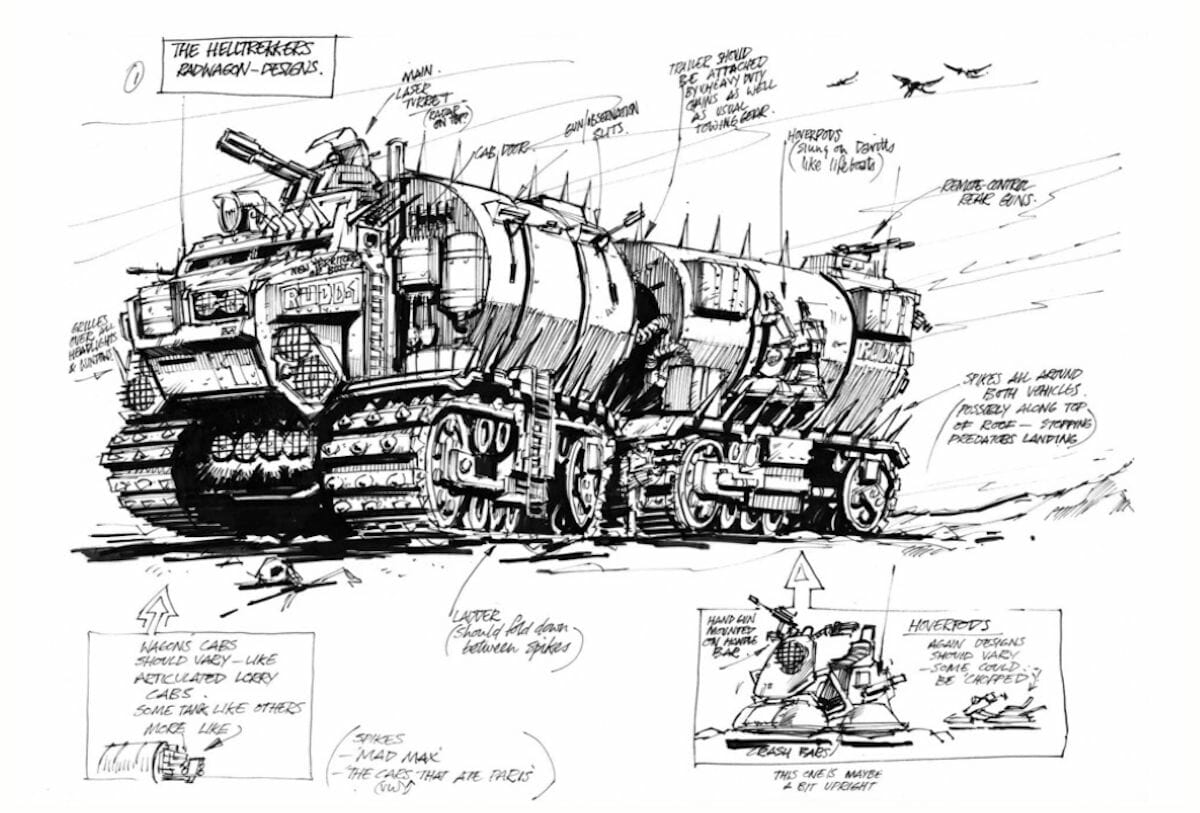 With so many amazing, extremely on-brand, stories that were primed and ready to go several years prior to the debut of what would be titled the Judge Dredd Megazine, why exactly did Judge Dredd Fortnightly fall so hard? And for that matter, why exactly did the Judge Dredd Megazine succeed so well if Fortnightly was doomed for failure? It's as simple as anything else in comics, really: money.
"IPC management was not convinced enough readers would buy a 35p comic once a fortnight to sustain it, when those same readers were paying only 22p for 2000AD and getting five new stories every week," said David Bishop, former Judge Dredd Megazine and 2000 AD editor. "The proposed fortnightly frequency has also been cited as a factor. IPC ran a tight ship, meaning almost anything that could be recycled from the putative fortnightly did get recycled, in one form or another. British comics changed significantly between 1984 when the Fortnightly was being mooted, and 1990 when the [Judge Dredd] Megazine was successfully launched."
With the boom of the graphic novel and the promise of comics as accepted reading material for fans on the other side of puberty still some years away, IPC was just not ready to sign off on a second ongoing series for Mega-City One's leading lawman. Luckily for Megazine fans — and the creators responsible for making its stories — that tune changed when IPC was no longer a part of the equation.
"The House of Tharg was no longer owned by IPC by 1990," continued Bishop, referencing the alien mascot who had ostensibly edited 2000 AD since its debut in 1977. "Ownership had been sold to Robert Maxwell, and new management brought new ideas and new attitudes. Royalties were possible, instead of being forbidden. The first issue of the Megazine paid every creator featured in its pages a royalty because sales exceeded 50,000 copies. That willingness by the new management — in particular Jon Davidge — to run 2000 AD and its associated titles in a style closer to book publishing rather than the exploitative IPC approach made the Megazine possible."