There was a period that was not nearly as long ago as one would expect, where being a woman in comics was beyond the expectations even of those we place on women in the field today. If you weren't creating comics specifically for girls — or, for that matter, if you were denied the opportunity to run into a space defined and dominated by male comic book creators — then it was likely you were getting entirely shut up and shut out.
And then there's people like Aline Kominsky-Crumb, who based on her life and career, seemingly couldn't have given less of a shit about any of that.
Having grown up in Long Island, New York, Kominsky-Crumb (originally Aline Goldsmith) broke into underground comix in the late 1960s while studying at the University of Arizona. Eventually moving to the San Francisco Bay Area in the early 1970s, Kominsky-Crumb became one of the founding members of the transgressive, thought-provoking, and groundbreaking feminist anthology Wimmen's Comix published by San Francisco area underground publisher Last Gasp. After a brief falling out with her fellow female artists over the nature of her relationship with provocateur and cartoon powerhouse Robert Crumb, Kominsky-Crumb broke off from the Wimmen's Comix collective along with DiDi Glitz artist Diane Noomin to create their own publication Twisted Sisters — a comic that, similarly to Wimmens' Comix, tackled feminist issues of the time such as politics around female empowerment, sexuality, lesbianism, the patriarchy, and sex with humor and a self-depreciating attitude that is still, to this day, utterly unmatched.
For Kominsky-Crumb in particular, these cartoons acted as a vehicle for the idea of the personal and the political being one — using her niche, clean style and gift for exaggeration to emphasize her own anxieties around her own body, societal pressures, her relationship (and the conversations surrounding it), and her Jewish heritage. For all that many cartoonists will play to the ugly while still avoiding caricature, it was easy to count on Kominsky-Crumb to not sugarcoat a thing and, instead, allow the cringe-worthy moments and honest perspective to speak for themselves; even well into her collaborations with husband Robert, the panels of which can still draw a discomfort that just doesn't miss if you've ever been in a relationship or had…you know…any thoughts about yourself that weren't ideal.
In 1986, Kominsky-Crumb took over the position of editor of Weirdo — the anthology created by Robert Crumb – from Peter Bagge, who had held the position for three years. It was a job she'd continue through the end of the anthology seven years later, with her period as editor known unofficially as "Twisted Sisters," reviving her earlier title. (Fittingly, the Twister Sisters replaced the "Coming of the Bad Boys," the unofficial title applied to Bagge's tenure.) As editor, Kominsky-Crumb published not only her own work and that of her husband, but a number of former underground comix peers including Bill Griffith, Spain Rodriguez, and Kim Dietch, as well as early work by novelist Alice Sebold and cartoonist Mary Fleener.
The end of Weirdo coincided with Kominsky-Crumb relocating with her family to France – the 1993 final issue was even titled Verre D'eau, which translates as "Glass of Water." The move was reportedly the result of both Kominsky-Crumb and her husband becoming increasingly dissatisfied with American culture, and believing that France would provide a better environment to raise their child Sophie; it also allowed Kominsky-Crumb the opportunity to grow artistically in ways that might otherwise have been unavailable to her. While she continued to make comics across the next couple of decades, including the acclaimed Need More Love: A Graphic Memoir in 2018, her focus increasingly turned to painting and fine art, including founding Galerie Vidourle Prix, a space in the Sauve commune in southern France, dedicated to promoting new artists and undiscovered work.
Before there was the provocative and heart-wrenching Fleabag or the controversial Girls or even the hilariously animated delight that was Tuca and Bertie or any of the shows we know and love that have come to be associated with the more ghastly, emotional, neurotic, and gross parts of being a woman, I would argue that Kominsky-Crumb wrote the framework. In the same way that artists like Lee Marrs, Trina Robbins, and Willy Mendez wrote the Bible in terms of being some of the first female cartoonists to bring the "Girls to the Front" energy, Kominsky-Crumb was unafraid to bring the mess and contradiction of what that means to the front as well.
Bringing out the grotesque and beautiful functions of the female body, characters like "Goldie" (named for Kominsky-Crumb's maiden name Goldstein) and "The Bunch" (a character name specifically chosen because it "sounds disgusting") went beyond bringing women to the forefront as a collective and seemingly, instead, brought the idea of women as individuals into the spotlight; an idea that perhaps, in terms of feminism and sense of self, being feminine and feminist was not one-size-fits all by drawing on objectification —both from the self and from partners — as a form of personal desire, but also of a connection to oneself and to greater intimacy. Through masturbation, picking, plucking, and semi-nude piggyback rides, Kominsky-Crumb offered up a message that women are still in dire need to hear: you're allowed to be a neurotic, sexy, gross, lazy mess because we all kind of are.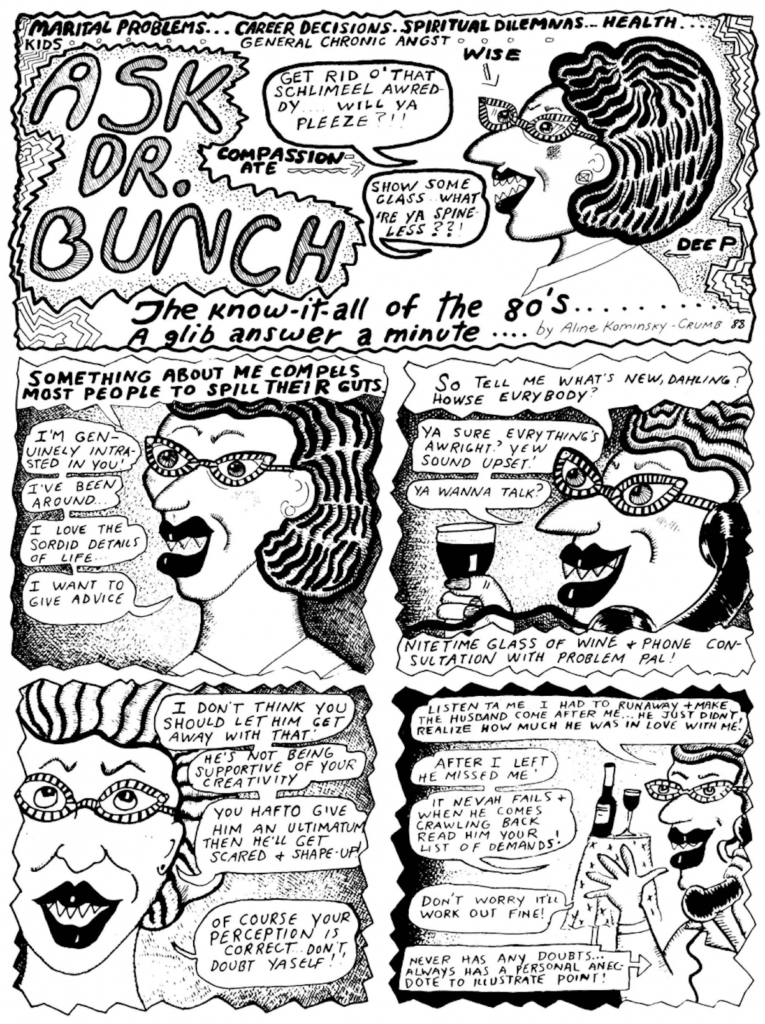 In an interview with Artforum earlier this year, she summed her work up like this: "I'm not a facile artist, I'm a tortured artist. I don't censor myself at all: The story comes out, I have to let it come out. I scratch it out like the George Grosz of underground comics — Roberta Smith once related me to the German Expressionists and I was so flattered. I felt like, Okay, now I'm vindicated for choosing this ridiculous career, for being broke my whole life."

It's hard to encapsulate the impact of someone like Aline Kominsky-Crumb into one post because in so many ways and through so many lenses, her work was larger than life and more powerful than any comics site has the talent to explain. But in her life, cut short far too soon, there is a vitalness to her work, from her cartoons to her paintings, that feel as charming and necessary as they are bitingly fierce and sharply funny, and will continue to live on in every girl who learns that being herself in whatever way that means is the best way to be a feminist in comics, in art, and in life.