Somewhere, somehow, people in the storytelling business got into the idea that every story – particularly ones that involve some sort of trauma – needs a suitable conclusion that must inspire some feeling of hope, even if the ending itself is not entirely positive. With a few exceptions on the outskirts of comics history, the idea of ending a story really has universally been translated into "there is a light at the end of the tunnel" in the most exhausting way. That may just be the pessimist in me talking, but regardless: I think that, perhaps, my reading of Sam Kieth's 2009 five-partner from Oni Press, My Inner Bimbo, was a "right place, right time" scenario that made me excited to see that, just as I suspected, the end of the tunnel is… just a better lit tunnel.
There's a lot of ways I could approach the plot of My Inner Bimbo. It would be easy enough to call it Kieth's finale into the "Trout-a-verse" — a collection of intersecting worlds between Ojo and My Inner Bimbo where a magical trout interweaves the lives of the books' characters via "boxes" made of toilet seats — where we bask in Kieth's gift for pop psychology for so long that we forget that we haven't received answers to questions like "Why a trout?" and "What the fuck?"
I could boil it down to Kieth's penchant for the metaphysical and psychological — both subjects and lenses that he's famous for creating worlds around, with the extremely popular (depending on how glued to MTV you were in the 1990s; your mileage may vary) The Maxx being most people's immediate go-to example — but after several paragraphs of trying to explain what exactly the core themes or genre of My Inner Bimbo are, we'd both still be just sitting here feeling dumbfounded. Ultimately, however, that's kind of what makes the book work so well, because while the premise is simple enough, Kieth puts enough of himself into it to feel just on a fingertips of relatability through a very niche brand of self-consciousness. (That is, unless you, too, are feeling particularly split and full of shame — who's to say?)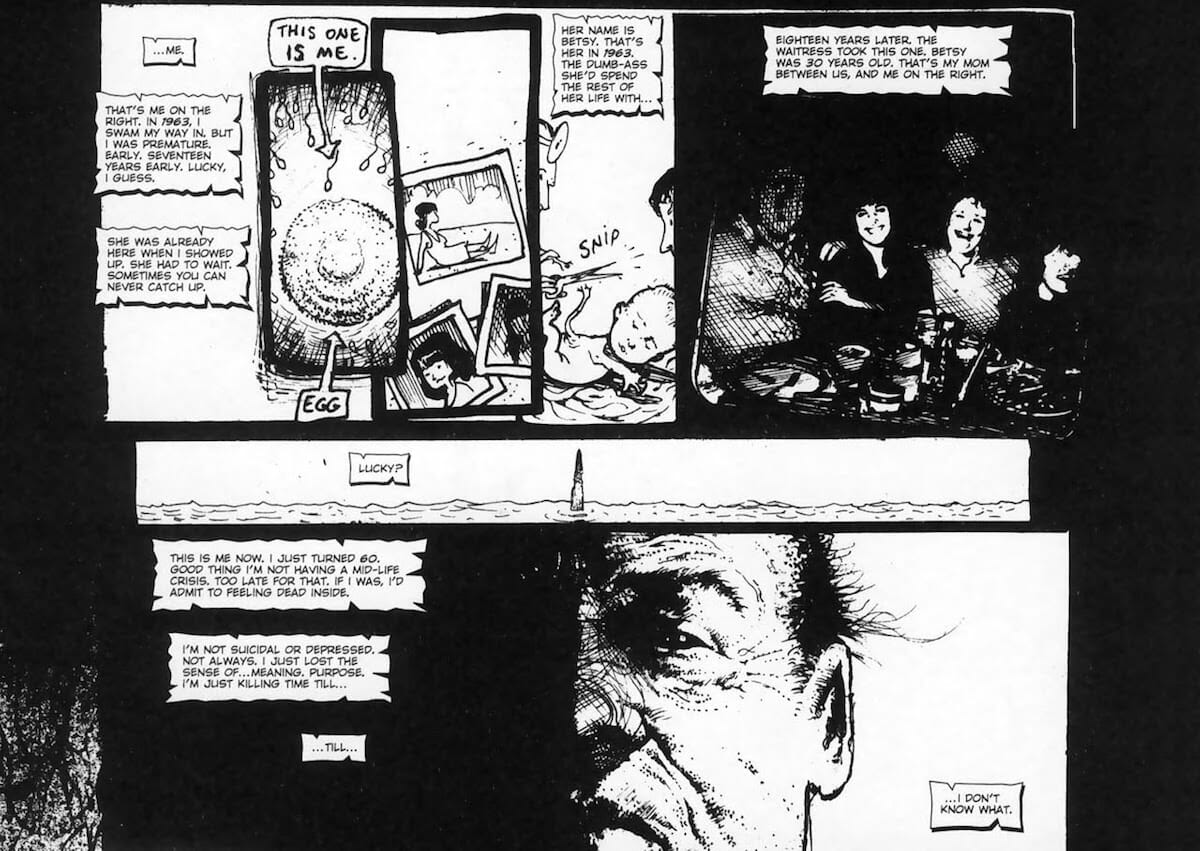 It's no secret that Kieth is not quite the norm in terms of comics creators, though. While his art has been in the limelight on more than one occasion in terms of Big Two comics with Lobo, Wolverine and many others, the stories he pens and draws himself find themselves leaning further into his character's psyches – and perhaps his own – more than more creators are comfortable playing with in creator-owned works. Kieth himself has gone on record to say "There are two kinds of stories I do: one is adolescent stories […] little kids who discover strange ass monsters. And the other stories are adults who screw each other up of their own free will. It's that simple."
In so many ways, it really is that simple. From Zero Girl —centered around Amy, whose feet leak fluid when she feels shame, by the way— to the controversial Four Women or Ojo, or even The Maxx, Kieth's personal imprint is not exactly one of positive-vibes-only and enduring goodness at the end of the struggle. Instead, it's one that begs you to maybe just settle with the idea that maybe things just don't magically get better, but require a near-continuous discomfort in order to grow in any ways that matter. Grim? Yes. Somehow the best and most direct version of magic realism? Also yes.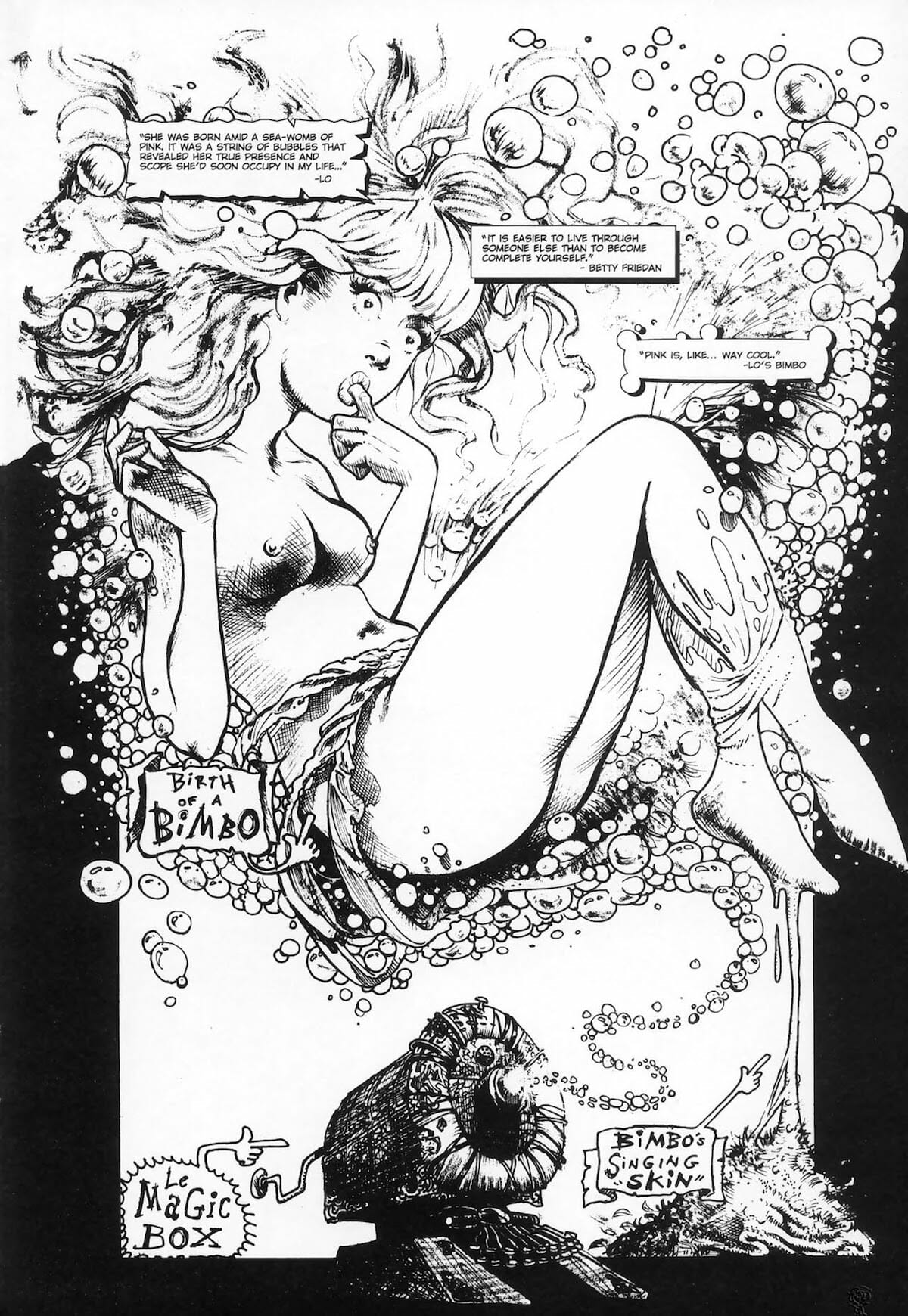 When it comes to My Inner Bimbo, the story that's simple enough to follow along with is about a man in his late fifties named Lo, whose marriage to his wife Betsey hinges on the inadequacies of their age difference. Having met and gotten married when Lo was still in his late teens and Betsey 35 – an age difference that mirrors Kieth's own real-life experience with his wife – Lo's personality has found itself overtaken by his loss of innocence and a surplus of shame, two factors made all the worse by Lo's impressive Oedipal complex and complicated feelings around his desire and love of strong women. After years of seemingly insurmountable shame, Lo is made to build a special box out of toilet seats by The Magic Trout, an act that brings physical form to his "femmie" or "bimbo" side, whose initial selkie appearance sees her birthed from a sea of pink.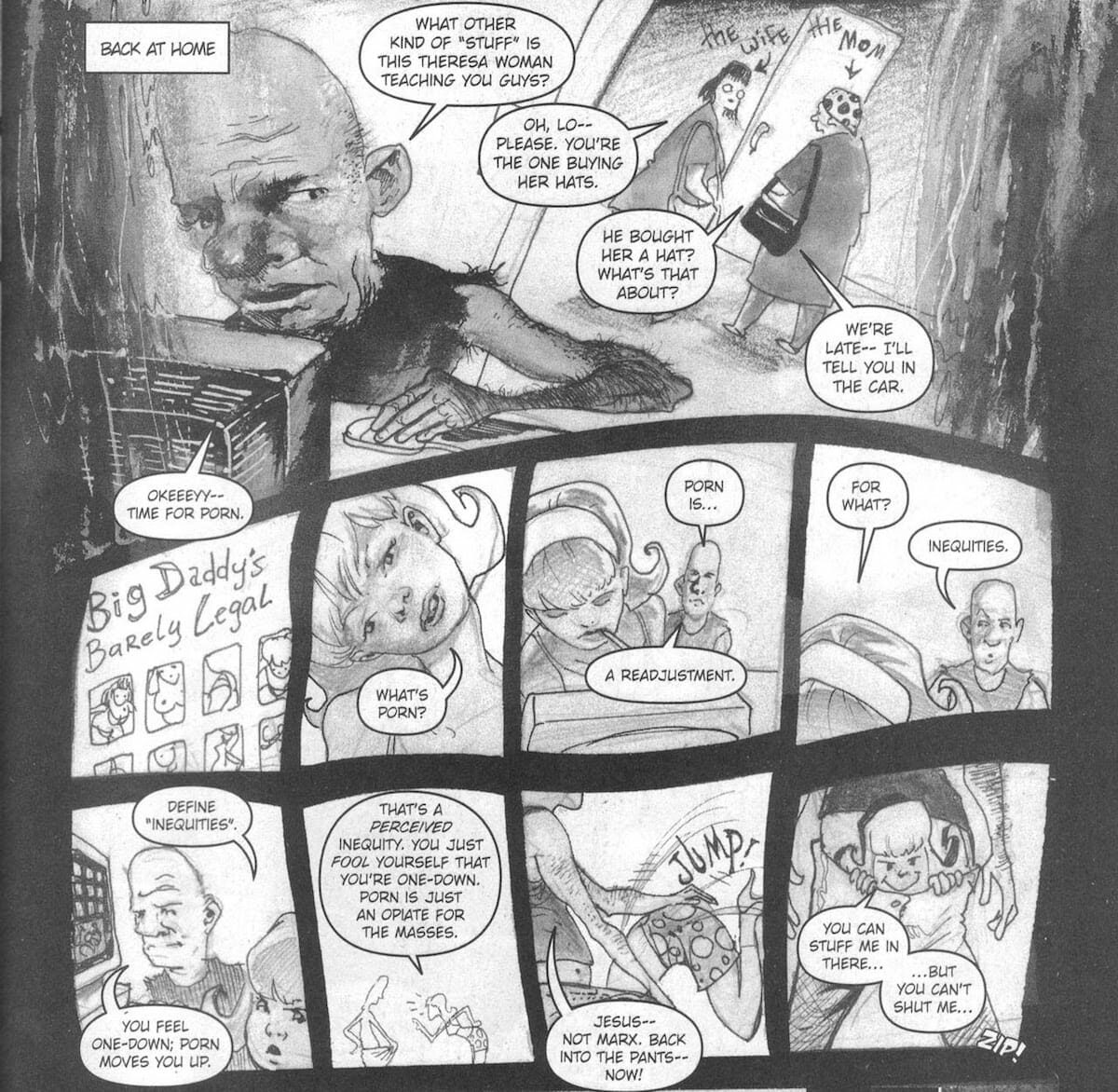 Seems totally fine at first, I suppose. Throughout the fittingly all-grey story thanks to the black and white artwork, Lo spends much of his time wrestling with spiritualism (or, rather, his fear of not being as spiritual as he wants to be); ruminating on the origins of his marriage, the messages of art, the self-assured feminism of hardcore porn choices; trying his best to not address the anguish and self-loathing that comes from his desire to be around powerful women; and, of course, fucking his mental Bimbo. In no certain terms, My Inner Bimbo is entirely a comic about saying the quiet part out loud when it comes to male writers trying to understand their insecurities… particularly one that dreamt up The Pink Room in The Maxx, but that's an entirely different article, isn't it?
As Kieth allows Lo to unpack his life as it began at the beginning of his marriage as a teenager (or so he believes, at least), Lo's Bimbo – whose name bounces boobily from Bambi to Bunny to Barbie, etc. as the book progresses – moves through stages of her life as well, growing from a pink-clad, bubble-gum blowing stereotype of a bimbo to a grungy, angry teenage and later into an insightful mentor and guide as Lo continues to narrate his life. We see Lo navigate his feelings around trying to figure himself out as an adolescent while still being an interesting, appealing, and desirable husband — writing stories and trying out new, questionable fashions — and being met by a feeling of not being enough, of not meeting the standards of the older woman whom he adores, or to his mother. It's a painful experience that creates a Giant Female Disapproval Sea Monster that lords over his mind, as one does.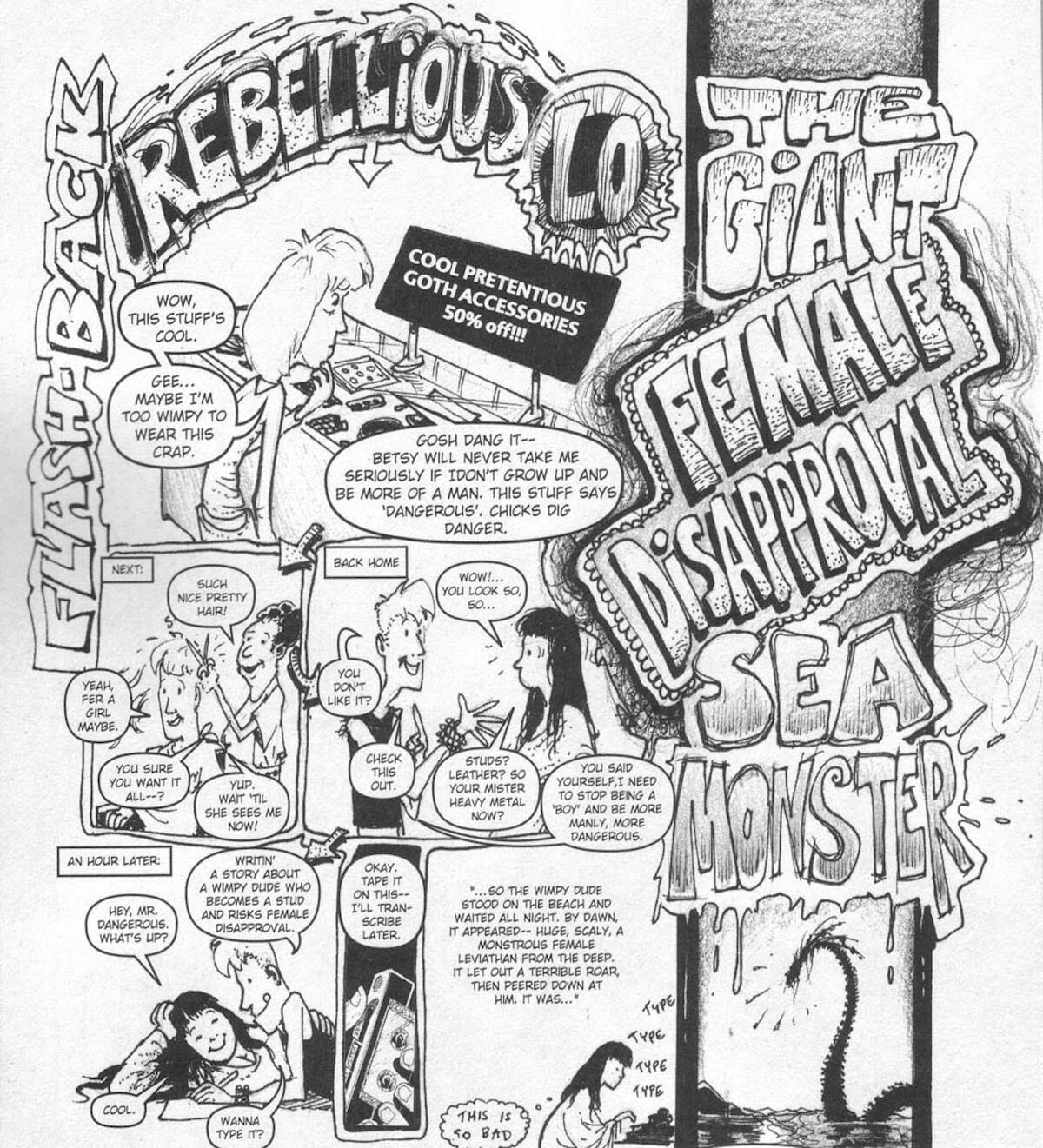 While Lo's belief is that his "feminine side" – which isn't directly feminine at all, of course, but actually a sensitive and anxiety-driven way of thinking and needing to please – is the cause for all of his problems, it's his bimbo that draws out his insecurities for the better, even if that means emotionally cheating on his wife by way of talking about his problems with another woman whom he feels he can trust with that side of himself. The idea of exposure to the one person who has loved him since before he even knew himself serves as a constant shame and sensitivity, and one that can, ironically, only be shared through his bimbo self with someone whose presence has the option to not be permanent.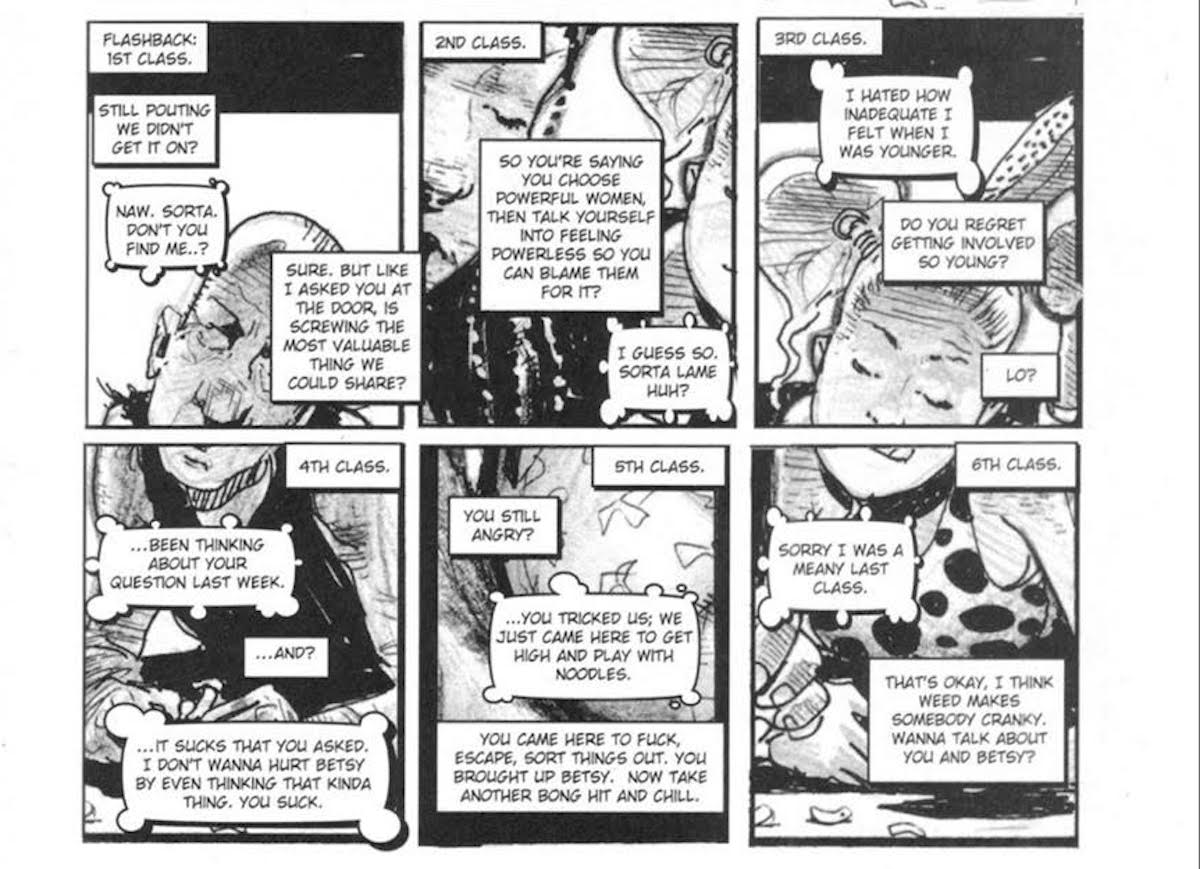 Come the end of the book, Lo finds himself at a better place with his wife and is able to return his bimbo to the pink sea in her true selkie form thanks to the Magical Trout – but his insecurities stick around as something for him to deal with and evolve with. This time, however, he's able to deal with them openly and in a partnership, as opposed to secretly and shamefully. Lo, in the end, is still entirely messy, as people tend to be – but his is a messiness that is connected to something, and in turn, he is more connected to himself as a result – even if that doesn't always mean happiness, bubblegum, sex, or teenage dreams anymore.
It would be pretty easy to gloss over My Inner Bimbo as one of Kieth's "lesser" works, or something so convoluted that it's barely readable by most folks' standards, particularly anyone who may pick it up randomly among the bargain boxes of other Oni Press titles. There is, however, an honesty and discomfort found in Kieth's non-linear storytelling that feels like something that many autobio – or self-proclaimed semi-autobio, in this case – authors could aspire to.
Kieth's story is, after all, at once entirely telling of his own vulnerabilities surrounding his relationship and self but also nearly opaque when it comes to deciphering its exact meaning. Kieth himself has gone on the record during interviews to say that the period of writing My Inner Bimbo was something that was incredibly difficult for him, and ultimately, that vulnerability shows in the finished work. There's a willingness to offer innermost thoughts and personal experience as seen through bizarre metaphors, but knowing the right place where a thick curtain should be raised to prevent the audience from connecting some of the dots too raw for exposure.
Reading My Inner Bimbo feels like a conversation with the creator, begging him to answer why something happened, or why he felt a certain way. The story responds in kind through Kieth's signature character design, exaggerated bodies, and psychological jenga: "That's not my problem". This is the gift of My Inner Bimbo: it just doesn't care if you are able to relate to it or not. This isn't a story where the ending is happy, or where the protagonist fixes all of his problems and bonds with his newly-whole, fully-realized self. If anything, the story ends on a note that, while positive in some ways, is just as messy as when it began – a person confronted with where they are because of where they've come from, and both versions of themselves are something still in progress.
In so many ways, My Inner Bimbo starts as a beautifully-rendered mess and ends as a beautifully-rendered mess – both as a semi-true story, and in terms of the visuals of the book. Both parts of which couldn't give a fuck if you're able to empathize with it – and frankly, that's exactly what makes it the most relatable story one can tell.