At a time when publishers are patting themselves on the back for the mildest queer representation on the comics page in order to ally points and praise during Pride month, it's time to remember one of the most important (and, sadly, most overlooked) parts of queer comics history: a series that included work from a number of iconic creators, and featured the most beautifully bold title of all: the 1980s and '90s independent anthology Gay Comix.
The series launched in 1980, and — despite reports to the contrary — ran through 1996, albeit with a name change midway through when the delightfully edgy Comix became Comics in an attempt to steer the series towards seeming appealing to a mainstream comic book audience. Ironically, that name change meant that it became the second series to bear the title Gay Comics, with the first being a 1940s humor comic published by the company that would eventually become Marvel. (Marvel's Gay Comics, which featured characters like "Tessie the Typist" and "Salesman Sid the High Pressure Kid," was, of course, depressingly straight. So at least the brand is staying strong after all these years.)
Originally, Gay Comix was published by Kitchen Sink Press, the acclaimed indie that was also responsible for Omaha the Cat Dancer and Scott McCloud's Understanding Comics, as well as a long-running series of comic book reprints of Will Eisner's beloved The Spirit. Indeed, it was Kitchen Sink's founder, Denis Kitchen, who initially had the idea for a queer-themed anthology, inspired by the 1970s underground comic Wimmen's Comix; not being gay himself, he reached out to Howard Cruse to take on the position of editor… which brought with it an unexpected problem.
Although Cruse was "out" amongst friends and acquaintances — including Kitchen, who was the publisher for his 1970s strip Barefootz — he wasn't publicly gay, and was concerned about coming out in this way. Ultimately, he decided it would be "cowardly" to refuse, and accepted the position and announced himself to the world in an editorial in the first issue, writing, "In drawing this book, we gay cartoonists would like to affirm that we are here, and that we live lives as strewn with India inked pratfalls, flawed heroics, and surreptitious truths as the rest of the human race."
Cruse assembled an impressive line-up of talents for the four issues he edited, published on an annual basis, including Roberta Gregory, Lee Marrs, and Murphy's Manor creator Kurt Erichsen, as well as a series of shorts he wrote and drew himself. Almost all of those creators stuck around as the title changed hands, both in an editorial sense — Bay Area cartoonist Robert Triptow took over from Cruse with the fifth issue in 1984 — and the publishing sense, with Gay Comix moving from Kitchen Sink to Bay Area Reporter founder and AIDS activist Bob Ross in 1985.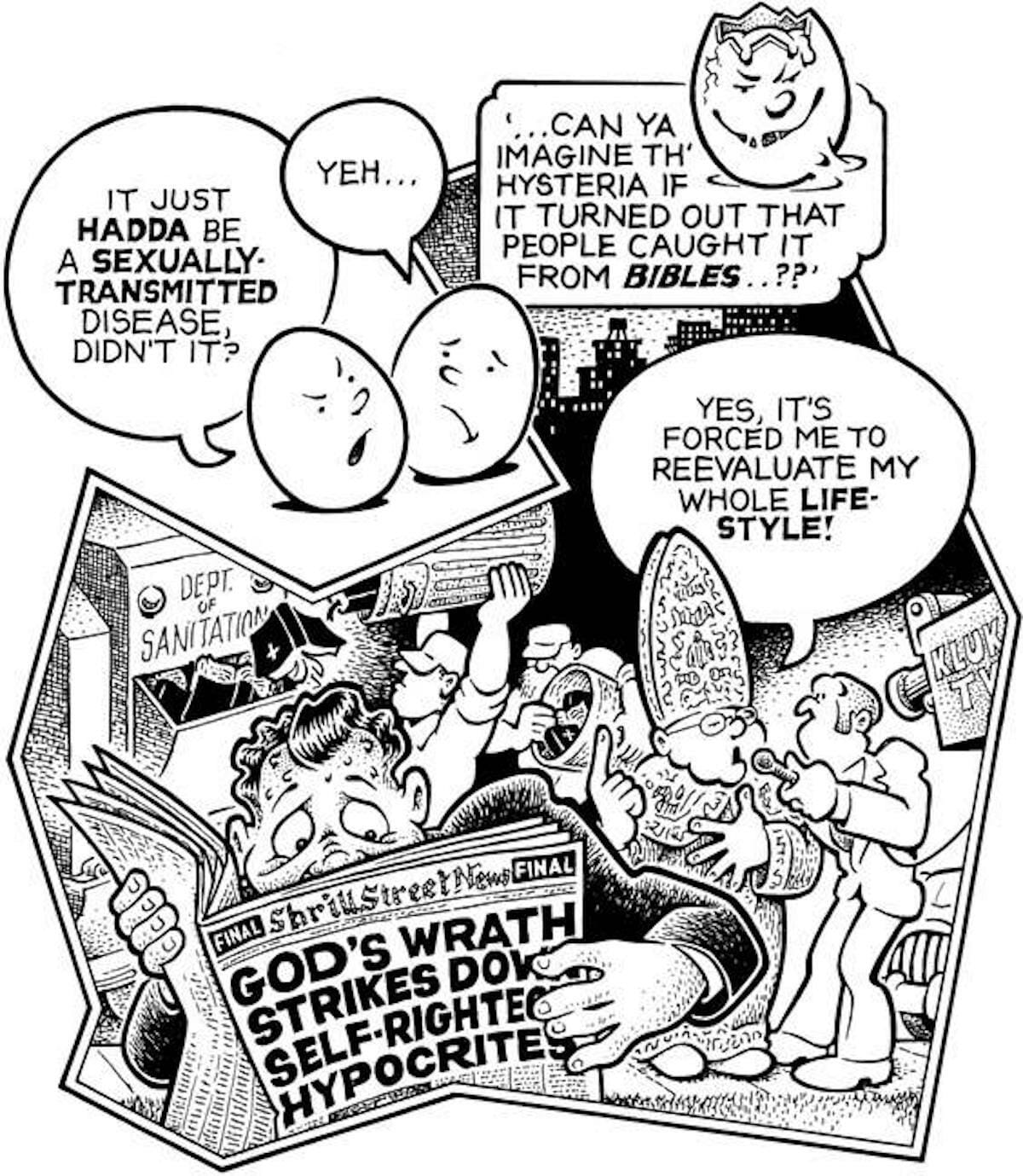 Triptow's editorial reign built on what came before; he slowly introduced new creators to the title, while also increasing its publication schedule — it was officially announced as going quarterly at one point, although reality prevented that from happening; it did manage two issues a year, however — and its focus, with a number of themed issues, and even a couple of issues devoted entirely to one creator. Amongst the voices during this time was Fun Home's Alison Bechdel, who credits her entire career to Gay Comix; in a 2007 interview, she said, "It hadn't occurred to me at that point to put together my penchant for silly drawings with my personal life and my political interest in gay and lesbian issues, but there were these people who were doing it: Howard Cruse and Roberta Gregory and all those early Gay Comix artists."
By 1991, Triptow was ready for a break, but the third — and final — editor of the series was far from planning to maintain the course. Andy Mangels was already a known quantity for many comics fans when he took over as editor in 1991, through his work in comics journalism for magazines including Amazing Heroes, Comics Interview and Comics Scene. As he was editing the title, he also started writing for DC, Marvel, and Image Comics. He was, in other words, from a different, more mainstream school of comics than what had come before. That was reflected in how he approached the series.
Not only was the title officially changed to Gay Comics with 1992's issue #15, but the creative line-up got a makeover as well, with a new generation of creators — many of whom were either working at the big superhero publishers, or would go on to — introduced, including Ivan Velez, Jr., Joan Hilty, P. Craig Russell, Anina Bennett and Paul Guinan, and Donna Barr. Mangels was clearly set on bringing Gay Comics — and gay comics — into the mainstream, to the point of bringing Sam Kieth on board to create a cover featuring his hit character The Maxx, or convincing Todd MacFarlane to advertise the comic for free in an issue of Spawn.
Sadly, it wasn't enough to raise the profile of the title, and 1998's Gay Comics #25 was the final issue of the run. The title went out on top, though, with an issue filled by creators who'd worked on the series throughout its run, including former editors Howard Cruse and Robert Triptow, alongside Trina Robbins, Alison Bechdel, Paige Braddock, and many, many more. The cover described the issue as a "super spectacular," and it wasn't hyperbole; the entire history of the series — and, arguably, of openly gay comics in the U.S. — felt contained within its pages.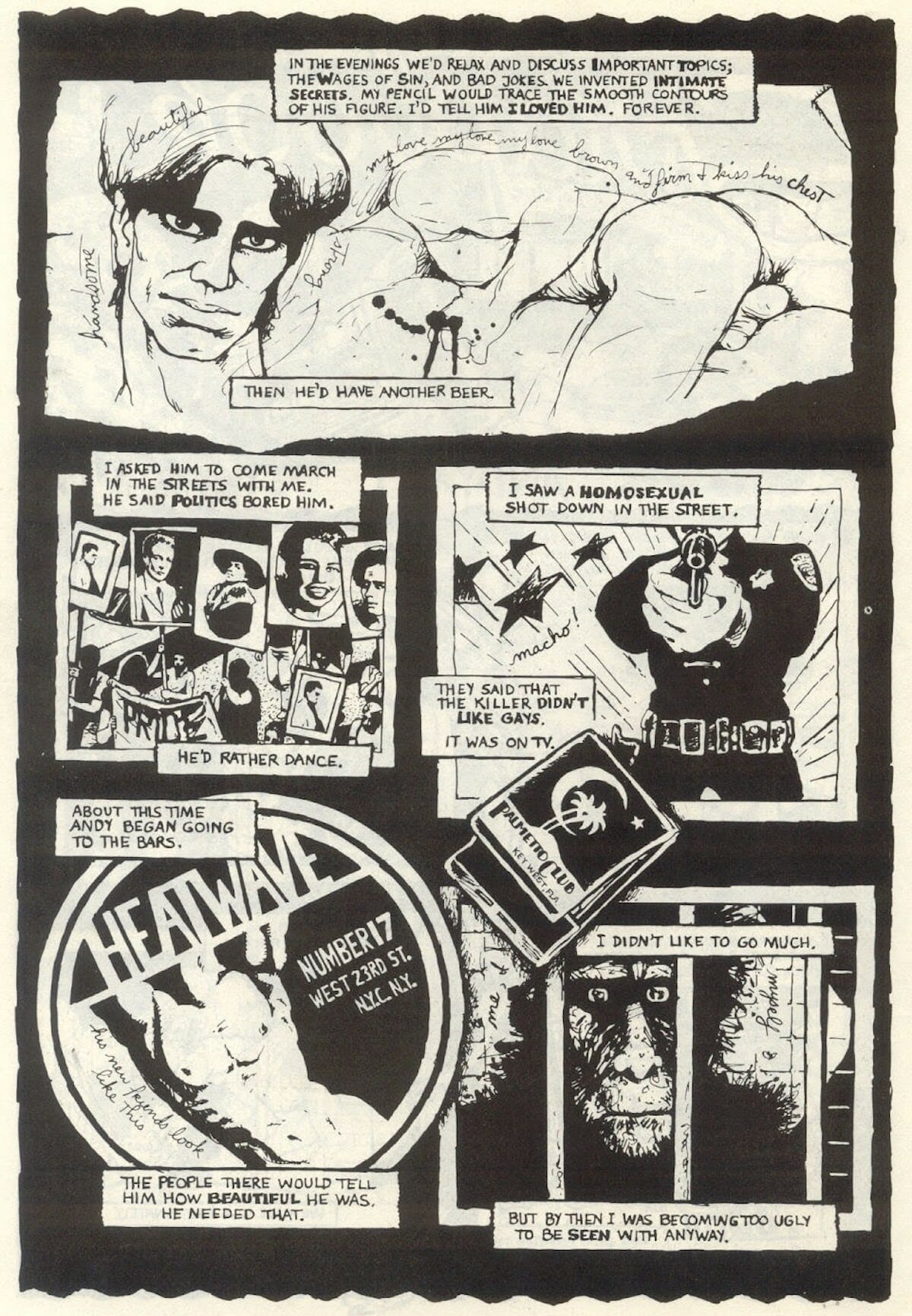 By 1998, there was a marked improved in terms of queer stories being told in the American comic book industry, with DC and other publishers seemingly slowly getting over their fear of the idea. (DC had notably published Cruse's Stuck Rubber Baby in 1995, via its Paradox Press imprint; queer stories were also regularly appearing in its Vertigo and Milestone titles.) Gay Comix (Comics) had helped make that happen, by keeping creators and characters visible in an industry that otherwise tried to ignore them. Its job wasn't done by any means by the time it was cancelled — there's still more work to do even now, almost a quarter of a century later — but it's almost impossible to imagine how much worse things could have been without the work of Kitchen, Cruse, and everyone else who helped make the title across its 19-year existence.
There have always been, and will always be, queer creators telling queer stories. But Gay Comix made sure that there was a space on the shelves in the comic section — and in publishers' collective corporate minds — for a whole host of in-your-face queer joy and normalcy in the comics mainstream.