Depending on who you're willing to ask (and really, who's willing to answer), there are a lot of ways in which porn has kept various industries, businesses, and relationships afloat. What can't be fixed with logic, reason, intelligence, and some good ol' elbow grease can often – particularly in the case of comics of the 1990s – be saved by some good boobs, oversized and willing genitals, and an impulsive, societal-bonding desire to look at things that shouldn't be hot but somehow end up being so anyway. Luckily for fans of indie comics, this theory has never worked better than it did with the imprint Eros Comix — arguably the saving grace of much beloved artcomics publisher Fantagraphics.
On the teetering edge into the 1990s, Fantagraphics had found itself with a vice grip around its neck, despite its success with the Herdandez brothers' Love and Rockets, its Complete Robert Crumb collections, and many critically acclaimed others by that point — a noose made of monies owed and lost, and work never quite finding its audience long enough to get on its feet.
To be fair, this had been, for some time prior, the ideal model for the indie publisher, which prided itself on landing comfortably in the black but without any real profit to speak of on a monthly basis. As the 1980s came to a close, and the demand for superheroes and the British Invasion of creators with revisionist, "mature readers" takes on familiar tropes skyrocketed, a market bust that destroyed many an indie publisher found its way to Fanta's doorstep to the tune of a near 15% loss.
For many indie publishers nowadays, this may of course be the norm — after all, nobody really goes into indie comics, or comics in general, let's face it, for the money. During the roll-over into the 90s, however, a crux was reached where the demand for anything other than a sulky man in a costume, a grim story of squids falling from the sky, or a team-up of well-known names was just not going to cut it when it came to keeping the lights on and the presses rolling. If Fantagraphics wanted to keep going, the time had come for some new ideas… based on ideas as old as time.
Following the controversy – and subsequent demand in the speciality store-centric direct market – of comics bordering on porn, like Reed Waller and Kate Worley's Omaha the Cat Dancer, the Archie-esque horny cheesecake nightmare of Cherry by Larry Welz (Officially unofficially called Cherry Poptart, if you really want to get sued by cereal giant Kelloggs), and, of course the eye-opening contents of Howard Chaykin's vampiric horndog fantasy Black Kiss, the next logical step for a daring and desperate publisher seemed to be accepting that, well, when all else fails… sex sells. With some boundaries put in place for fear of being too smutty (at first), as well as a wariness at being associated with smut in the first place, and an admittedly flimsy defense of "It's not porn if we get the best people to do it!" as the best sort of fall-back should they be challenged, the editorial team at the newly-created Eros Comix set out to find the best of the best.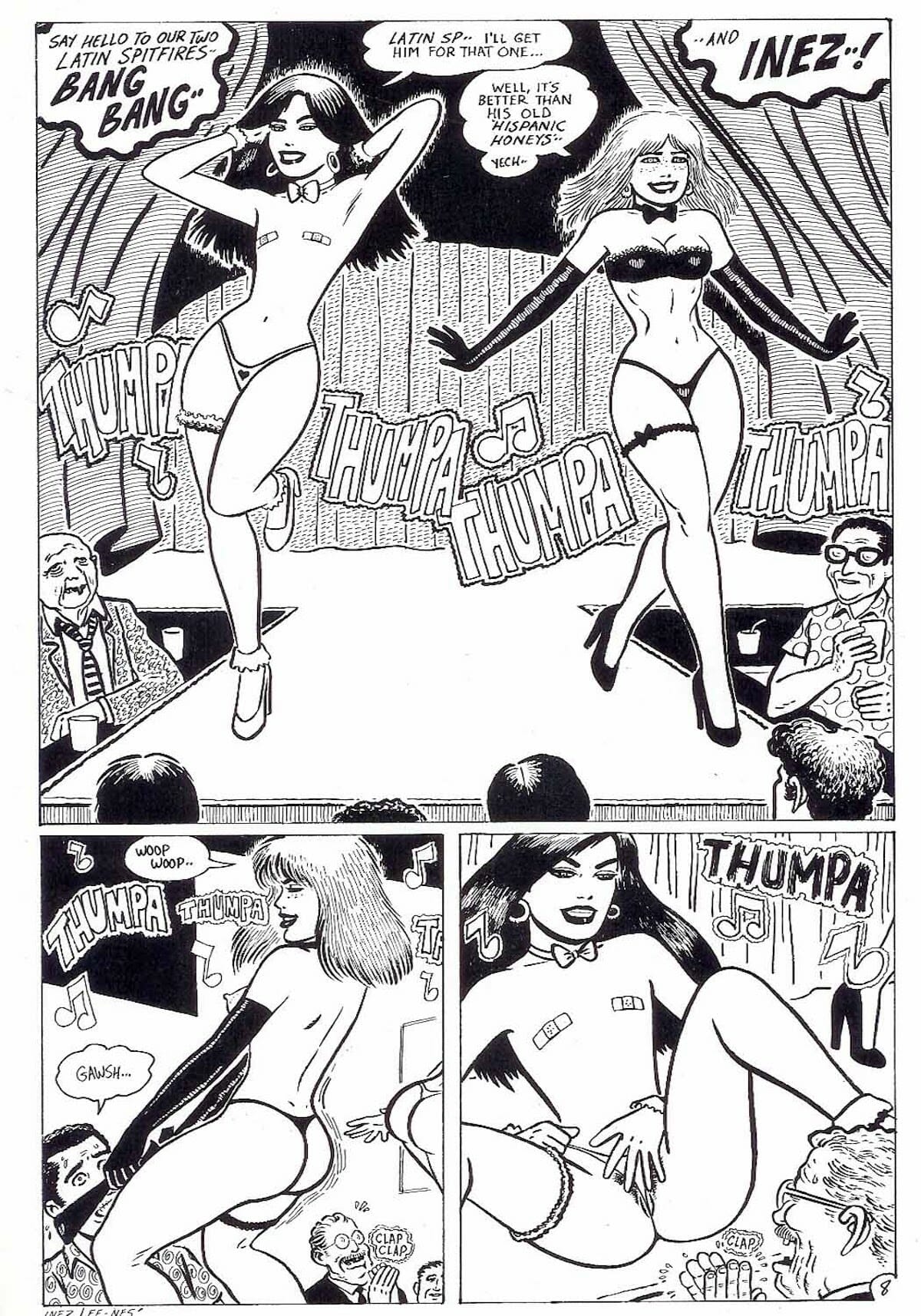 It's worth remembering that, on paper, Eros Comix started out entirely separated from Fantagraphics in business terms as well as in the monthly Previews catalog. The connection between the two was an open secret inside the industry, but maintaining the illusion that the two were entirely disconnected – an illusion that included the use of pseudonyms for editorial staff and some creators – was, it seemed, necessary for both to co-exist. That said, hey: Eros really was part of Fantagraphics, which meant that its porn comics would have to feature the best of the best to the best of their abilities… a (swiftly abandoned) ideal that allowed Eros' early output to include the work of Gilbert Hernandez, Bill Willingham, Frank Thorne, and Robert Crumb, just to name a few.
Birdland — Hernandez's foray into the subtext-is-for-cowards-now-let-me-draw-big-boobs world of Eros — is still, to this day, an exemplary piece of smut. Following a wonderfully perverse menagerie of characters including two strippers called Bang Bang and Inez, a hot-to-trot lawyer named Mark, and Mark's exhaustingly horny psychotherapist wife Fritz – who refuses to fuck Mark but is more than happy to get her kicks with her patients while they're hypnotized. There's some sister-in-law crushing and some alien invasion gang bang scenes too, but somehow, despite everything, Hernandez plays it all off as the horniest and most fun soap opera complete with lolling, coy dialog and absurd fantasy played out on the page.
The same greatness can be said for Ho Che Anderson's debut comic, the five-part (I Want To Be Your Dog — an ambitious, scratchy, and raw dive into the intensity found in emotional and sexual domination, as well as the experience of the Black and Jewish communities of Toronto in the 1990s. The jumbled, impressionistic style that Anderson adopts early in his career only serves to make the steamy (and sometimes gasp-worthy in current light) stories as winding and vulnerable as the stories he tells.
Even down the line as Eros progressed (and in many ways devolved, unfortunately), there were still truly good, extremely hot stories to be found in titles like Talk Dirty by Matthias Schultheiss – the tale of a couple trapped in a dystopian wasteland and constantly bombarded by either threats or their own horniess. While that may seem absurd, the intense eroticism of the comic comes from both Schulheiss's sweeping pencils and his gift for increasing tension through dialog.
It's not hard to go on about the Eros era smut, frankly. (No pun intended. Well, maybe.) Even the oddball stories with fantastic art are something to be excited about for other reasons, particularly in the early years… especially when it comes to creators like Ron Wilbur and Don Simpson. Wilbur had been a Fantagraphics mainstay who had been cartooning since the 1960s who was also not afraid to pop by to draw Domino Lady — a resurrected parody of a scantily-clad 1930s female assassin, but this time with extra underboob and less… well… actual crime.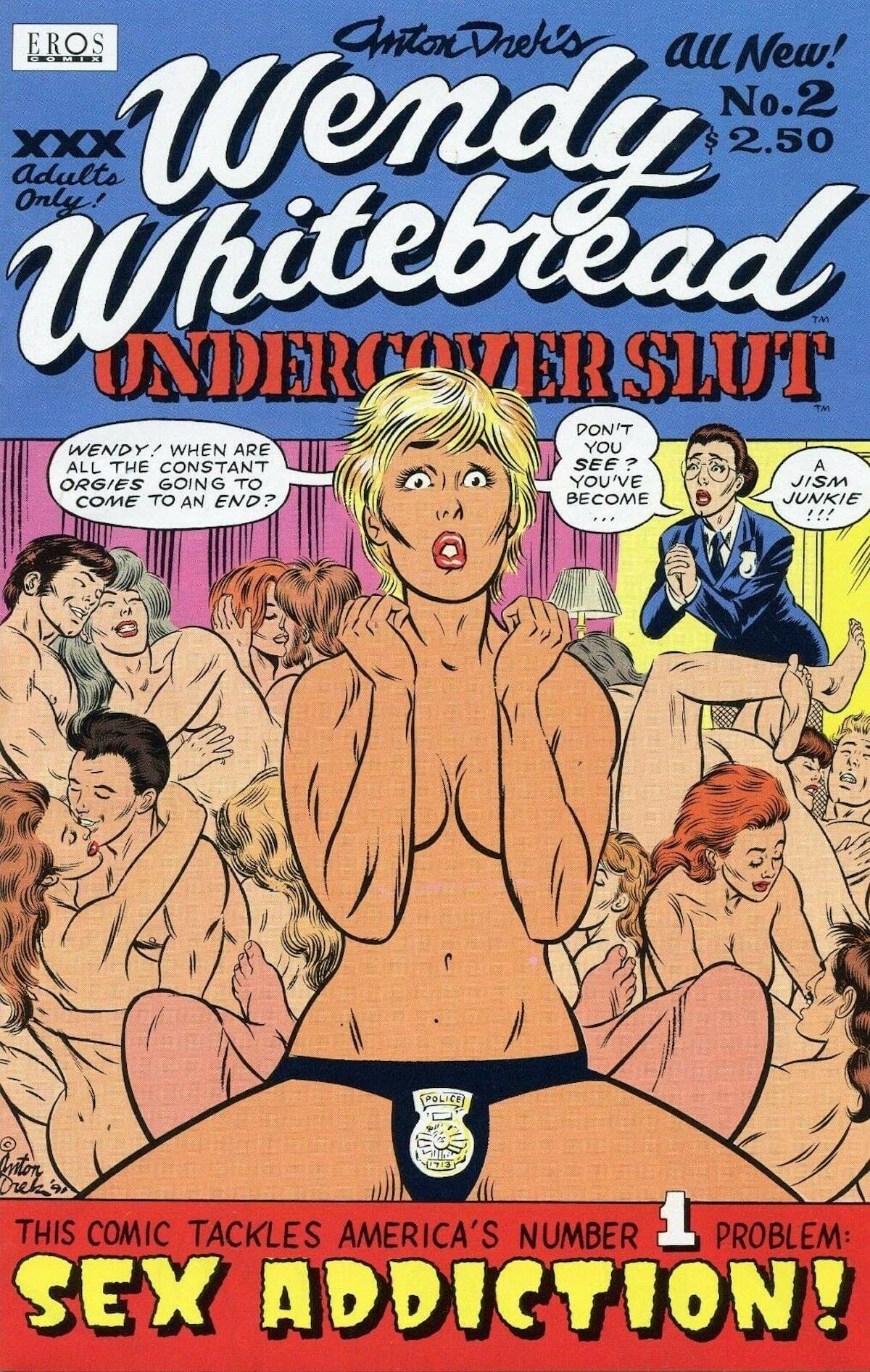 The same can be said for Simpson — better known for his work on Kitchen Sink Press' Megaton Man, obviously — whose Wendy Whitebread: Undercover Slut, published under the name "Anton Drek," because of course it was, remains one of the most wonderfully depraved piece of comics work I've ever laid eyes on. I should add that it is also — you heard it here, folks — the premier title if you've ever wanted to see a top-tier comic artist draw a golden shower scene. (No, we won't talk about Pee Soup, which was eventually published by Eros in 2003.)
Between famously having to hire a printer in Mexico to print the comics due to the strict rules around American printing and porn at the time, titles like Kinky Hook, Cannibal Porn, Bill Fingerman's Skinheads in Love, and Cynthia Petal's Really Fantastic Alien Sex Frenzy; the simply titled Crack Whore, and an entire comic about the closeted sex life of J Edgar Hoover, Eros became fondly known as the best worst secret within the indie comics publishing scene — receiving adverting space in The Comics Journal and sending out catalogs of the titles to the Fantagraphics faithful, much to the chagrin of many who were more than happy to send a suitably outraged letter about it complaining about such filth while subtly petitioning for their own kink hunger to be fed.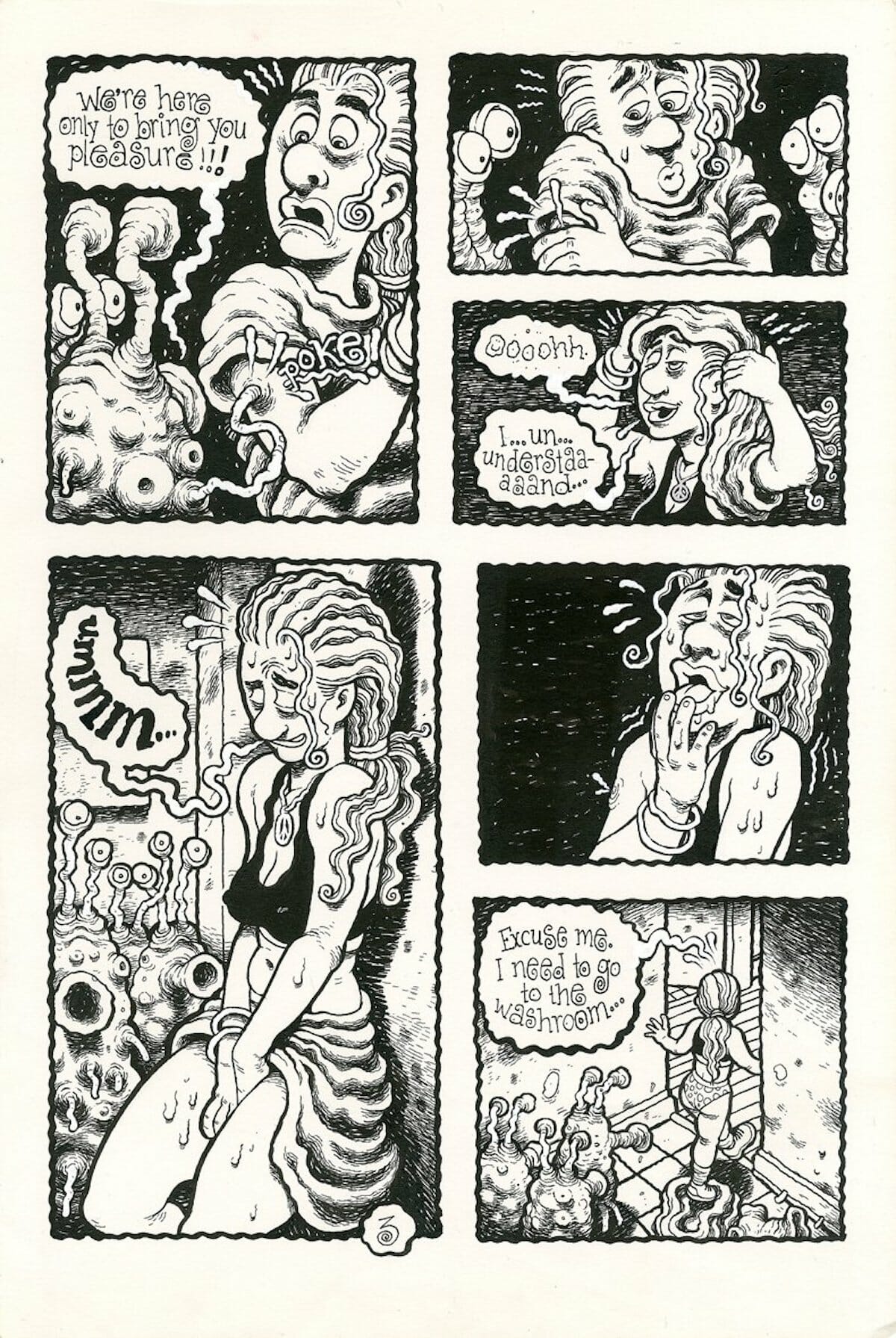 It should be said that most of the publishers and editors of the time were not entirely on board with what Eros brought to the table, especially as the line continued past its relatively classy first wave, providing more than its fair share of dinosaur boob-sized embarrassment while managing to provide funds for the publisher itself. It's one of those wake-up moments in comics history when you boil it down to "We have to publish Bondage Confessions and Bustline Combat if we want to keep the lights on", and somehow there are few things that feel more apt.
(That said: Bustline Combat is, if nothing else, a very evocative title.)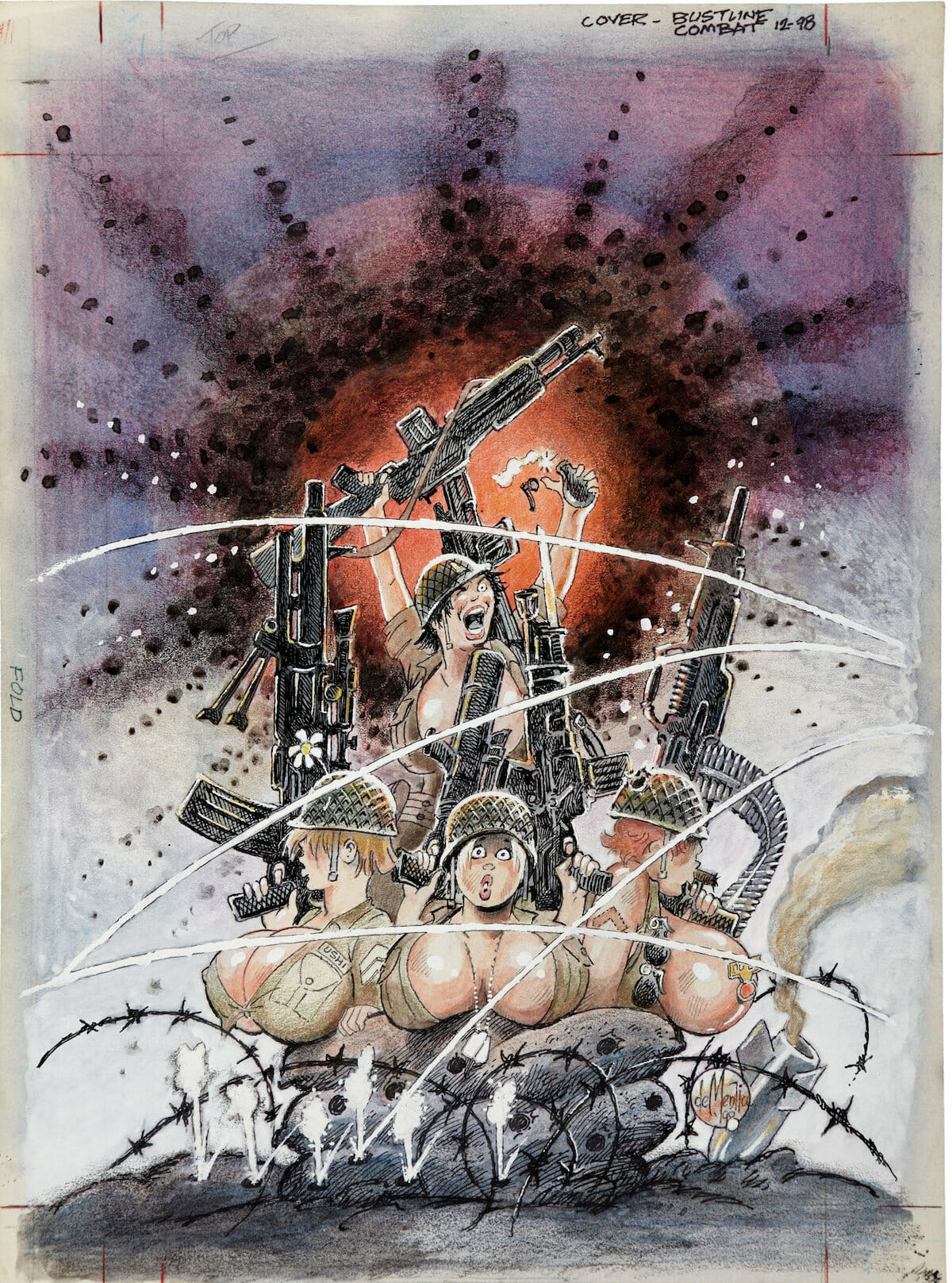 There are so many reasons why Eros Comix proved to be as admirable an endeavor as it ended up being. Yes, it kept Fantagraphics afloat for years when the publisher's official output couldn't do so – and kept doing so until, bluntly, the internet made real porn too easily available for even fans of Femosaur World in the early 2000s – but beyond that, it offered nothing short of a whirlwind of telling creative outbursts from creatives who might otherwise be considered particularly straight-laced.
Ultimately, it was an effort of filthy, horrible love. Much like a shibari scene, a script of submission, or a en femme J Edgar Hoover, all of the smut that was peddled out to save the honor and very life of Fantagraphics was something that allowed itself to hurt and be vulnerable in order to show its dedication to a greater ambition. In the end, we still have Fantagraphics… and we also still have bargain bins of Eros smut. In so many ways, that can only count as a win.