Glyn Dillon was never as famous in comics as his older brother Steve, but to readers of the seminal 1990s anthology Deadline or the first wave of DC's Vertigo imprint, his was a familiar and welcome presence. He co-created Planet Swerve with Tank Girl's Alan Martin, and drew issues of Neil Gaiman's The Sandman and Peter Milligan's Shade the Changing Man and Egypt before leaving the industry to work in the more lucrative fields of television and film. If you've seen Star Wars: The Force Awakens or Rogue One: A Star Wars Story, you've seen his work as costume and concept designer.
Dillon temporarily returned to comics with 2012's The Nao of Brown, which centers around artist and designer Nao Brown, a young half-Japanese, half-English woman living in London whose secret becomes the background, foreground, and all-encompassing theme of an otherwise flowing and nearly romantic character study: her obsessive compulsive disorder. Specifically, Pure Obsessional OCD — a form of OCD where intrusive, unwanted, and uncontrollable thoughts (often violent, taboo, sexual, or uncomfortable in nature) are disruptive to everyday life and can cause immense anxiety. In Nao's case, her looping thoughts come in the form of homicide and violence against others — visceral "cut scenes" of stabbing a man in her meditation group, stabbing a child who comes into her work, or slashing the throat of her date with a glass just to name a few.
The majority of the book follows Nao through her daily life — trying to find some stable income, get her career as an artist off the ground, and find love through a washing machine repairman named Gregory who reminds her of a character from her favorite fantasy manga characters— as she navigates these thoughts, often measured by Nao's narration by their accompanying 1-10 ranking (with ten being the worst, of course) as she thinks of them. From narrating through a picture of herself as a small child hung on her mothers' refrigerator, talking herself through her mantras — both at her local Buddhist temple and through her own built of obsession ("Mum loves me. Mum thinks I'm good") — existing in her friend groups, and navigating a new love with someone just as complicated as herself, Nao lands herself at the crossroad of understanding… which is not to be confused with the crossroad of "fixed" and "better".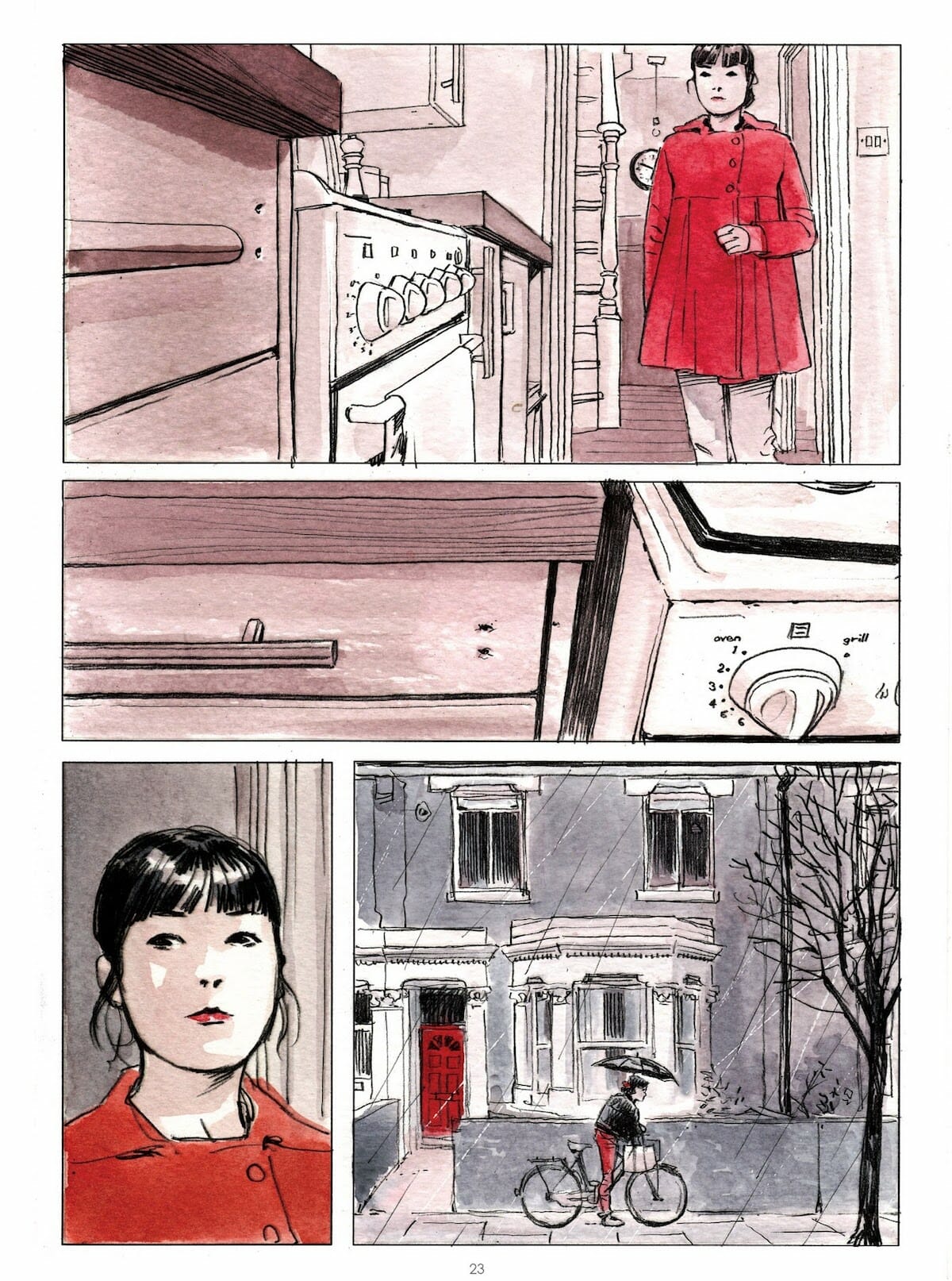 Despite the book centering itself around Nao's dealing with her illness, Dillon avoids coming right out to say what exactly that illness is. Throughout, Nao refers to herself as "mental" or "crazy." and introduces herself to readers by establishing her routine of mantra ("Mum doesn't think I'm bad. Mum loves me") alongside pictures of her everyday life, including little vignettes of her life as it has led up until now. The way it's written — casually, with little attention drawn to it —Dillon makes these thoughts feel like a passing narrative voice and something establishing tone, rather than a motive of Nao's existence, or a character trait to be later revealed.
As the story goes on, Nao's anxiety unfurls in violent asides revealed by her as a narrator, though it constantly feels as if there is a larger, looming, nearly supernatural problem to be fought with in Nao's life, rather than the war is waging in the everyday; particularly when this is placed so closely to images of Nao existing among friends, out at pubs, and working with Steve — a long-time friend whom she reconnects with upon moving back to England and works at his niche toy store. The abnormality is woven in quietly to the everyday, as unsuspecting as Nao's thoughts themselves.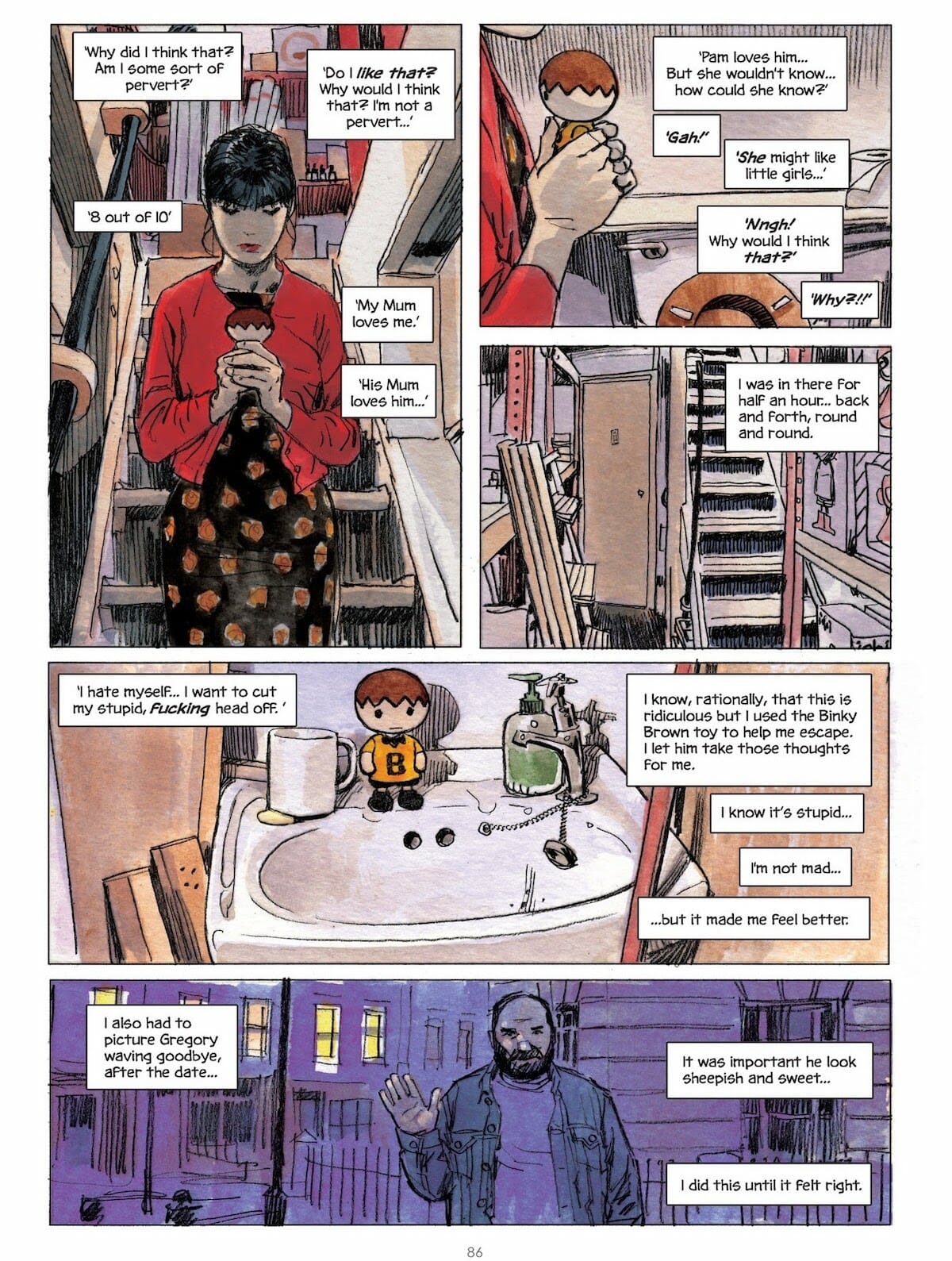 There are a lot of calls for wanting to "see yourself" in the stories that you read, and in comics especially. For a lot of people, it's something therapeutic, or even a reminder that there are people who look like you that can exist boldly within a story. What no one tells you, however, about being someone who sees themselves in The Nao of Brown— in my case, vividly and with beautiful, watercolor clarity — is that it's a welcomeness that also feels like a wound.
The fulcrum point of Nao's anxiety comes in the form of an explosion of emotion towards her partner Gregory. "Tell me I'm not horrible," she screams and the page warps itself into a red blur. "Tell me I'm good! Tell me I'm good!" she screams over and over again as Gregory tries to comfort her in the only ways that he knows how through words and a firm touch — a comfort that is enough for many, but just continues the cycle of loud, unbearable damnation for someone who believes they're undeserving of it. As Nao falls apart in a fit of unharnessed, previously-pent-up anxiety brought on with the washed reds, I set my book down and cry— uncomfortable in seeing myself as I know I have been and will be again; picking it back up to find another piece of unspoken self spilling forward in exquisite watercolor — the familiar next step of dealing with aftermath — and my stomach in knots with embarrassment.
It's supposed to be a welcome reprieve to see yourself there on the page; knowing that someone understands you and the things you wrestle with in your head; it's one of the many appeals of fiction, in fact. A peak is reached, a mourning period of feeling sorry passes by, the measured pains are resolved, and we carry on — or so says many works of fiction that claim to represent me and the liminal, unsteady space I live in inside my head. But Nao doesn't achieve this, instead going further to show the mess to be cleaned up afterwards.
I see my ex-wife in the crumpled, crying lines of Gregory's face, sobbing from their own inner pain in response as Nao's mugs of apology tea go cold; I see myself in a speech bubble, begging to take the blame for everything and apologizing for letting them in in the first place; a living, breathing stroke of one of Nao's ensōs from the temple, apologizing for itself with no beginning and no end and no way to reach the center from the outside.
The book ends with Gregory suffering the next morning of a stroke, and Nao — despite her best efforts to remain stable for him, unable to navigate the spikes in her anxiety with the reality of someone needing her — finding a pen in her pocket while waiting at the hospital, incapable of stopping herself from thinking of stabbing Gregory in the heart as he lies in his hospital bed. Through another red flurry, Nao leaves the hospital, only to be hit by a car and have her thoughts spiral from a point of peaceful resignation rather than one of anxiety. I wish I could say that I didn't know this relief of "well, maybe it's just over then", but I have. I have wished, like Nao lying in the street, to be the quote she remembers about Abraxas — a contrasting existence whose good and evil combine in the same space, as violent as it is loving and peaceful; forever finding the grey space of itself. "He is fullness uniting itself with emptiness", the page reads. "He is the brightest light and the deepest night of madness".
The true end to The Nao of Brown is one that, fittingly, is neither sad nor happy; it simply is. Four years into the future, Nao reads the beginning chapters of Gregory's new book of meditations and essays, a calm washes over the narration in a way that feels absent previously, and a small voice calling out for "mummy" cries out gleefully in its final pages. I exhale upon reading them, recognizing my own need to hear the meditations that Nao focuses on — teachings of thoughts not needing to be in check, but to merely learn to unattached ourselves to them; to try and control thoughts is to harness the world, but by recognizing being caught up in them is to seek growth beyond them.
Much like Nao tells readers as vignettes of her life pass by in the The Nao of Brown's final pages, I am not better and I am not fixed. I still suffer and live with my thoughts and habits just as I did before, but I am no longer simply bad –I'm just here, without expectation. As I navigate knowing these things, like Nao, I watch my son grow — a picture of a small person who looks like me, growing into someone who feels like me, too — and I am grateful to exist in the gray of being a flawed human and having existed in the red of letting those same things spin me out of control, being able to teach from there; from somewhere that is neither bad nor good. I am Nao. I am Now. And that, as it turns out, is what makes it so that I'm just fine. Wash. Rinse. Repeat.