It's one of the many rights of passage of being a part of comic book fandom to have it out with friends — or complete strangers; thanks, internet! — over who is (or isn't) the greatest comic book artist, in your oh-so-humble opinion. In arguments like this, there are plenty of artists that will be consistently raised as potential bests of the best, but there's one name that's consistently, shamefully overlooked: that of the great Ramona Fradon.
There are multiple reasons why Fradon's genius has yet to be appropriately recognized by fandom at large: for one thing, she didn't have an extended run on any of the comics that would make up the definitive canon of important works for any number of self-important experts — arguably the closest thing she had to that would be her Aquaman run in Adventure Comics in the late 1950s and early '60s, although I'd make a case for both her Metamorpho work (we'll come back to that).
Additionally, she was absent from comics from late 1965 through 1972, when she temporarily retired from the industry to raise her daughter; that is, for many, the period in which true comic book greats were active, and her absence during that time means, simply, that she gets forgotten about by far too many when looking back.
(There's also the possibility that Fradon's gender is a factor, which should be too ridiculous to consider, except — well, gestures wildly at comics fandom.)
Nonetheless, any argument against Ramona Fradon being recognized as one of the greatest comic book artists of all time is null and void for one very simple reason: the actual work created by Ramona Fradon across a career that spans more than half a century, and some of the most beautifully illustrated fun that the comics medium has ever had the good grace to enjoy.
To look at Fradon's art is to experience and harness the childlike joy that comes with reading a book about superheroes for the first time. Like other greats like Alex Toth and Milton Caniff, she's always had the ability to concentrate the essential elements of an image to its simplest form, without losing clarity of intent or character; add to this, an expressive line that harkens back to classic newspaper and magazine illustration, as well as animation icons like Max Fleischer and Bob Clampett, and a willingness to buck convention, and it's clear to see why Ramona Fradon's work has consistently felt fresh and quietly innovative whenever it's appeared.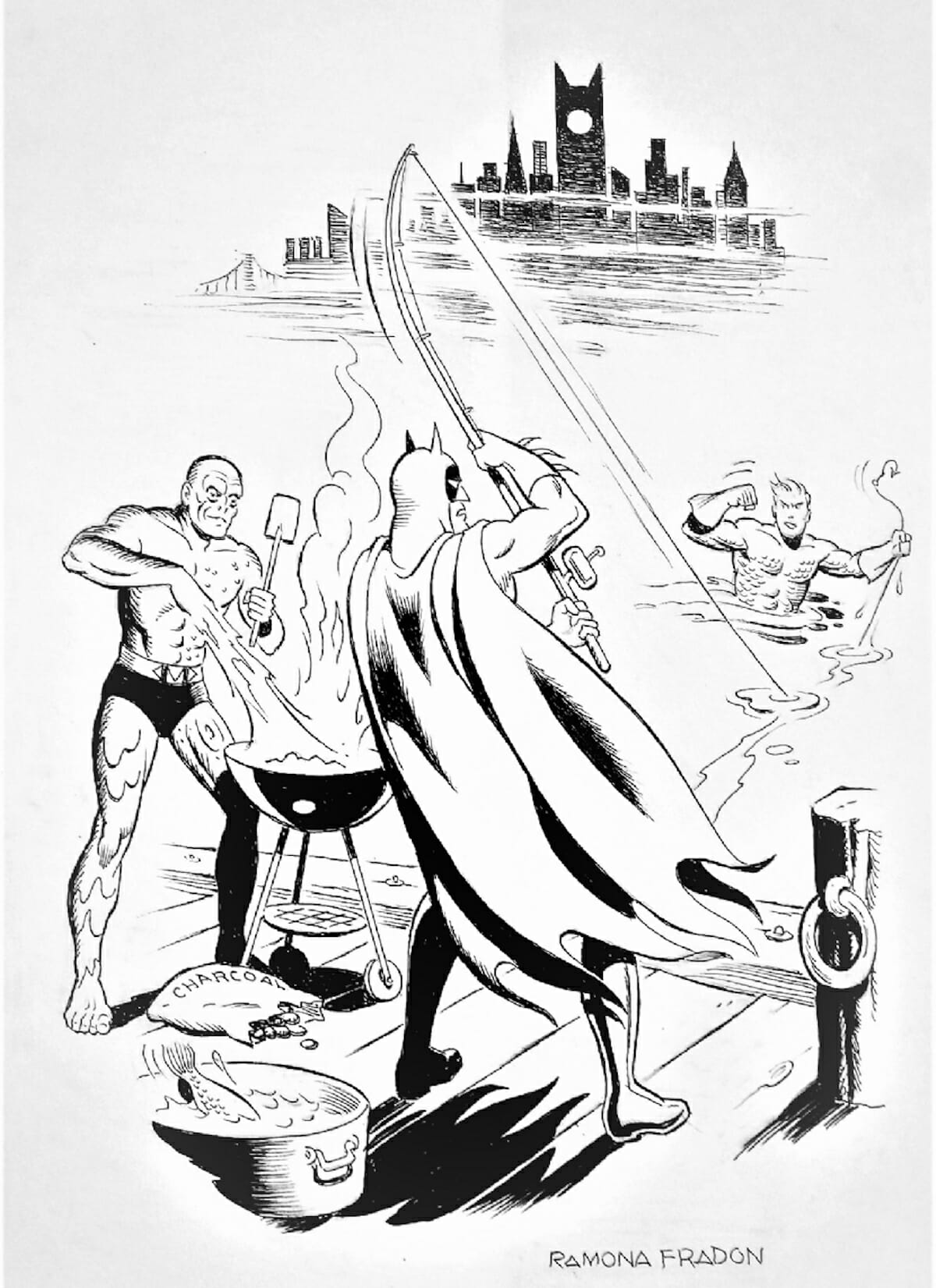 For her part, Fradon has spoken about the fact that her work always stood out from her peers, noting that, while she occasionally felt "like a fish out of water" in the industry, she was nonetheless proud of what made her different. "Something that always jarred my eyes is to see the kind of heaviness and ugliness about most comic art," she said in a 1988 Amazing Heroes interview. "There's not much sweetness to it. It's the tradition, and I don't think it has anything to do with the individual artists. It's just the tradition … the look. That always troubled me."
Perhaps Fradon enjoyed this outsider perspective thanks to a background that rooted her inside a larger illustrative history without marrying her to comic books as an industry or a medium specifically. Fradon came from a family of people who knew their fair share about graphic design. Her father, Peter Dom, was a prominent advertising letterer, while her older brother and uncle were also in the lettering business. While Fradon has said that comic books weren't really her thing growing up, newspaper strips — and all the joy of cartooning contained within them — were one of her favorite things to read. After encouragement from her father, Fradon eventually went to the Parsons School of Design, graduating in 1950 before marrying her husband, famed New Yorker cartoonist Dana Fradon, and taking on the world of cartooning for herself.
Luckily for Ramona, comic book letterer George Ward was a friend of the family, and soon she found herself in the seats of National Periodical Publications — or, as it's been known for the past half century, DC Comics.
It was at DC that Fradon spent the majority of her time in the comic book field; she illustrated both The Shining Knight and Aquaman for Adventure Comics, before teaming with writer Bob Haney in 1965 to co-create Metamorpho, The Element Man, who appeared in both The Brave and the Bold as well as his own eponymous magazine. A break from DC tradition — Metamorpho was far more casual and more irascible than the sober and reliable Superman and Batman, perhaps in a nod to the increasing success of Marvel's more neurotic superheroes — the strip proved to be the perfect vehicle for Fradon's cartooning, combining adventure, comedy and, thanks to the relationship between the title character and the glamorous Sapphire Stagg, romance in equal measure. It was everything that she did well, in one riotous package; no wonder, then, that she's referred to the strip as her baby.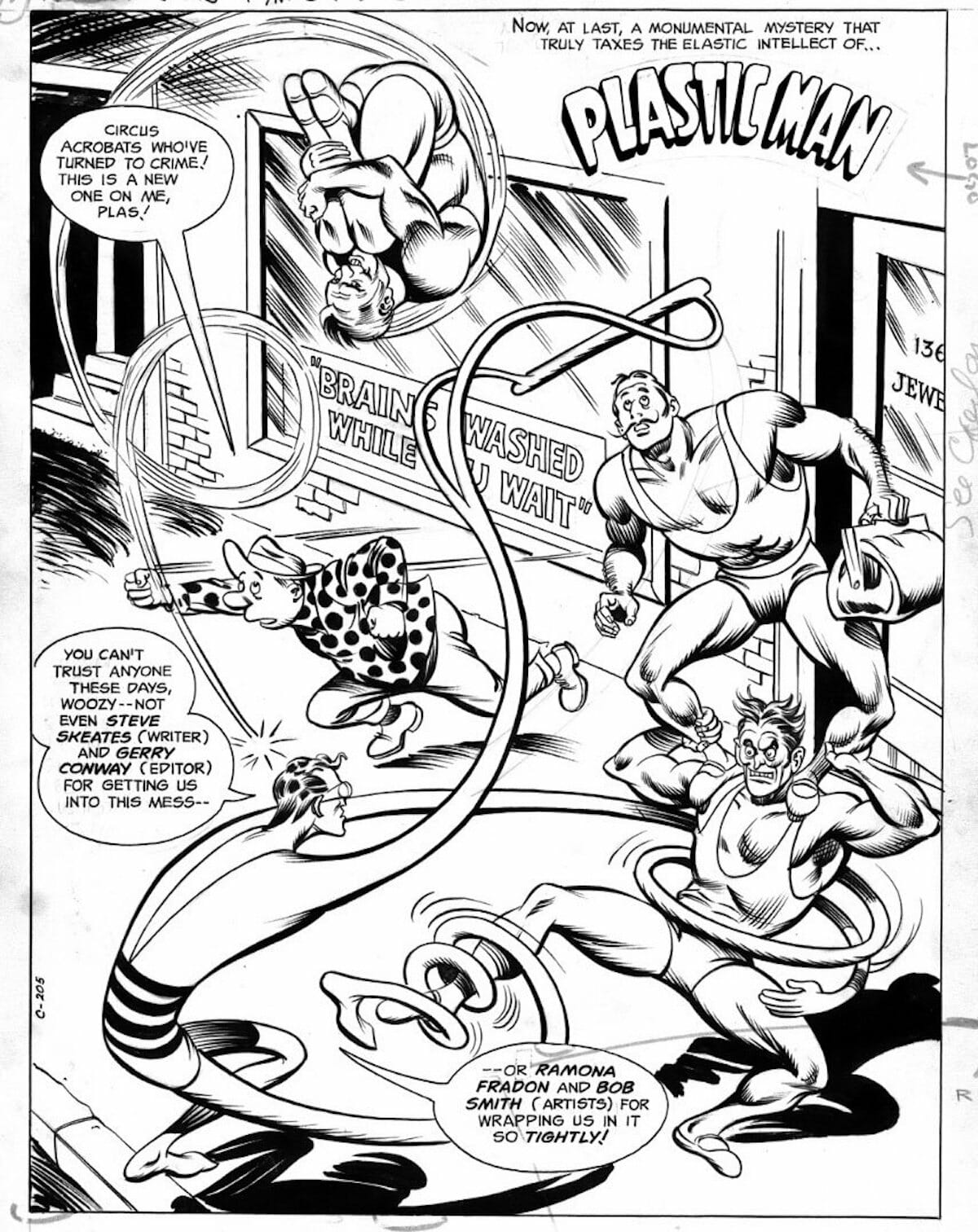 As it happened, Fradon's real-life baby held her attention for the next few years, leading to a sabbatical from comics; she returned in the early 1970s, again freelancing for DC as well as a couple of ill-fated attempts at Marvel work. ("I was totally confounded by not drawing from a script," she said in a 2006 Back Issue! Interview about working in the infamous Marvel Method. "They gave me this one paragraph and said go draw this 17-page story.")
It was during this time that she brought a generation of kids' dreams to life as the artist of the Super Friends series, based on the cartoon of the same name; her open, friendly style may have been at odds with both the heroes' aesthetics from their own comics as well as the Super Friends animated series, but it was a perfect match for the kid-friendly stories being told by writers including E. Nelson Bridwell and Martin Pasko. Her Superman, Wonder Woman, et al, looked as mighty as ever, but more approachable than usual at the same time, a delicate balancing act others struggled to achieve.
Officially, Fradon retired from comic books in the early 1980s, although the truth is more complicated; even as she went to work on the Brenda Starr, Reporter newspaper strip —which she drew daily until 1995 — she didn't entirely abandon comics, contributing to everything from Spongebob Squarepants and Sonic the Hedgehog to Fairy Tale Comics across the following decades. She is, amazingly, still working away at age 94, with DC recently announcing that she'll be drawing an upcoming Aquaman cover celebrating the character's 80th anniversary. Throughout it all, her art continues to shine with her unique combination of joy, fun, and luscious linework, all delivered in such a way to look almost entirely effortless.
If that doesn't make her a contender for greatest comic book artist, I don't know what would.