Alejandro Jodorowsky's The Holy Mountain — a notorious flop at the 1973 Cannes Film Festival — is one of my favorite movies of all time. It's filled to the brim with metaphor and eclectic commentary on era-appropriate politics, it's colorful and bombastic in design and — to be quite blunt, it's what I love most about movies that clearly prioritize style over substance. This movie is the ultimate emphasis as to why calling Jodorowsky a brilliantly flamboyant filmmaker is like calling Jesus a pretty decent carpenter. So, when I was informed a few months ago that Humanoids was publishing a hardcover retrospective of Jodorowsky's whirlwind of a career, I knew that it was time to dive in for another rewatch, with a hope of turning that into the basis for an analytical essay broaching the topics of Jodorowsky's varied treatment of women, disabilities, spirituality and religion, sex, and nature.
After countless rewatches of the entire film — with and without Jodorowsky's delightfully delusional commentary — and no less than five separate attempts to write a guide to the multiple themes included therein, I came to accept one of the best parts of the whole thing: the film is, for all intents and purposes, beyond detailed, coherent analysis.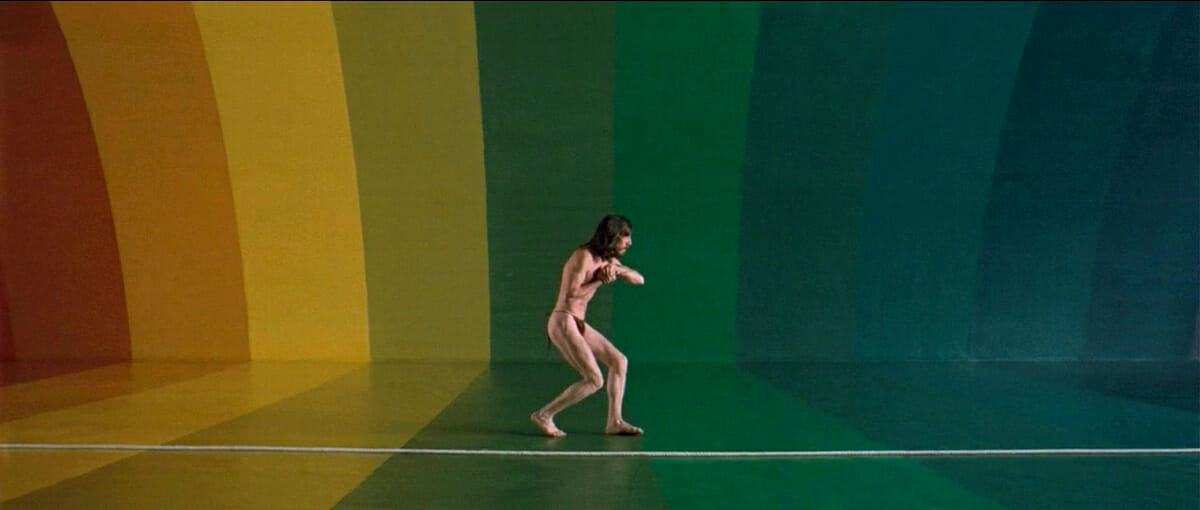 For those unfamiliar with the movie, here's the closest you're going to get to a plot synopsis: In an otherwise ordinary world, the film's central character The Thief — both an allegory for The Fool card in a tarot deck and a visually obvious analog of Christ — escapes mistreatment by an uncaring society and ultimately ends up in the care of The Alchemist, who leads him on a path to become something greater. They are joined by a cast of seven other followers, all of whom represent the planets of the solar system as well as the worst parts of civilized society. Despite being terrible people, they join the Alchemist and the Thief in shedding their individuality, money, and ego in exchange for spiritual discipline and the promise of Godlike immortality atop the Holy Mountain… and there's a twist ending, but I'll get to that later.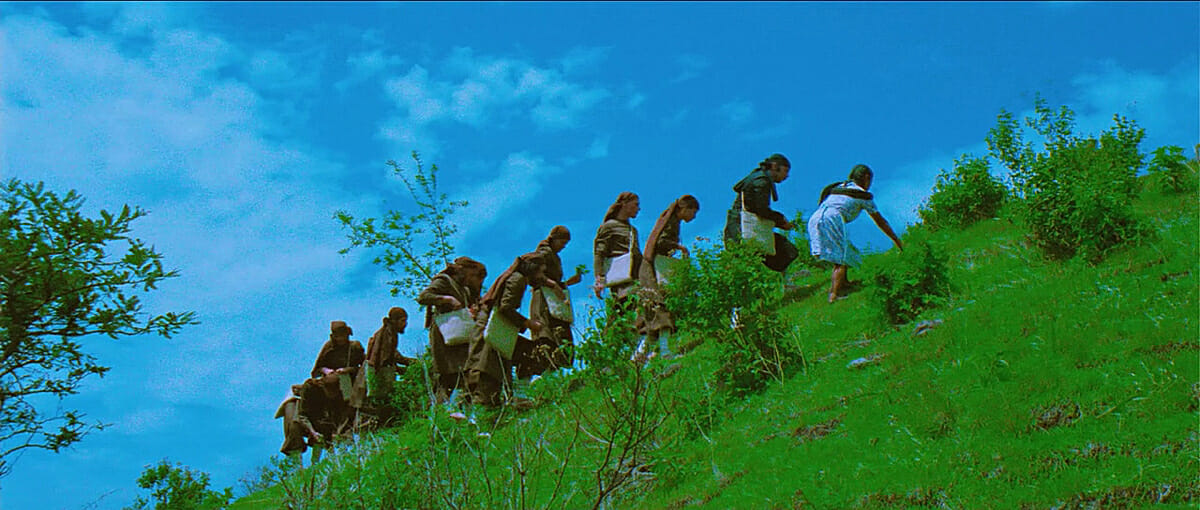 The film acts as a messy scrapbook of hints and tips stolen from seemingly every culture on how to become a higher version of oneself, in the hope that at least one actually sticks and the audience will come away more spiritually whole… but, much like a pivotal scene in the movie, this haphazard method of enlightenment sometimes involves shitting into a bowl and hoping it ends up shiny in the end, with no guarantee of anything beyond embarrassment for everyone involved.
Luckily for Jodorowsky, there is just enough balance between absurdity and profundity to make it all worthwhile in the end, even if many elements of the film have aged quite poorly, and the viewer finds themselves screaming "wait, what?!" more than a few times during the journey.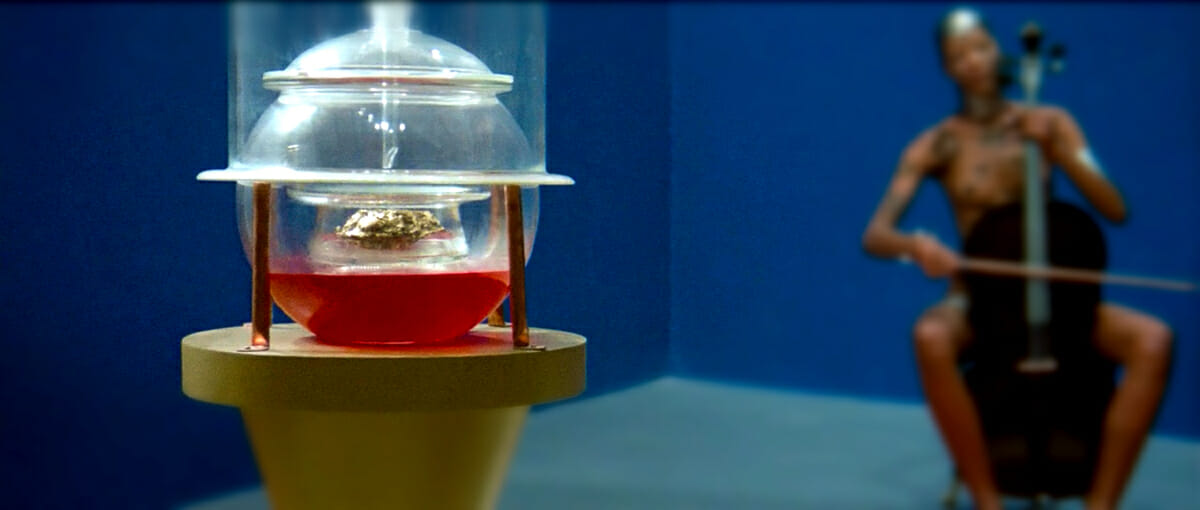 Look: I'm not trying to cop out of writing this piece. I genuinely went into this looking to do the work, and I have notes upon notes about occult mysticism, South American political corruption, animal symbolism, and color theory in various religions to prove it. (Ask me about why having a baby hippo present in the famous up-close anus-washing scene is profound, I dare you.) It's just that the deeper I immersed myself into The Holy Mountain looking for meaning, the less sense the film made altogether — which, in some strangely cosmic manner that Jodorowsky would surely approve of, mirrors the message of the movie all too clearly.
Take, for example, one of the most prominent themes of the film: sexuality — specifically the sexuality of women. It's easy to point that objectification of the female body is rampant throughout the film, with several instances of women being passionately undressed being directly related to the plot of specific scenes.
There's the sex appeal used to sell coffins for the poor to live in to cut down on living costs, the ecstasy of being chosen as a literal plastic surgery manufacturer's next wife in a polygamy factory; Isla, a lesbian with her two lovers who orders men to test psychedelic weapons made in her factory by killing themselves all day; and even a women being able to make even a machine orgasm as a testament to the sexual magic and grace of the female sexual skill. The movie is far from subtle with its objectification of women.
I genuinely thought unpacking this aspect of the film would be easy. Surely, Jodorowsky is treating women as sexual props primarily concerned with serving the male gaze — an accusation that feels even more pressing consider allegations of Jodorowsky having raped a female co-star on the set of previous film El Topo.
There would, I went into this thinking, clearly be a lot of pick apart here — but, in actuality, when I took the time to look, the subject is much more of a muddy grey area…and not necessarily in a bad way.
While the female form and feminine sexuality was something clearly being exploited for the sake of the film, there is an inherent level of power given to these roles, and concept of gender and comfort with swapping traditionally male/female symbolism, that is surprisingly far before its years.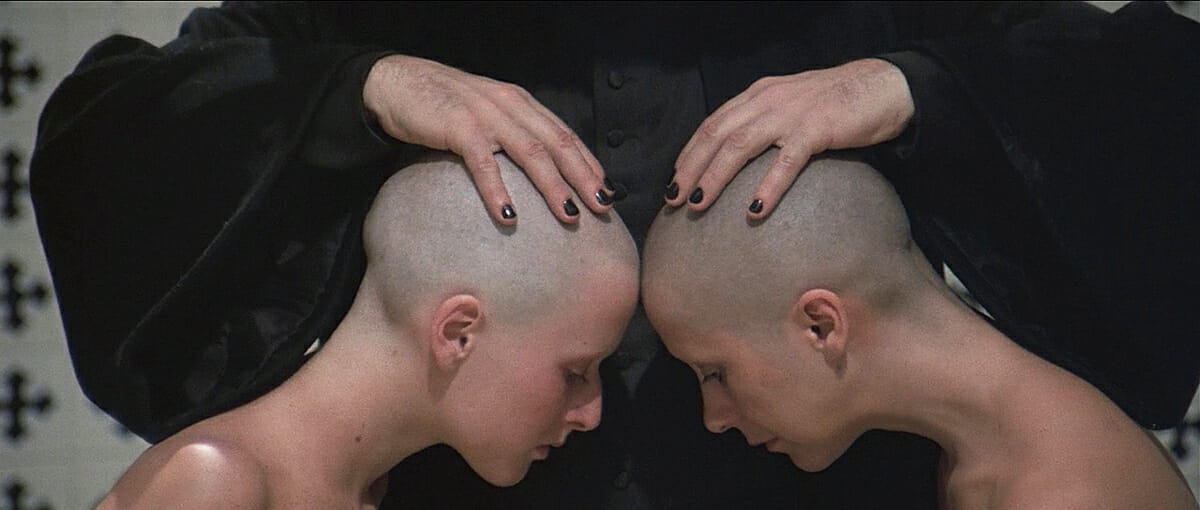 For example: Yes, the woman is chosen to be another wife of a wealthy man…but the woman is also transgender, has her proper pronouns used (even by Jodorowsky during the Blu-ray commentary), and is given genuine power in her newfound wife position. Additionally, though Isla fits the overplayed stereotype of the man-hating, suit-wearing lesbian, she instead exudes feminine power as she rules gently over her "male secretaries" who create psychedelic weapons. The mistress of the millionaire who is able to make the art machine climax is the only one with the power and proper touch to do so — even making jokes that her male counterparts are too heavy-handed and unskilled at sex.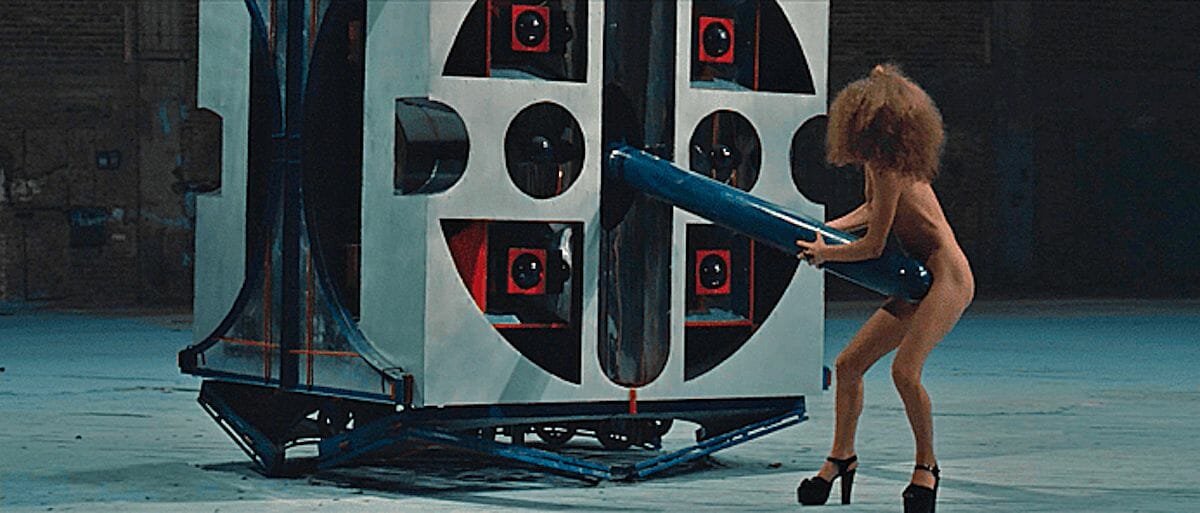 In almost every instance that would otherwise be problematic and harmful to the image of women in film, Jodorowsky has given a clever nod to women having not only equal, if not greater, power than men, while also embracing that trans women are women and are never meant to be differentiated otherwise. Seems pretty clear, if counterintuitive, right? Except the subject gets complicated when it runs alongside Jodorowsky's parallel commentary on religion.
One of my favorite parts of The Holy Mountain is its ability to treat religion as something serious, holy, and even magic while unabashedly turning all religion into something to scoff at for being so easily monetized and weaponized.
The movie overflows with Christian and Kabbalistic teachings in particular, although it also leans on Buddhism, Tantra, Islam, Hinduism, Tarot, and various Alchemic teachings as well, because, if there's one thing that Jodorowsky believes, it's that more is more and less isn't worth showing up for.
Our protagonist, The Thief, played by Horacio Salinas, is easily recognizable as both The Fool from the traditional Marseilles Tarot card deck, as well as Jesus Christ, often painted as the primitive, childlike form of civilization that all humans begin their journey to enlightenment as, which is the entire "plot" of the first act and where we find the more literal interpretations of the Bible, the practice of tarot, and the idea of the self.
One of the most profound of those is the juxtaposition of The Thief — AKA, Christ — running across a shop with a man in drag dressed as the Madonna, and four others dressed as Roman soldiers. While they are happy to sell The Thief a giant cross that he must literally bear as he walks down the street, they notice just how like Christ he really is, proceed to seduce him with liquor — specifically Jose Cuervo tequila, with "cuervo" translating to "raven", one of the foremost elements of alchemical science — and use pork fat to shimmy him into some plaster to make newer, better Christ figures to sell in likeness. (We'll just make quick note that using pork products to lube up the most famous Jewish person in history is about as un-Kosher as it gets, and move on.)
He awakens surrounded by figures of himself and screams at this new moment of enlightenment where his personage has become a commodity of a broken system, before beating the merchants out of their warehouse, much like in Matthew 21:12 of the Bible. Out of all of the figures made in his likeness, there is one that he coddles and decides to carry with him, almost as a symbol of who he wants to be — more Christike.
From there, the Thief meets up with a group of prostitutes in front of a church. They all dress alike — aside from the extremely young child prostitute, whose makeup is so thick that it's unbearable; marking Jodorowsky's disdain for pedophilia, particularly within religious communities. But among these prostitutes is one specific woman –whose counterpart, a chimpanzee, embodies masculine attention — who sees the potential for holiness within The Thief and begins to follow him, having falling in love with him on a spiritual level. Thus we have our Mary Magdalene, who continues to show up throughout the movie in the background as she follows The Thief through whatever hardship and trials he finds himself in on his path to enlightenment.
How does she factor into the movie's treatment of women? It's a sign of the interrelatedness that undoes any attempt to unpick the movie into a series of separate influences and examples. The Holy Mountain is not something to study and contemplate in isolation, Jodorowsky seems to be saying; the viewer has to bring their own experiences and cultures and find new meaning that is personal for them, with the movie becoming as much a crucible for the viewer seeking enlightenment as for the Thief on-screen.
Through a myriad of sacred objects and views are shared in this way throughout the movie, from The Alchemist first being seen as a shrouded, faceless, and ego-less prophet like Muhammad, to the frequent use of Hebrew symbols, divine names, and a set of Tefillin, it's clear that we're here to get enlightened by any means necessary — even if that means the methods aren't fully-formed, no matter how respectfully Jodorowsky wants us to believe they've been handled.
Now that we've touched on both religion and sex, let's move on to another topic of conversation you don't bring up during dinner with unfamiliar company: politics.
From soldiers in gas masks dancing with civilians — making a statement about how military figures are just civilians with armor and should, therefore, be treated gently — to hyper-masculine Nazi parodies with comically large guns, worshipping at an altar of one thousand testicles after shooting down innocent students and protestors in the street, there's no stopping Jodorowsky's attempt to make grand statements about various aspects of world politics of the early 1970's.
Witness the psychedelic weapons shaped like Menorahs and Buddhas, showing just how easily war can become the rock n' roll aesthetic! Gaze upon the horror of playing up the fun of bigotry and racism in order to sell weapons to children for fun and profit, (which also happens to be the scene in which they use a modified Captain Marvel cover from Marvel Superheroes #18 for some unknown, amazingly un-sued reason)!
Even the fellow travelers of The Alchemist and The Thief, each of whom personifies a specific planet, are used as literal embodiments of corruption, hatred, and violence by corporations and government entities. More than anything, the overall takeaway is a subversive demonstration of the many ways charismatic authoritarianism can skew one's interaction with the world as well as one's self.
As topical as such things may be, one of the most noted scenes of socio-political commentary in the movie may be the Toad and Chameleon Circus — a short section of the film that's acutely focused in commentary on the unprecedented violence of Western invasion, with the help of a handful of toads pretending to be the conquerors and the bearded lizards pretending to be the "primitive" peoples. While the concept might sound completely adorable (and one might still believe that once they witness the little bearded dragons donning a real mini-replica of Montezuma's headdress), chaos ensues as toads and lizards alike hop across each other in utter chaos and blood paints the scene.
With several of the toads dressed as Nazis — and some even dressed as crusader-era priests — the bloodbath serves as the message that a society considered different or alien is one that must be quashed by conquering Western civilization. In the end, the conquerors win through the act of genocide, leaving only themselves and a destroyed landscape that they now treat as their own.
Yes, that seems heavy-handed enough to make one's head spin… but it just gets more complicated if you're the one having to sit down and decipher the Toad and Chameleon Circus as a political motif when you also have to fit it into a whole analysis of Jodorowsky's use of animals — or natural objects as a whole — as symbols in the film. As it turns out, that subject is, ironically, a whole other kind of beast.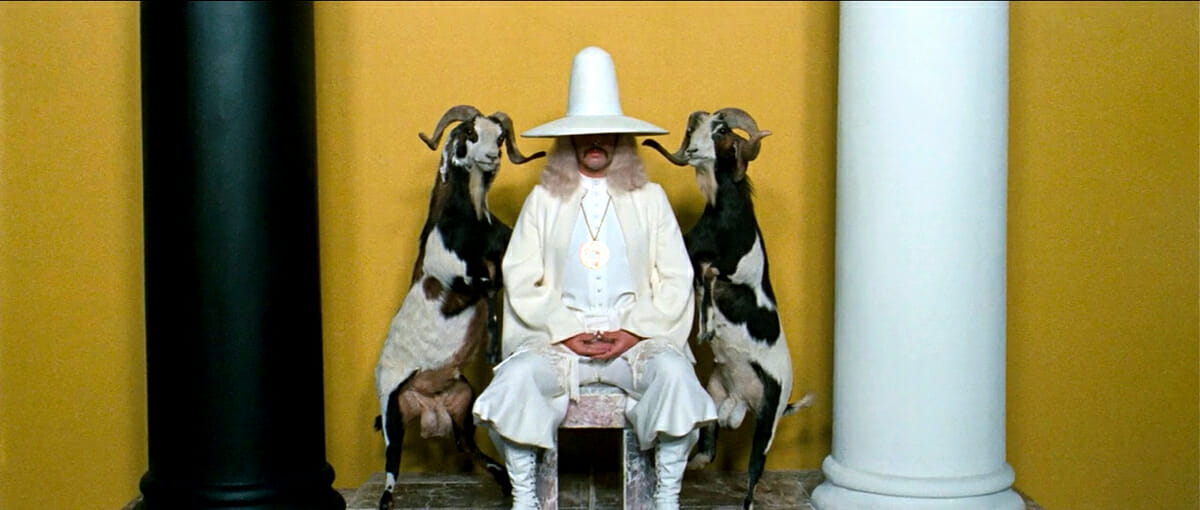 I could tell you about the black dog who runs across the scene as the followers begin the final process of killing their ego, and how it could mean a sign of spiritual death, for example. Or perhaps we could discuss the brightly colored canaries flying out of gaping gunshot wounds in protesters' chests, symbolising their freedom from their mortal body; or the camel standing patiently in the rainbow chamber representing the readiness for a long-journey.
What about a black bull for strength in the room of Tarot cards? A tiger for courage leading the group of enlightened zealots through the mountains; the Pelican — a symbol of Christ's love, said to peck their chests and sacrifice their blood to their hungry babies — in the room where the Thief's excrement is turned to gold…? There is no real appropriate point for the list of animal symbolism to stop, because it's seemingly endless. The same is true of Jodoworsky's approach to nature, which ranges from the ordinary hippie beliefs of truly smelling the flowers for the first time and running in a field after becoming enlightened, to rubbing one's genitals on the rocky craig of a mountain and giving oneself to nature when having difficulty climbing.
What I can tell you, however, is that his film places animals and nature itself on, at the very least, an even playing field with humans, and often treats them as something holier than man. Jodorowsky couldn't have made it any clearer that man is also an animal, and the imagery that progresses throughout the movie is indicative of the heightened state of "oneness" that Jodorowsky is trying to encourage viewers to achieve.
The irony of this being that, while animals are painted as being one with man, an element of humanity finds itself left out of the running, often depicted as lesser than others.
Throughout the film, disabled cast members — especially the improperly-credited actor Basilio Gonzalez — are used as living metaphors for the more sickly qualities of man. Gonzales plays the part of The Thief's ego, shown as a thing that weighs him down most on his path to enlightenment. Often perched piggyback-style on The Thief, he acts as a friend and urging companion to the man who is just discovering himself, like a toddler discovering he can make impulsive decisions. However, as the film progresses, Gonzales' character transforms into something akin to a tumor, as The Thief's fellow followers birth him out from the Thief's body and demand that he be drowned in the sea. Knowing full well that he cannot swim, The Thief throws him overboard and abandons what is viewed as his "monstrous" side.
Perhaps one of the smallest — but most disturbing — examples of Jodorowsky's curious othering of the disabled is the old man who approaches the prostitutes in their opening scene. Among the women — all of whom were real sex workers — is the little girl I mentioned previously, whom the man beckons over, looking at her hungrily before plucking out his glass eye and placing it gingerly in the little girl's palm, smiling. A comment on both the abhorrent frequency of child sex workers and pedophilia, as well as a biblical reference — "if your eye causes you to sin, pluck it out" — the man stands as a literal living proverb of a lecherous illness.
Problematic as these things are all on their own, they are, sadly, not the only instance of disabled actors being miscredited and used as props, ending up as living, breathing arguments on Jodorowsky's behalf that man is, at his core, something ugly and unwanted unless they seek the enlightened path sought by the movie's protagonists.
This all seems like a lot, I know, but at the end of the day, I have shared maybe two pages of my notes on The Holy Mountain with still another eleven pages scrawled across the desk in front of me. I have spent countless hours over the past two weeks watching and re-watching, reading and re-reading, hoping to find a way to properly include everything that you need to know about this film from an analytical and deeply-researched perspective.
I can give you every moment that The Alchemist realigns someone's chakras and what that means. I can tell you about the solar symbols of alchemy, or the card number of The Tower that The Thief climbs to meet The Alchemist. We can discuss the meaning of an octopus being pulled out of a tumor, why the wife of Uranus has no belly button, or why fruits and external tubing are used to represent blood and organs during the more gory scenes. No, really. I can just keep going, on and on and on.
What I've come to realize while trying to analyze this film, though, is that, much like life, everything in The Holy Mountain is interwoven to a point where looking too hard through a magnifying glass at a small number of precise details is only going to obscure the greater meaning and grand scheme behind it all. For each individual piece that can be picked apart about the movie, there are an infinite number of other symbols and meanings attached to those pieces and ultimately the viewer just ends up looping back around, forced to look at the whole anyway.