Always connected and constantly plugged in, our lives now seem to have a life of their own online. Platforms such as Instagram, Twitter, TikTok, and Facebook give us the opportunity to keep up with people we haven't seen in years and…well virtually everyone we've ever met. In addition to that, however, we've also gained a habit of staying updated on the lives of people that we've never met. In 2023, we have more access to each other than ever before, but this connection comes with unnerving consequences – and it's a notion best preserved in the 1997 psychological anime thriller, Perfect Blue.

Directed by Satoshi Kon, Perfect Blue illustrates the paralyzing effect of online exposure, predicting just how creepy the digital age could be. What is particularly jarring about Perfect Blue is that 26 years later, it is applicable to not only celebrities, but the lives of the general public.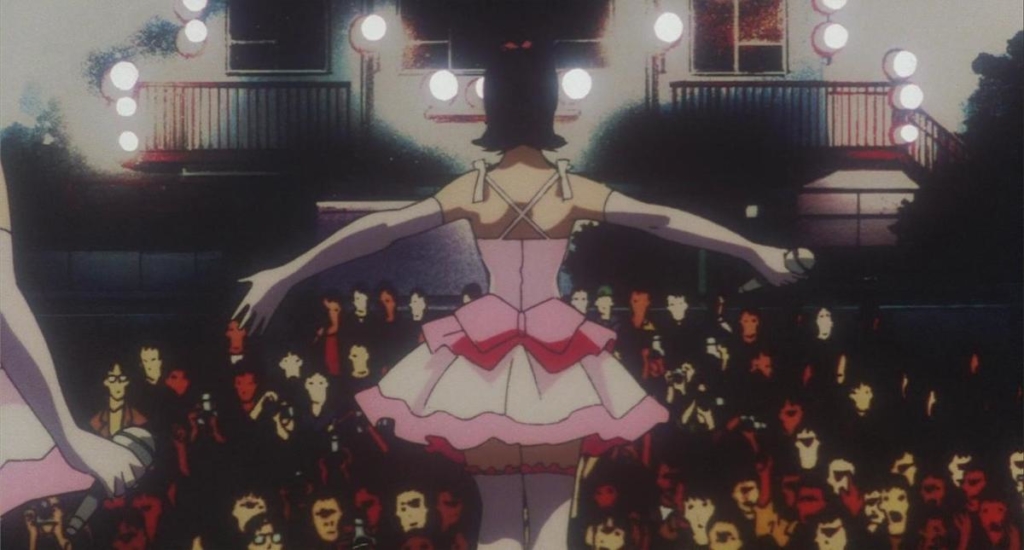 The movie is an evocative tale exploring the transformation of a young Japanese pop idol, Mima Kirigoe – the clean cut singer and public face of a J-pop girl group – as she tries to shift into a new stage of her career: acting. Mima is faced with several controversial career decisions during that shift, and decides to take acting roles considered to be "risque", one of which is sexually violent, and damaging to her previously pristine reputation. On top of that, she is surrounded by a handful of shady characters: a questionable manager, a stalker, and an invasive fanpage just to name a few. 

Though change weighs heavily on her shoulders, one thing that Mima returns to time and time again is Mima's Room – the fan created site that knows her almost too well, and keeps up with her every move while keeping her bound to her previous life as a pop idol. 

Throughout the story, Mima's spiraling obsession with Mima's Room, severely impacts her mental wellbeing. Mima starts out ignorant to the possibilities of the world wide web until she receives an unnerving letter from a dedicated fan confessing that they "always like looking into Mima's Room". Disturbed by the prospect of someone literally looking into her small studio apartment, Mima asks for advice from her manager, Rumi. She discovers that Mima's Room is simply a fan made website that simulates a diary that Mima herself might keep. The site provides a way for fans to feel connected to their favorite pop idol by keeping them up to date with fake, but fun diary entries.
This was pre-MySpace (and before blogs really took off), so having an online diary–let alone a fan-made pseudo\-diary – is a novelty that is unsurprisingly intriguing to both Mima and her fans. Soon after discovering the true nature of the website, Mima gets her first computer and starts keeping up with it for fun.
Coinciding with various distressing occurrences in her life–such as a faxed threat (this was 1997, after all) and a menacingly explosive fan letter–Mima becomes increasingly paranoid. She also realizes that the mysterious creator of Mima's Room knows private details about her life. The author of the fanpage writes accurately about Mima's grocery list, subway routine, and other daily habits, but who it is purposefully remains a mystery throughout the film. The website itself is maintained by either her manager or a stalker, depending on the fan theory.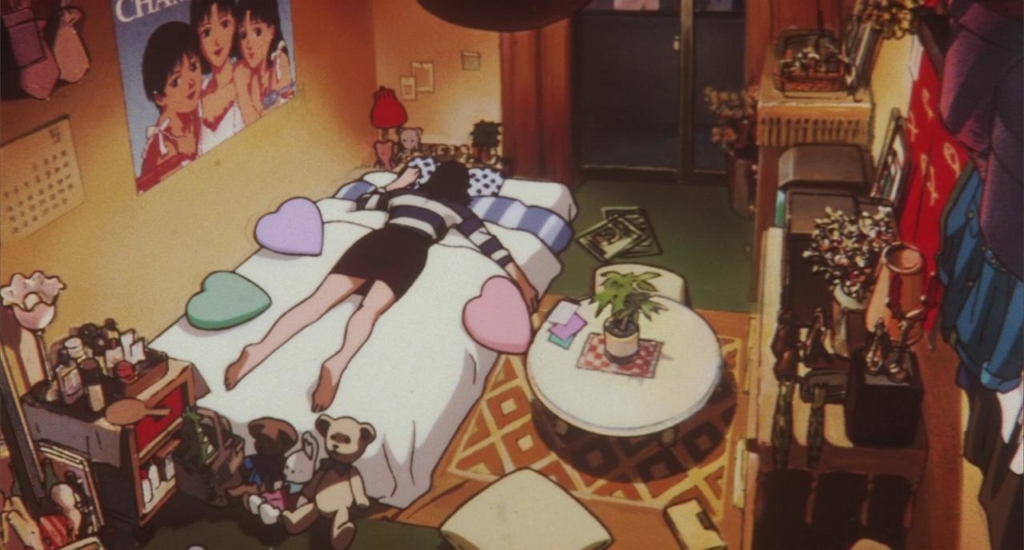 Overwhelmed by the whole thing, Mima detaches from reality while working on the set of the hit TV show Double Bind. At this point, she is still a green actress and any distress on set could be harmful to her career. She begins to frequently hallucinate her digital persona as seen on Mima's Room, and questions whether she is the real Mima, or a fraud herself.
Mima's die-hard fans are not pleased with the new chapter of her career as she sheds her idol skin and turns towards acting. In love with her previously pure image, her newfound comfort (or so it appears) with being sexual in front of the camera unsettles her old fans. This shift in image also creates difficult feelings between her and her manager. This is highlighted when her manager leaves a recording studio sobbing, as Mima films the sexually violent scene for a movie.
From here, the storyline is taken to another level as reality gets blurry. A murder spree begins that targets all who are deemed to have tainted Mima and her image. Whether it is conducted by her manager Rumi, Mima's stalker known as Me Mania, or Mima herself, remains unclear. There are several Perfect Blue theories that will discuss the perpetrator at length, either satisfying your questions or leaving you with more. 
One thing that is absolutely concrete in Perfect Blue is Mima's unhinged mental state, making the storyline difficult to follow. Absorbed in the novelty of the internet, Mima continues to obsessively keep tabs on her fanpage, spiraling into mania and at certain points, convincing herself that she is causing extreme harm to others.

Mima is so out of sorts, she genuinely can't tell if she's responsible for the destruction happening around her, or not. She's completely at the mercy of the persona portrayed on Mima's Room. Though her digital persona presents itself as a ghostly hallucination with a life of its own, I interpret it as a representation of Mima's insecurities. Unable to cope with her choices, and with no emotional support, Mima finds herself haunted by this "perfect" version of herself. Her inner terror is an inner monologue and in this cerebral way, is completely self inflicted.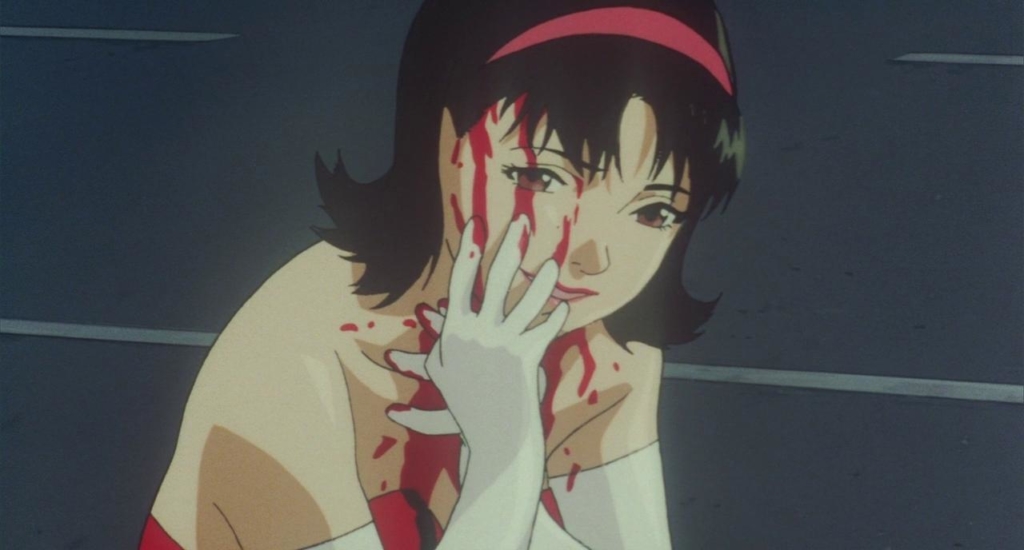 Regardless of who created Mima's fan page, there were clear consequences as it displays a personality that someone else wants her to have. Some of her fans love this version of her, validating her digital persona, while her real identity is continually questioned. This strips her of any autonomy and leaves her to feel trapped and without an actual sense of herself as she navigates life. She compares herself to an image of her past, fails to trust in herself and ultimately loses confidence in her own decisions.
Mima, already a celebrity, garnered plenty of public attention with her career alone. Even with her previous experience in the limelight, she was unprepared for unlimited access to public opinion. For a celebrity in 1997, her situation is uncharted and unique. Today, this wouldn't be a novelty, as everyone, excluding that one aunt of yours, has some sort of online presence.

What makes Mima so applicable today, is her age. At twenty one years old, her identity is changing, which isn't unbelievable for someone in their early twenties. Currently, people far younger are well established online, creating and maintaining a digital persona at a much more vulnerable time than Mima. It can be fun to document life and it's commonplace now. Plenty aspects of social media are seen as being positive, fun and essential to modern life, many of which I enjoy. However, as Mima experienced, the dangers can be real and the potential for overexposure is more probable than ever – something that is particularly concerning for the young and vulnerable.
Our personalities naturally change as the years pass. This may be gradual for some and drastic for others. Time might even turn us into new people altogether. I'm a strong supporter of exploring all that you are and all that you can be, but let's face it: it's difficult to shed that skin and move on when you're carrying the weight of every version of yourself. We – or at least many of us – actually lean into this, keeping a pretty good public record of our history.

Even I, myself, have shared important milestones as if it were an obligation, not because I wanted to. Life changes are commonly made more public, from the announcement of a baby, to a change of career, to even a change in opinion. There isn't necessarily anything wrong with this, of course, but attention does invite the chance for outside input at a potential volume that many aren't able to handle in our daily lives. And yet we still feel compelled to share.

It feels weird to compare myself, a completely regular person, to a famous J-pop idol in an animated film, but I have to say, aspects of Mima's experience don't feel alien. A key difference between Mima and the rest of us, is that we choose to announce the shifts in our life, whereas she had them exposed for her. But with the cultural shift in mind over the decades, the idea remains the same: too much exposure will strip us of our privacy and could lead us to some uncomfortable places.

Extreme violations of privacy that have previously only been reserved for celebrities or people in a spotlight but are now applicable to virtually anyone. Everyone is capable of creating a following online and gaining an audience that enjoys a crafted digital persona. If you have an Instagram account, chances are you follow someone online that you've never met. Maybe you even feel a connection with them and think you'd be good friends. This is, in an infantile stage, an example of a parasocial relationship – a connection that someone feels between themselves and a person they aren't actually acquainted with. That person online might seem cool, but the fact is, you don't really know that, and you don't know them despite having a seemingly large window into what looks to be the more personal aspects of their daily life.
Parasocial relationships aren't inherently terrible, but they have room to be dangerous if they go too far. There are plenty of positives first; we can learn about new subjects and gain deeper perspectives on life, politics and culture by following someone we feel connected with online. Being inspired by others is an inherently positive thing, but the negatives of parasocial relationships need to be taken into account. Feeling connected to someone we don't really know leaves room for disappointment, bitterness, feelings of entitlement, anger and even hatred. If someone we admire suddenly changes, we feel betrayed. Our whole image of them is shattered and at the very least, that's disappointing. If we are particularly emotionally invested in them, this betrayal turns into disdain. Perfect Blue presents this at the ultimate degree, as Me Mania obsesses over Mima, to a level beyond help.

I argue that any negative emotion in this situation is misplaced, big or small. Every person is entitled to change as they please. We are tied to the past versions of ourselves when people are attached to who we were.

Yet, when the reputation of someone we admire from afar shifts, we naturally feel deceived. The parasocial relationship experience is confusing, but it's also one that we're all susceptible to having. In general, we might feel slighted, we might complain about it (maybe even loudly) and then we might move on. But this isn't the case for everyone, Me Mania, being an extreme and disturbing example.

We might not all be pop idols, but most of us are not estranged from feeling overwhelmed by online exposure; from a constant stream of information to pressure to share what's been happening in your life, it's tempting to just completely unplug. We all know at least one person who has taken a mental health break from social media, or even quit it all together. We may have even been that person ourselves.
But fearing social media isn't the answer. There are several shades and flavors of social media, and – when used correctly – can be used to connect and enhance our lives. Perhaps if Mima had an online presence herself, she may have had more control of her public image, possibly leading to a more positive experience. But when viewing Perfect Blue today, it is chilling to watch Mima endure the pitfalls of the early stages of the internet, knowing that the concerns have only grown more severe. Seeing this in the primitive online setting of 1997, the dreadful feeling that the film creates is even more heightened as time goes on. Through extreme circumstances, Perfect Blue accurately depicted the festering creepiness and sense of horror that the digital age is capable of evoking. Here we are, decades later, living right in the thick of it.