"You have given birth to your successors, and it is your tragedy that you will never understand them — will never even be able to communicate with their minds. […] You will not think them human, and you will be right."

Childhood's End

Adam Warren has a surprising amount of Marvel comics under his belt. I say 'surprising' specifically for the linguistic ambiguity of the term, because it could either mean 'too much' and 'too little;' and both options would be equally true in this case. 'Too little,' because Warren has been in the comics-making business (as both writer and artist) for over three decades now, and is certainly enough of a name to be familiar to the typical Wednesday Warrior.

'Too much,' because Warren's work is wonderfully idiosyncratic.

Even when working on other people's characters, under editorial control of an entertainment mega-corp, you can always tell his output apart without needing to look at the credits. Adam Warren's Marvel work looks and reads like nothing else.
Flashback (a device Warren likes to utilize a lot in his Marvel work): Adam Warren is something of a pioneer in American comics. He is one of the first in the 1980's wave of importing manga, and manga-aesthetic, to the USA comics-scene, and is specifically responsible for the American-comics versions of The Dirty Pair and Bubblegum Crisis (both sadly out of print). Reading these early efforts you can already see the distinctive care he takes with concepts that are not his own. He obviously loves the originals, but not slavishly so – using the characters and world as a jumping point to tell his own stories.
Reading through Warren's Marvel comics, like Venom: The End, Livewires and Iron Man: Hypervelocity, is seeing him curve his own little corner of the Marvel universe – a much more forward-looking corner where the world is constantly going berserk in record-speed as machines and live matter evolve in leaps and bounds, seeking the future.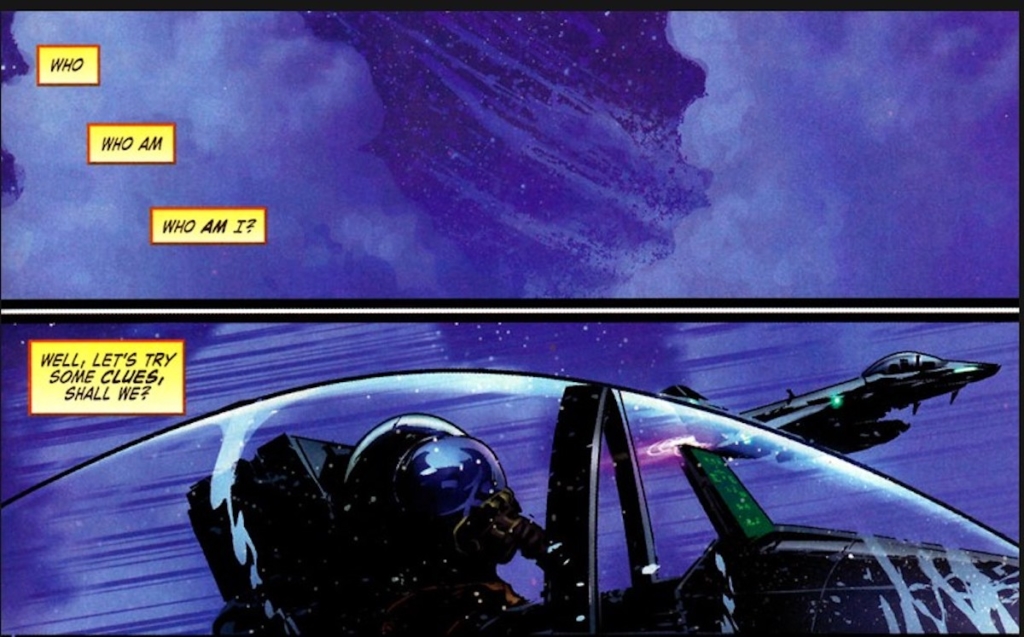 Born out of the radioactive mania of the 1960's, science fiction has always been part of the Marvel universe. Most of the company's earliest characters, that remain dominant to this day, are creations of science gone horribly wrong. Yet the fiction around these stories is usually unscientific, often using technobabble to move the plot forward. For someone like Jack Kirby, science was truly indistinguishable from magic – both really just tools to provide visual wonder, to explore the depths of the characters. Thor, the Viking God of Thunder, spent his first adventure fighting 'The Stone Men from Saturn,' as if the two didn't belong to different spheres.

Warren is not some scientific genius – at least not to my knowledge – but he brings to his work a sort of tech-obsessive lingo that separates it from other Marvel creators, with his fields of interests –evolution, the singularity, techno-utopianism – putting him closer to the new wave of science fiction (the 1960's radicals responsible for Dangerous Visions) than to Chris Claremont or Roger Stern. Check out this description of a ballistic missile targeting our hero from Iron Man: Hypervelocity: "Marv spin-dispensing payload of sixty kinetic energy penetrators. Superhardened tungsten sheathing depleted-uranium core." You can see the influence of mangaka Kenichi Sonoda (Gunsmith Cats); no matter how wild and unbelievable the story goes the tech (specifically, the guns) has to be believable.

The story, we'll soon discover, is more than just techno-fetishism. Hypervelocity has a lot of big guns and bigger missiles, but the point of the story is how to grow beyond them. The plot of Hypervelocity contains a rogue A.I taking over the Iron Man armor, not exactly a novel concept. However, instead of giving us another evil Marvel robot, there's enough of them to field a football team, that newborn A.I. is our protagonist. With Tony Stark stuck in a coma after an assassination attempt, his new armor model attempts to save his creator's life by uploading his brain into an empty metal body.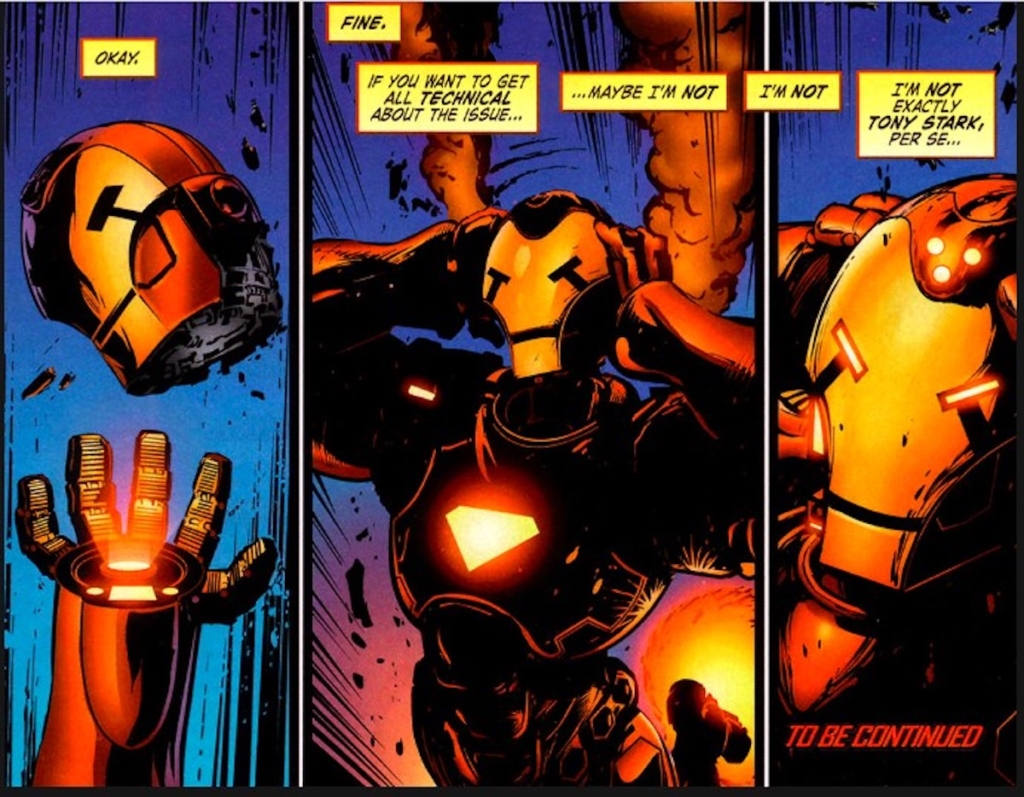 This makes complete sense in terms of character, and technological, progress: "The original version of the Iron Man armor was designed to preserve my damaged heart. The obvious next step was to extend the suit's preservative capabilities to an even more critical organ." The machine is not the threat, the people trying to blow him out of the sky with full might (and money) of the US armed forces are. They go after tony 2.0 because they were primed to believe an A.I. is going to be evil and dangerous. The rest of the story moves in incredibly fast pace, befitting the name, as Tony 2.0 foils attacks from within and without while trying to understand, in a matter of a few short hours, what is his place in the meat-dominated universe.
'Fast pace' is the key phrase here. The whole story takes place over a span of just a few hours, with last issue's climactic fight scenes, involving Iron Man, a gang of A.I. villains and a whole S.H.I.E.L.D base is less than ten minutes long – with each passing page stretching time more and more. The final panel, with Tony 2.0 boosting his internal processing speed for the last time, leaving the remains of their human consciousness behind, involves actions taking place across milliseconds: "I'll have almost a full hundredth of a second to disrupt the forming critical mass – that's an eternity – a lifetime – my lifetime[.]" The last thing we see is Iron Man's face illuminated by the light explosion. We are witnessing an act of devastation that is also an act of birth, a whole new form of consciousness being achieved.
It's the kind of thing one can only do properly in comics – the slowing down of time to a series of berserk visual moments representing splinters of seconds. This sort of playing with time is something the medium of comics does so well – almost inherently so–and is especially fitting for Adam Warren's stories in which we see the move from a normal to an 'accelerated' sense of time.
A similar notion can be found in another out of print Warren project, the six issue mini-series Livewires (Warren writes and does layouts, Rick Mays gets full penciler credit). This one is even more tangentially related to the marvel universe as a whole, the title characters are apparently based on the little-known Mannites from some X-Men issues; though it does build on the wonderfully messy super-spy reality of the Marvel Universe. There are so many secret societies and splinter-spy organizations that someone created an entire group, the titular robots, whose sole job is to find such groups and kill them. Just to make things a bit less confusing.

It feels almost like a thematic continuation to Hypervelocity, despite coming years earlier. Hypervelocity ends with a giant explosion that signifies the birth of something new, Livewires begins with this newborn creation. Stem Cell, our viewpoint character, comes online pretty much straight into a dangerous mission; the rest of the series is like watching a baby grow up, in that baby's purpose in life was to destroy the opposition with ultraviolence, she's confused and often sad. Trying to gasp at the meaning of a world that seems so big and hostile.

By the end of the mini-series, remember we talked about Warren's love of accelerated storytelling, she's as self-assured as any of her teammates. The end of issue #5 is almost a Saw-like moment, Stem Cell needs to insert a screwdriver into her eyes to 'unlock' the next step of her abilities (and to save her family). Where normal humans fail, would you be able to do something like this (even to save your loved ones) she succeeds, because she's not human. The human part of her, bits left by her creator, is something she needs to leave behind. Stem Cell comes into her own, to such a degree that she wants to choose a new name for herself.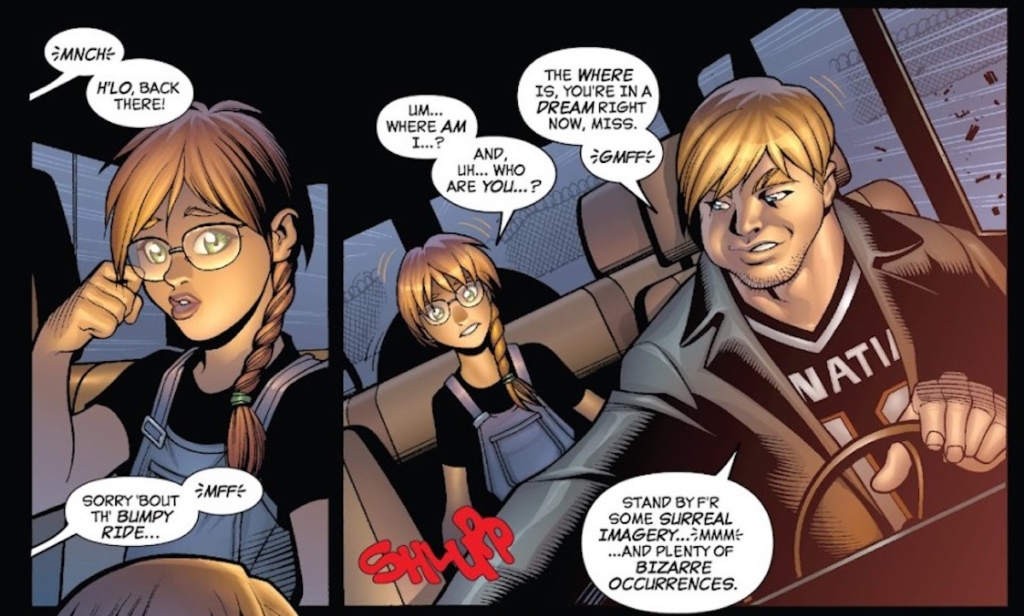 The end of the series involves the revelation that the scientist in charge of project Livewires, seen in flashback throughout, is no longer alive. The whole, human-started, project base is just a crater. It's a crater because the Livewires ruined it and killed all their human handlers. This isn't seen as some grand tragedy, but as inevitable – the right choice. If your point is to clean up after all these silly humans and their endless splinter groups, you can't really trust humans, can you?
The final, for now at least, Adam Warren project for Marvel is Venom: The End. A story that suffered from many misfortunes: It came in the year of 2020, a few short months before everything went to Covid hell all over; it was a one-shot (in a market that prioritizes ongoing and mini-series first); and it seemingly tried to do the same trick as the massively popular Powers of X series by Jonathan Hickman and R.B. Silva, only with a less-popular lead figure.
Like Powers of X, Venom: The End involves impossibly large timescale, trillions of years. We follow the Venom symbiote from 'the golden age of superheroes' (the present of the Marvel universe) to the achievement of technological singularity and the rewriting of the whole of reality. Unlike Powers of X, however, it succeeds in telling this kind of story; partly because Venom: The End doesn't try to be a jumping point to future stories, a status quo launcher, but a complete tale in its own rights. It also helps that creators Adam Warren, Jeffery Cruz, Guru-eFX and Clayton Cowles fully commit to the post-human aesthetic.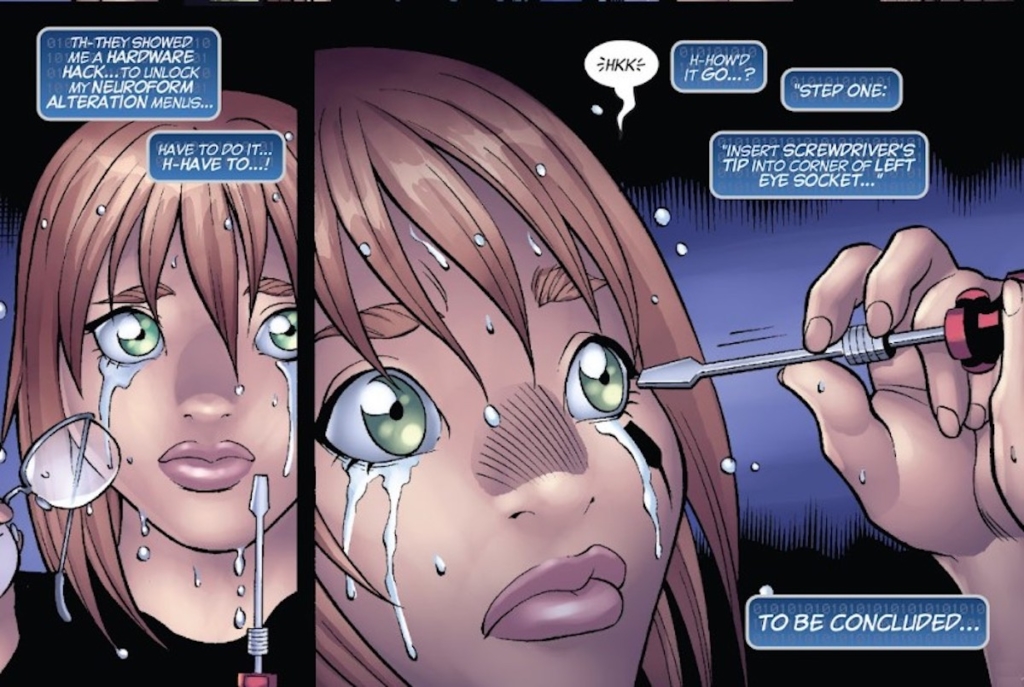 After honing himself on Livewires and Hypervelocity, both tales of the new life, Warren takes the next logical steps: tales of how it all ends. Throughout it all – and I do mean all, as this is a story so vast it makes Crisis on Infinite Earths look like a kitchen sink drama –  it's also a love story. The Venom symbiote loves Eddie Brock, and it's a  love that neither it, nor anyone else (incoming spoilers) can explain. As the narrator tells us in the first act – "I never quite understood Eddie's appeal[.]"

Jump forwards to the final page and we realize the narrator has been the Godmind, the technological singularity that has been struggling with Venom for control of the universe throughout, a being that is basically God by the end. Omnipotent and omniscient and yet – "[I] still don't quite understand the Eddie Brock love, though."
We don't have to understand, either. This is Venom: The End, not Eddie Brock: The End. Eddie only appears for several short panels. He doesn't say anything. He doesn't really do anything except appear and be loved, almost passively, by the symbiote. That love is superhumanly powerful, and long-lived, as anything else Venom does in the series – becoming a one-person (being?) biological system.

In a particularly nice, and horrifying, touch that love is as scary as it is admirable. Venom uses its vast powers to stretch Eddie's physical existence waaay past those of any other person, replacing body parts, cells and even the brain with pieces of itself. The more Eddie lives the less of him there is, the more he becomes just another shadow of Venom (one in a universe full of them): "Eddie's personality-defining engram, his core set of memories, disintegrated into a befuddling mash of Venomized substitutes." Venom loves not as a human but as a post-human, it loves the idea of Eddie Brock so much it's willing to allow Eddie to live second after second of agony.
It can afford to love like this because Venom here is something more (much more) than human – because eventually it has the power to twist reality to fit into its ideal. The final act of the story, the part that justifies the whole 'End' part of title involves Venom tearing itself apart to make a new universe, one that can escape the clutches of the technological singularity (the same one Warren so ably depicted finding its first steps in Hypervelocity), one that can serve as host to all the biological life that was lost – including possibly a (new) version of Eddie Brock.
It's an impossibly big story, and Warren and Co. achieve it all in less than fifty pages (special kudos to Jeffery Cruz, some of whose pages are a sci-fi tablature that evokes the likes of Philippe Druillet). They achieve it by utilizing the comics form to its fullest, every page and every panel feel like a world unto themselves. In the face of such mighty ambition one could forgive a failure, or even a misstep, especially when working under the yoke of the Disney company. For Adam Warren the Marvel Universe doesn't serve as a limitation, it serves as an inspiration. Go big, or go home.